The Met's already world-renowned costume collection will soon get even richer, as pioneering fashion collector Sandy Schreier donates her collection of fashion masterworks to the museum. Schreier's collection, considered one of the best private fashion collections in the country, chronicles 20th century fashion through pieces by some of the finest French and American designers—and visitors will soon have the opportunity to see some of the collection's highlights for themselves.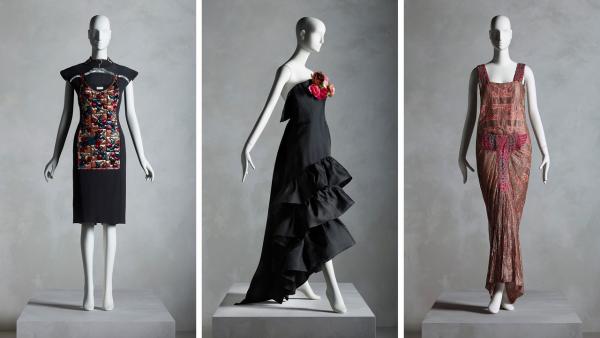 Image Courtesy of the Metropolitan Museum of Art, Photo © Nicholas Alan Cope.
In Pursuit of Fashion: The Sandy Schreier Collection, which opens in November at The Met Fifth Avenue, will feature 80 of the 165 gifts Schreier will be donating to the museum, including womenswear, accessories, and fashion illustrations. The items on view will span the 20th century and slightly beyond, ranging from a 1908 Poichoir album to a 2004 Phillip Treacy butterfly hat.
"Sandy's incredibly generous gift will strengthen our collection immeasurably through the addition of historically significant pieces of 20th-century fashion," Costume Institute Head Curator Andrew Bolton said in a statement. "Amassed through a deep passion for the art of fashion—as well as sheer determination—Sandy's gift will introduce rare designs into our holdings, allowing us to tell a more nuanced story of fashion history through the achievements of its most innovative designers."
Schreier's interest in the fashion world developed from an early age, blossoming into a passion that drove the collector to acquire a mix of pieces by both well-known designers and innovative couturiers whose work is more underrepresented. (The designer also has an extensive film fashion collection, which is not being donated to The Met.) "Sandy showed remarkable vision in preserving modern fashion at a time when few collectors appreciated it as an art form," Associate Curator Jessica Regan said. "The exceptional objects in this gift reflect the discriminating eye and extraordinary dedication of a lifelong collector." Among the 30-plus designers whose work will be represented in The Met's exhibition are Cristóbal Balenciaga, Gabrielle Chanel, Christian Dior, Karl Lagerfeld, Isaac Mizrahi, and Valentina.
"I always saw myself as a fashion savior," Schreier said in a statement. "My passion for fashion as an art form drove me to search for the most innovative, creative, and breathtaking objects by well-known and lesser-known talents. I am elated that these pieces will now live on as my legacy at The Met, where they can be conserved and shared with the public, designers, and scholars for eternity."
---
In Pursuit of Fashion: The Sandy Schreier Collection will be on view from November 27, 2019 through May 17, 2020. For more information, visit metmuseum.org.