Mary Bridget Davies Shines in A Night With Janis Joplin on Broadway
November 20, 2013 - by Griffin Miller, Theatre Editor
In case you were wondering, the adrenaline-fueled and fiercely candid Broadway musical A Night With Janis Joplin is in no way your standard celebrity-impersonator concert. When Mary Bridget Davies belts out a Joplin classic bathed in the spotlight, you get an overwhelming sense of what it must have been like to watch the rock legend tear up the stage in the late 1960s.

Photo: Joan Marcus
But what you're also getting is a guided tour through Joplin's early life and career including (and highlighting) the blues greats who influenced her music: Etta James, Odetta, Nina Simone, and Bessie Smith, as well as her contemporary, Aretha Franklin — all of whom make "guest appearances" through costars Taprena Michelle Augustine, De'Adre Aziza, Allison Blackwell, and Nikki Kimbrough.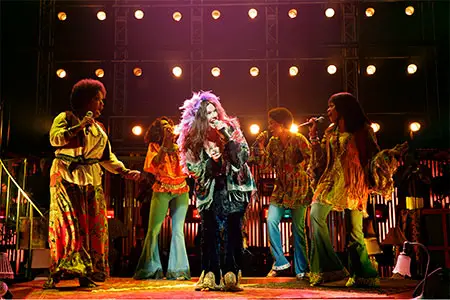 Davies (center), Augustine, Aziza, Blackwell, and Kimbrough. Photo: Joan Marcus

Davies embodies Joplin so completely that her words (written by director Randy Johnson, and accompanied by swigs of Southern Comfort) ring real: "I didn't simply emerge as this rock and roll chick. It was a lot of hard work to get here. None of us are who we started out as — that's the journey, man."
As for Joplin's songs, Davies delivers all of them — from "Piece of My Heart" to "Me and Bobby McGee — with the same passion and power that drove the Texas-born singer to cult-status stardom. Lyceum Theatre, 149 W. 45th St., 212-239-6200; anightwithjanisjoplin.com
Looking for Free Group Planning Services?
Get free advice on planning your group's trip to New York.
RESTAURANTS

Multi-concept restaurant offering modern Japanese cuisine, a...

THEATER

In a heartbeat, 38 planes with 6,579 passengers were strand...

SHOPPING

An array of quality branded merchandise showcasing HBO's® aw...

SIGHTSEEING

The 9/11 Memorial honors the nearly 3,000 people killed in t...