Jean Paul Gaultier has designed haute couture pieces for some of the world's most iconic performers, from Madonna to Lady Gaga. Beyoncé is a fan of his work. Working at a frenetic pace, he dresses runway models at fashion shows around the world, creates fragrances, interviews celebrities and designs costumes for films such as The City of Lost Children and The Fifth Element. His career has spanned nearly four decades and shows no signs of slowing down. So it's no surprise when Thierry-Maxime Loriot, the handsome curator of Gaultier's mesmerizing exhibition The Fashion World of Jean-Paul Gaultier: From the Sidewalk to the Catwalk, opening Oct. 25th at Brooklyn Museum, admits that the most difficult aspect of putting this exhibit together was "making the selection of clothes [with Gaultier], editing down from 10,000 to 150 pieces."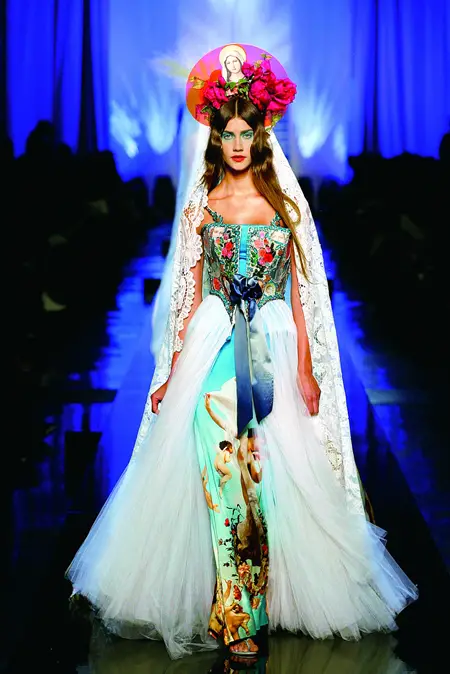 "Apparitions" gown from Jean Paul Gaultier's "Virgins (or Madonnas)" women's haute couture spring-summer collection of 2007."Celestial" print satin strapless sheath; bustier-style top with "hologram" embroidery and bows; ivory silk tulle overskirt; "hologram" and ivory lace veil. © Patrice Stable/Jean Paul Gaultier

The exhibit — the brainchild of Montreal Museum of Fine Arts' Director and Chief Curator Nathalie Bondil and Loriot (a former high-fashion model from Quebec City discovered by Mario Testino, who later studied art history and was given an opportunity by Bondil to curate this exhibit) — was five years in the making. Getting Gaultier on board for an exhibit of his work was not easy.

"Five years ago, when I approached him, he thought [to have an exhibit] in a museum was to be in a cemetery," jokes Bondil. But she was inspired by Gaultier's body of work, which displays "tolerance, [equality of] gender, plus-size models. He let everyone play with fashion. I wanted to show the profound humanity that inspires Jean Paul Gaultier's work and share — beyond the virtuosity of haute couture and the couturier's unbridled imagination — the values of tolerance and respect that unite us."

A design from Jean Paul Gaultier's "Raw and Refined" men's ready-to-wear spring-summer collection of 1994, as seen at his thirtieth anniversary retrospective runway show, October 2006. © Patrice Stable/Jean Paul Gaultier

"I'm very honored and surprised," says Gaultier. "At first, I didn't want the exhibit. But museums are an important part of our culture. I'm like a child, always in love with fashion. There is not one type of beauty. Fashion shows our present, past, and what could be. This [exhibit took] a lot of work, but there's also love and passion. It's not about hiding, but showing what you are."

"It took nearly nine months to construct," says Loriot, who used his modeling experiences to help shape the exhibit's look and feel, which at times is like that of a runway. "The sound, music, video, animated installations were [also] a great challenge. We're proud to present this exhibit in Brooklyn. This city has the same strong values as Gaultier; there are no boundaries, taboos. Whatever age, religion, gender, you are welcome in this world."

Pedro Almodóvar (left) with Victoria Abril and Jean Paul Gaultier in promotional photograph for Kika, directed by Almodóvar, 1993. © Nacho Pinedo/Jean Paul Gaultier archives

The Brooklyn presentation features Gaultier costumes never before seen in New York, such as items lent by Madonna, including her iconic corsets from the Blond Ambition World Tour (1990) and costumes from the Confessions Tour (2006) and the MDNA Tour (2012). Costumes created for Kylie Minogue, Pedro Almodovar's Kika (1994) and Bad Education (2004), and Luc Besson's The Fifth Element (1996) are also be part of the exhibition.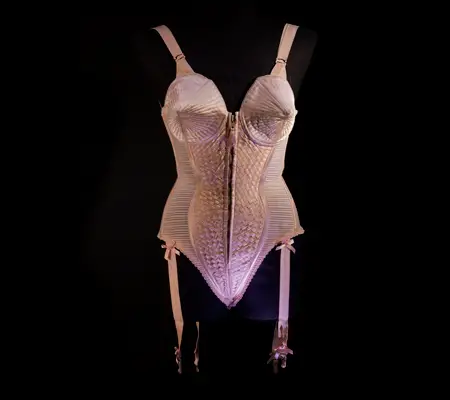 Jean Paul Gaultier (French, b. 1952). Corset-style body suit with garters, 1990, Duchess satin. Worn by Madonna during the "Metropolis" ("Express Yourself") sequence of the Blond Ambition World Tour (1990). Collection of Madonna, New York. Photo: The Montreal Museum of Fine Arts, Christine Guest

Many of the mannequins "speak," with faces created by technologically ingenious high-definition audio/visual projections. A dozen celebrities, including Gaultier himself, model Ève Salvail, and bass player Melissa Auf der Maur, have lent their faces and their voices to this project. The production and staging of this dynamic audio/visual element is the work of Denis Marleau and Stéphanie Jasmin of UBU/Compagnie de création of Montreal.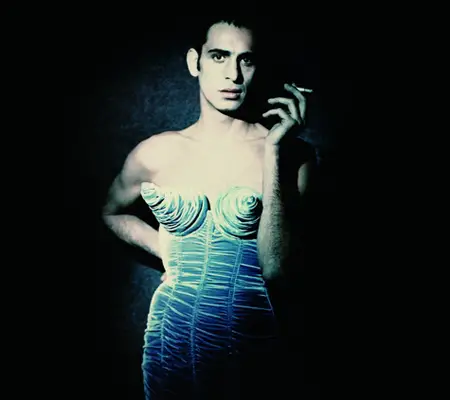 Paolo Roversi (Italian, b. 1947). Tanel Bedrossiantz, 1992. Digital print, 15 x 12 in. (38.3 x 30.8 cm).Jean Paul Gaultier's "Barbès" women's ready-to-wear fall-winter collection of 1984–85. © Paolo Roversi

The show is organized into seven themes: The Odyssey; The Boudoir; Muses; Punk Cancan; Skin Deep; Metropolis; and Urban Jungle. The Muses section, unique to the Brooklyn Museum exhibit, features photos and pieces worn by some of Gaultier's muses, including 1990s male model Tanel Bedrossiantz (who also helped dress some of the exhibit's mannequins) and more recently Crystal Renn, a former plus-size model. "I've always tried to create collections that could speak to all kinds of men and women of different ages and styles," says Gaultier.

Brooklyn Museum is the only East Coast venue for the international exhibition, which will be on display through February 23, 2014. The next and final stop for the exhibit is London's Barbican Art Galleries.
Front page photo: Alix Malka (French). Untitled, n.d. Digital photo, 47 x 74½ in. (119.6 x 189.6 cm). "La Mariée" wedding gown from Jean Paul Gaultier's "Mermaids" spring-summer haute couture collection of 2008. Latex bodysuit with golden scales; cone bra with shells; long, form-fitting sequined alpaca skirt with latex mermaid's tail. ©Alix Malka