With a loving wink to the 1939 MGM film, Broadway's Wicked takes flight with Glinda the Good, floating above the citizens of Oz in a bubble extravaganza wearing a fairy tale ball gown and radiant smile. Showered with adoration from a crowd celebrating the demise of "the enemy of us all," Glinda begins a memory spun from her schooldays at Shiz University alongside the young, green-skinned Elphaba.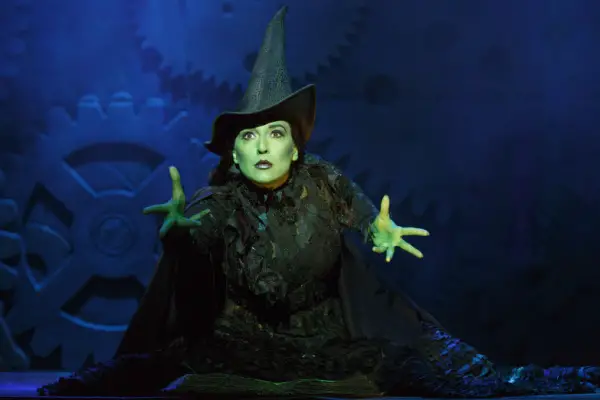 Jessica Vosk having a wicked good time as Elphaba on Broadway. Photo by Joan Marcus.
And so begins Wicked, both a prequel and sequel to The Wizard of Oz with a smattering of references to that Dorothy girl—and her terrier traveling companion, Toto—the unwitting assassin who ended "the wickedest witch there ever was," with a hearty splash of H2O.
Based on the novel by Gregory Maguire, featuring music and lyrics by Stephen Schwartz (Pippin) and a book by Winnie Holzman (TV's My So-Called Life), Wicked emerges as a revisionist tale where no one dances down the yellow brick road. Instead, a complex Ozian world emerges featuring new characters with a unique vocabulary (words like "confusifying" and "linguification" pepper the dialogue) who experience both youthful infatuations and ominous prejudices.


In "Stage Notes"—the show's teachers' guide—Schwartz says: "We didn't follow the book's structure at all, but we did incorporate some very strong elements...like when Elphaba went to college and she ended up rooming with Glinda. That detail had to be shown," he continues, "because whenever you tell people…the two went to college together, people laugh."
Consequently, the show's storyline follows the unlikely witch friendship of studious Elphaba, an outcast shunned by her governor of Munchkinland dad and de facto guardian of her disabled younger sister Nessarose, and the bubbly, self-absorbed Galinda (she tweaks it to Glinda later in the show). Like Kristin Chenoweth, who originated the role on Broadway, Amanda Jane Cooper brings a fine-tuned comic timing to the ultra-"Popular" character.
As for Elphaba, Jackie Burns—known in Wicked circles for having played the role on Broadway more than any other actress —passed the torch to Jessica Vosk, who officially stepped onto the Gershwin Theatre stage July 16th, fresh from getting her green on during one of the show's acclaimed national tours.
(Burns, whose love affair with Elphaba dated back to her own touring days, has said, "She's one of the best-written female roles in musical theater—period.")
With her book, Holzman's artistry brought Elphaba's stage persona to life. Getting the script into its final form was an ambitious study in rewrites and cuts in the months of previews. "Nothing was too small to think about and be concerned about," she recalls, adding there were times when the process left her feeling lost. "Now I see that I was always plodding along where I needed to be."
Of course, where she needed to be was on the Shiz University campus where reluctant roomies Glinda and Elphaba become BFFs. Both fall in love with school heartthrob Fiyero (Curt Hansen), and eventually find themselves separated emotionally in Oz's battle of good and evil.
It is the Wizard (Tony nominee Kevin Chamberlin) whose far from "wonderful" machinations—like sending flying monkeys to scout Oz for subversive animal activity—that force the big-hearted and resourceful Elphaba into rebellious acts that cast her as the Wizard's enemy.
"Her green skin is but an outward manifestorium of her wicked nature," Madame Morrible (Tony nominee Isabel Keating), the wizard's haughty confederate tells the citizenry. "This—distortion, this—repulsion, this—Wicked Witch!"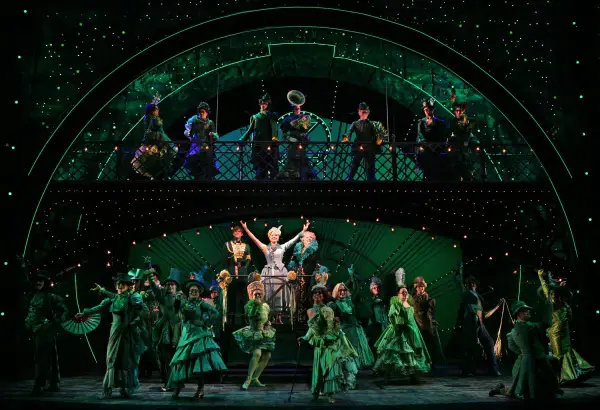 Photo by Joan Marcus.
What seems clear-cut to these duplicitous individuals is far from Ozian reality and by the end, Wicked has shot into a stratosphere of the unexpected and the inspired.
That said, the heart-stopping moment theatregoers take with them is the Act I finale with Elphaba, soaring above Oz, belting her anthem of empowerment, "Defying Gravity." With fiery determination she sings:    
As someone told me lately
'Everyone deserves the chance to fly.'
And if I'm flying solo
At least I'm flying free.
To those who'd ground me
Take a message back from me:
Tell them how I
Am defying gravity.
---
Wicked is playing at the Gershwin Theatre, 222 W. 51st St. For tickets call 877-250-2929 or visit wickedthemusical.com.