The 2,000-pound gorilla may be about to exit the room, but not before he leaves a legacy of the loudest audience oohs, ahhs, and OMGs in Broadway history—and a Tony Award tribute to his headline-grabbing stage presence!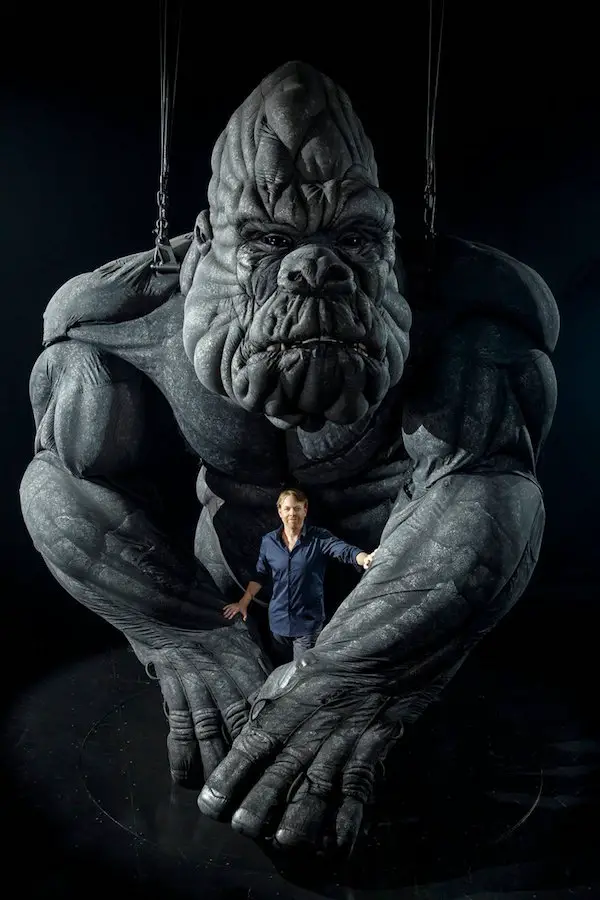 Photo: Joan Marcus.
Recognized with a Special Tony Award for creating the 20-foot marvel, Sonny Tilders and Creature Technology showcased Broadway's King Kong at the 2019 Tonys with an eye-popping video that gave the world a video inkling of what the original 1933 film billed as "The Eighth Wonder of the World."


Yet as fascinating as he was in 1933 (and the myriad screen incarnations that followed), King Kong onstage is way, way more thrilling. Seriously, you absolutely should not miss being blown away watching this ginormous, realistic puppet interact with the now-famous characters of filmmaker Carl Denham (Eric William Morris) and his beautiful leading lady, Ann Darrow (Christiani Pitts).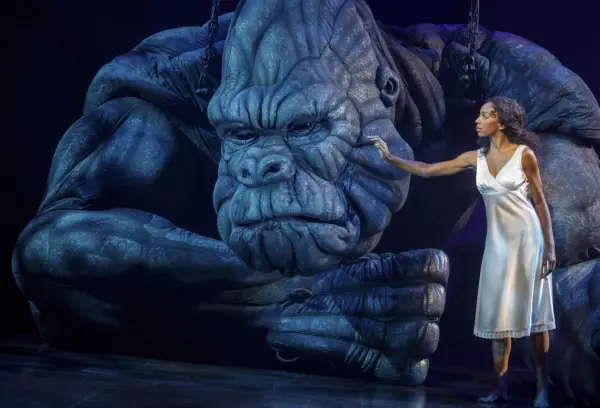 Christiani Pitts as Ann Darrow with King Kong. Photo by Joan Marcus.
From their meeting in Depression-beset Manhattan, through their heart-stopping journey to fictional Skull Island—where the mammoth ape is captured and brought to New York City—the excitement builds and explodes. Clearly, this is a musical unlike any other, with all the drama and danger of the original story amplified by a live Kong lunging into the theatre and a powerful score, composed and produced by Marius de Vries, with songs by Eddie Perfect (Beetlejuice).
As for the book, written by Jack Thorne (Harry Potter and the Cursed Child), it vibrantly manages to upgrade and intensify the storyline while retaining the iconic moments like Kong atop the Empire State Building and Ann's fateful pleas for his life.
Adding to the beauty of the show are the costumes by Tony winner Roger Kirk; Peter Mumford's lighting design; and Peter England's dazzling Scenic and Projection designs. 
Finally, there's the audience reaction: spellbound youngsters, captivated grownups, and the enthusiasm that comes through at the stage door after the curtain comes down.  As Eric William Morris notes, "People line up…enthused and encouraging…and endlessly excited about the music and the retelling of the story."
August 18th marks the final performance of this hit show. On the plus side, this means you have over a month to experience Kong and company for yourself. On the down side, demand for tickets will be peaking, so you'll want to reserve your tickets now!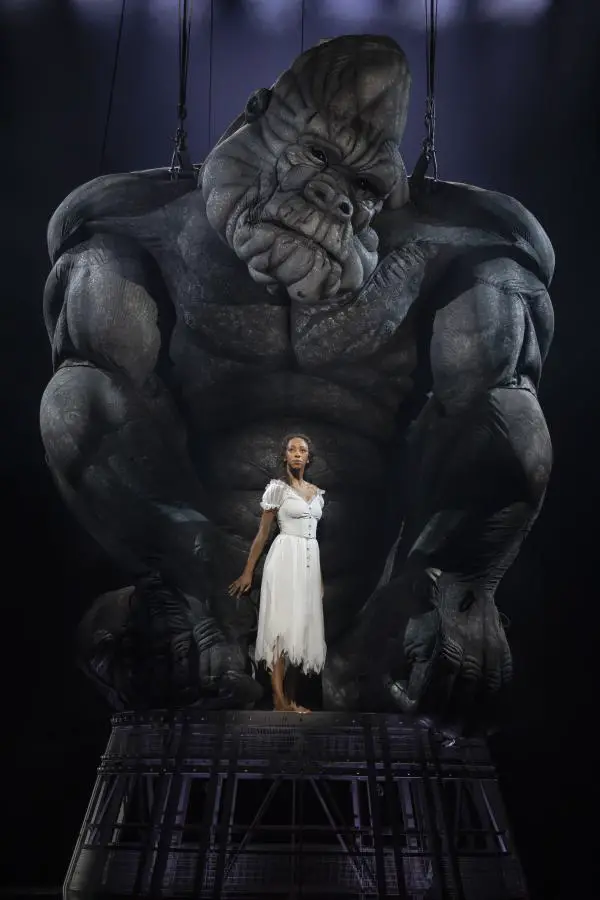 Christiani Pitts and co-star in the epic return of King Kong. Photo by Joan Marcus.
---
King Kong is playing at the Broadway Theatre, 1681 Broadway, between 52nd and 53rd St. For tickets call 212-239-6200 or visit kingkongbroadway.com.