Most journalists—or essayists, as the case may be—meander their way to a career without the heady fellowships (Guggenheim; National Endowment for Arts, et al) heaped on John D'Agata. As for fact checkers—in this case, then intern/also real person Jim Fingal, assigned to D'Agata's article about a Las Vegas teenager's suicide—their job is to nitpick.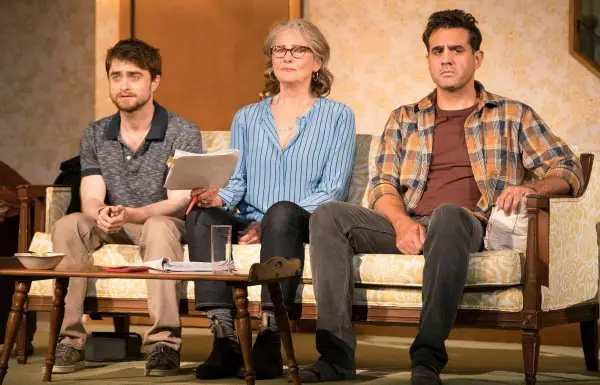 The star power of Daniel Radcliffe, Cherry Jones, and Bobby Cannavale together in The Lifespan of a Fact. Photo by Peter Cunningham.
Fast forward to the tantalizing new play by Jeremy Kareken, David Murrell, and Gordon Farrell, The Lifespan of Fact, liberally based on info found in D'Agata and Fingal's book of the same name, playing at Studio 54 through January 13th. In it, Fingal (Daniel Radcliffe) is pressed into service by editor Emily Penrose (Cherry Jones) to ensure D'Agata's (Bobby Cannavale) prized essay is good to go.
This A-list cast brings the truncated timeline (for pedal-to-metal fun; journalists in the trenches will need to double up on suspension of disbelief) to glowing life as they zigzag through their characters' personal end games: D'Agata, arrogant and put-upon, feels his job is done; Fingal is a relentless puppy, determined to split every factual hair he meets; while Emily, a pro at her peak, is dog-paddling her way through a sticky deadline and the increasingly fractious Fingal–D'Agata situation where fact is pitted against art.
For instance, when Fingal calls D'Agata out for citing 34 strip clubs in his piece (versus an actual 31), D'Agata dismisses him with "That's because the rhythm of '34' works better that the rhythm of '31'; so I changed it."

Under Leigh Silverman's canny direction, the show's nonstop wit thrives. Jones is perfection as an agitated go-between; Cannavale shines as a scruffy egotist under siege; and Radcliffe may have finally kicked his Harry Potter persona to the curb with his deft, even endearing, take on Fingal.
Photo by Peter Cunningham.
The Lifespan of Fact is playing at Studio 54, 254 W. 54th St. Call 212-239-6200 or visit lifespanofafact.com for tickets and more information.