If you happened to catch this year's Tony Awards (and a certain pull-out-all-the-stops production number -- watch it below), you have a solid idea of why tickets to Matilda the Musical are in high demand by both grown-ups who survived childhood and kids who are currently navigating its unpredictable ins, outs, and "whatevers."
[Matilda took home 4 Tony Awards on June 9: Best Book of a Musical; Best Performance by an Actor in a Featured Role in a Musical - Gabriel Ebert (interviewed below); Best Scenic Design of a Musical - Rob Howell; and Best Lighting Design of a Musical - Hugh Vanstone.]
Free from the slings and arrows of outrageous perkiness, but rich with multi-layered inventiveness, this award-winning adaptation of Roald Dahl's (James and the Giant Peach; Chitty Chitty Bang Bang) artful peek into the darkened corners that dominate a precocious little girl's life—and her survival tactics (knowledge and mischief)—is about as joyfully perverse as a musical can be… and kids love it.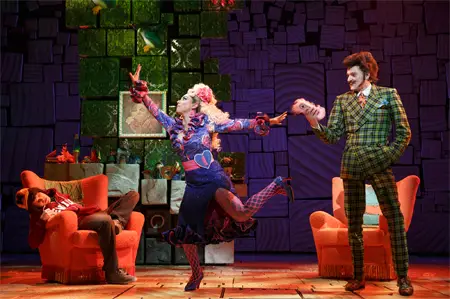 Taylor Trensch, Lesli Margherita, and Gabriel Ebert. Photo: Joan Marcus
And why wouldn't they? Matilda's obnoxious and oblivious parents (Mr. and Mrs. Harry Wormwood, played by Tony winner Gabriel Ebert and Lesli Margherita) see her as a smarty pants infringing upon their self-centered lives (he's a shady car dealer; she's a bizarrely obsessive ballroom dancer).
Naturally, the school that these two nitwits eventually shuttle her off to is the bleakest of Dickensian institutions, run by beefy headmistress/English hammer-throwing champion of 1969 Agatha Trunchbull, played with malevolent relish to critical acclaim by British actor Bertie Carvel. (Even the school's motto has the unmistakable imprint of Trunchbullian cruelty: Bambinatum est maggitum ["Children are Maggots"].)
Still, as long as there are books and decent people in the mix—her schoolmates, the librarian (Karen Aldridge), and her lovable teacher (Lauren Ward)—she's empowered to initiate change for the better. And once she discovers her telekinetic powers, there's no stopping her from triumphing over every last bit of cartoonish evil swirling around her.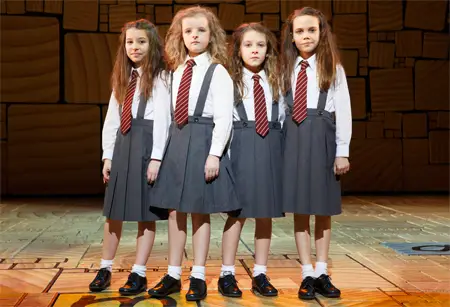 Bailey Ryon, Milly Shapiro, Sophia Gennusa, and Oona Laurence. Photo: Joan Marcus
While Matilda is played by four equally talented young actresses—Sophia Gennusa, Oona Laurence, Bailey Ryon and Milly Shapiro (who rotate into the show)—Margherita and Ebert fearlessly bring to life the tackiest of low-class buffoons with a comedic momentum that rises (and eventually falls) like an ill-fated soufflé.
While far from harboring any parental instincts, these two characters are eerily well matched in bad taste, from their mutual obsession with big hair to their garish taste in clothes.
As for the actors themselves (neither have children), their approach to life—and kids—is a far cry from that of the Wormwoods. Both came from supportive homes and grew up fans of Dahl's books.
"Charlie and the Chocolate Factory was my favorite," says Margherita, who claims the only thing she has in common with Mrs. Wormwood is her girly side. "I do love hair and makeup and sparkly things."
Says Ebert, who grew up in the foothills near Denver, "I didn't have a 'telly' growing up, so I got into fantastical worlds as a kid," adding that while the dark aspects of Dahl's stories frightened him a bit, "it helped that the protagonists were kids."
Ebert and Margherita's physical and vocal abilities are front and center to in two separate numbers: Margherita stops the show in Act I when she sings "Loud," aided and abetted by Philip Spaeth, who plays her smarmy dance partner, Rudolpho. Then, at the kickoff of Act II, Ebert takes the stage with a monologue during which he shoots verbal darts at any and all readers in the audience: "We do not want any children...to go home and try these?things out for themselves. I am, of course, talking about...reading books."
And from there—backed on the ukulele by Taylor Trensch (who plays Matilda's older couch potato of a brother)—he brings his argument home in the song "Telly." It's a number that also lets him expand on his physicality: 6'4", rail thin, with movements that harken back to Monty Python's John Cleese and his memorable collection of "silly walks."
"At the stage door most little kids don't recognize me unless I do something with my legs. And it's exciting for me to think, '…Maybe this show will inspire them to go into theatre."
---
Matilda the Musical is playing at the Shubert Theatre, 225 W. 44th St. For tickets, call 212-239-6200 or click here.