Few exhibitions in New York City are as heavily anticipated as the spectacular major fashion exhibitions at The Metropolitan Museum of Art. The museum's annual fashion exhibition, which serves as the theme for the celebrity-filled Met Gala, will arrive in 2018 with Heavenly Bodies: Fashion and the Catholic Imagination, putting Catholicism into the fashion spotlight.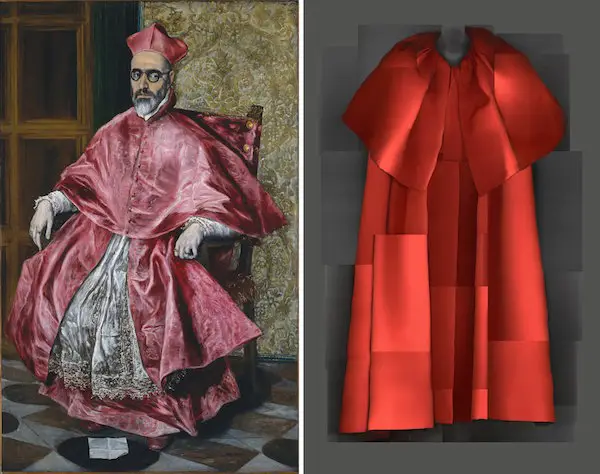 Left: El Greco, Cardinal Fernando Niño de Guevara, circa 1600. Right: Cristobal Balenciaga evening coat, fall 1954–55. Credit Metropolitan Museum of Art; The Metropolitan Museum/digital composite by Katerina Jebb.
Heavenly Bodies will put religion and fashion in dialogue together, showcasing a variety of Catholic art, fashions, and accessories. The cornerstone of the exhibition will be papal robes and accessories from the Sistine Chapel, many of which have never been viewed outside of The Vatican. The 50 masterworks, which will be on view in the Anna Wintour Costume Center galleries, include pieces from the 18th to 21st centuries, including papal vestments, rings, tiaras, and other accessories.
"Fashion and religion have long been intertwined, mutually inspiring and informing one another," Andrew Bolton, Curator in Charge of The Costume Institute, said in a statement. "Although this relationship has been complex and sometimes contested, it has produced some of the most inventive and innovative creations in the history of fashion."
While the Met's fashion exhibitions have typically been confined to its Costume Center galleries, Heavenly Bodies will have a much broader reach. In addition to the pieces from the Vatican on view in the Costume Center galleries, the exhibition will also include displays in the Met's medieval galleries at The Met Fifth Avenue and at the Met Cloisters, which is located uptown in Fort Tryon Park. These galleries will feature an additional 150 fashion ensembles, ranging from the early 20th century to the present, along with non-fashion examples of religious art. The displays will put fashion and Catholicism directly in conversation with each other, demonstrating how fashion interprets Catholicism and how these designs fit within the broader context of religious artistic production.
"The Catholic imagination is rooted in and sustained by artistic practice, and fashion's embrace of sacred images, objects, and customs continues the ever-evolving relationship between art and religion," Daniel H. Weiss, President and CEO of The Met, said in a statement. "The Museum's collection of religious art, in combination with the architecture of the medieval galleries and The Cloisters, provides the perfect context for these remarkable fashions."
Heavenly Bodies: Fashion and the Catholic Imagination will be on view at The Met Fifth Avenue and The Met Cloisters from May 10 – October 8, 2018. For more information, visit metmuseum.org.