For some New Yorkers, the new year means abstaining from alcohol throughout the entire month of January (we know you're calculating exactly how many days are left). This year, Dry January happens to coincide with the anniversary of Prohibition—the nationwide constitutional ban on alcohol, which lasted from 1920 to 1933. Be optimistic…Dry January will only be around for a few weeks.  Cheers to these innovative mocktails that are worthy of some indulgence.
Where to Enjoy a Dry January Mocktail in NYC: RedFarm and Decoy
Beverage Director Shawn Chen is the visionary behind the Seldom in the DayLight beverage, which features a mix of mint, sugarcane juice, Fever-Tree Club Soda, and a splash of lime. The libation is available at RedFarm in the West Village, 529 Hudson St., 212-792-9700, or at the Upper West Side locale at 2170 Broadway, 212-724-9700, redfarmnyc.com. Seldom in the DayLight is also on the menu at Decoy (529-1/2 Hudson St., 212-691-9700, decoynyc.com). 
Where to Enjoy a Dry January Mocktail in NYC The Fat Radish
The Fat Radish entices teetotalers with its Carrot Aperol Spritz, which was created by Beverage Director Gaby Mlynarczyk. The flavors of carrot juice, vanilla extract and lemon juice mingle with Fever-Tree Ginger Beer to create this mocktail. 17 Orchard St., 212-300-4053, thefatradish.com/new-york
Where to Enjoy a Dry January Mocktail in NYC: The Hoxton
Take a trip to The Hoxton hotel in Williamsburg for its On the Wagon Off the Road, which marries Kin High Rhode and Fever-Tree Ginger Beer with strawberry, rhubarb, lime juice, and toasted rosemary. The refreshing elixir, which is served at Klein's, was created by Beverage Manager Kendall Atkerson. 97 Wythe Ave, Brooklyn, 718-215-7100, thehoxton.com
Where to Enjoy a Dry January Mocktail in NYC: The Loyal
For Dry January, John Fraser's neighborhood brasserie The Loyal is offering its Focus, which was created by beverage director Amy Racine. It boasts lemon verbena tea, ginger, and a citrusy splash of lime. The West Village newcomer was inspired by the concept of the quintessential American tavern. The space fuses traditional and romantic motifs of European bistros with the mod vibe that electrifies downtown Manhattan. 289 Bleecker St., 212-488-5800, loyalrestaurant.com
Where to Enjoy a Dry January Mocktail in NYC: Refinery Rooftop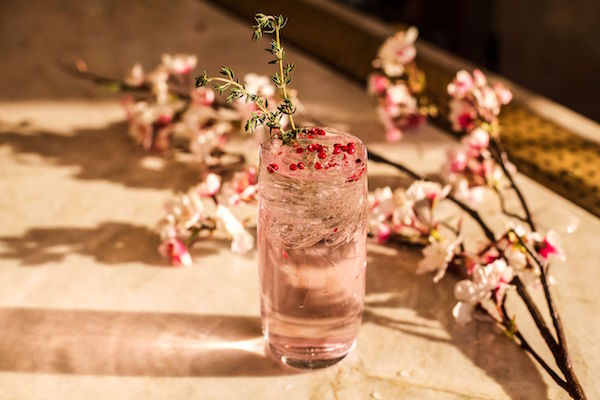 Cherry Blossom Tonic, credit: Jenna Murray IGC Hospitality.
Beyond the creds as America's #1 Rooftop Bar & Hotel for three consecutive years (USA Today), Manhattan's super stylish Refinery Rooftop entices with a menu of mocktails. Say cheers to Dry January with a non-guilty indulgence of the Spicy Cucumber Soda, crafted with cucumber, chili bitters, lime, and seltzer; the Not So-Jito, made with fresh mint, lime, and seltzer; or the Cherry Blossom Tonic, created with lemon, pink peppercorn, and cherry blossom tonic. 63 W. 38th St., 646-664-0372, refineryrooftop.com
Where to Enjoy a Dry January Mocktail in NYC: Boqueria
Photo: Andrew Bui.
At the vibrant Barcelona-inspired tapas bar Boqueria, Beverage Director Kieran Chavez offers seasonal Resfrescantes made with Seedlip—a brand of non-alcoholic distilled spirits. On the menu is Spanish Roots, made with Seedlip 'Garden,' carrot, lemon, saffron, and an extra kick from guindilla chili pepper. Several locations throughout New York City, boqueriarestaurant.com
Where to Enjoy a Dry January Mocktail in NYC: La Ventura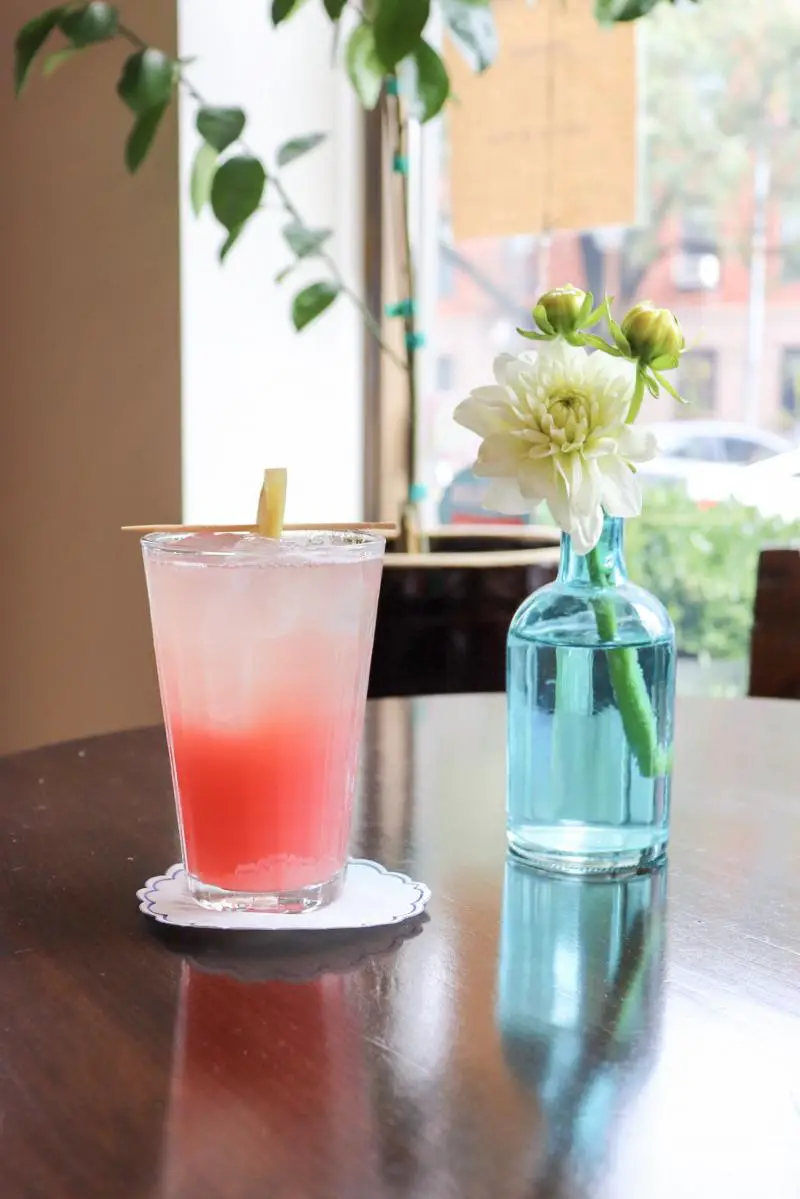 Owner Kenneth McCoy of Rum House and Ward III brings his cocktail background to the West Village's La Ventura. The café/restaurant offers its elevated non-alcoholic cocktails that are so delectable that teetotalers won't miss the alcohol. The house's Fresh Buck #1 (above) is crafted with blood orange, lemon, grapefruit, cordial honey, and Q Ginger Ale. Its Fresh Buck #2 maintains the blood orange ingredient, but is served with pineapple, lime, ginger, and Q Soda. 615 Hudson St., 917-675-6454, laventuranyc.com
Where to Enjoy a Dry January Mocktail in NYC: Little Beet Table
While NoMad's Little Beet Table is renowned for its vibrant, vegetable-focused cocktails, those looking for an alcohol-free night out can also enjoy its flavorful, colorful Natural Refreshers. From revitalizing Coco Matcha, crafted with coconut water, oat milk, tangy pineapple, matcha, and chia seeds to cooling Cucumber & Kombucha Spritz, made with cucumber, kombucha, citrusy lemon, mint, and club soda. The menu also includes Beet & Citrus, made with beet, clementine, orange, and basil—and Kale & Cucumber Glow, made with kale, cucumber, pineapple, and refreshing green apple. 33 Park Ave., 212-466-3330, thelittlebeettable.com
Where to Enjoy a Dry January Mocktail in NYC: Sen Sakana
Mod Nikkei eatery Sen Sakana's Beverage Director Zachary Gross always incorporates a few seasonal 'censored' cocktails into his Peruvian Japanese menu. Fan-favorites include Chicha Morada—a sweet drink made with purple corn, pineapple, apple, spicy cinnamon, and clove; and Shi-So Lovely, with Gooseberry, beet puree, shiso, Japanese vinegar, and soda. 28 W. 44th St., 212-221-9560, sensakana.com
Where to Enjoy a Dry January Mocktail in NYC: Valerie Bar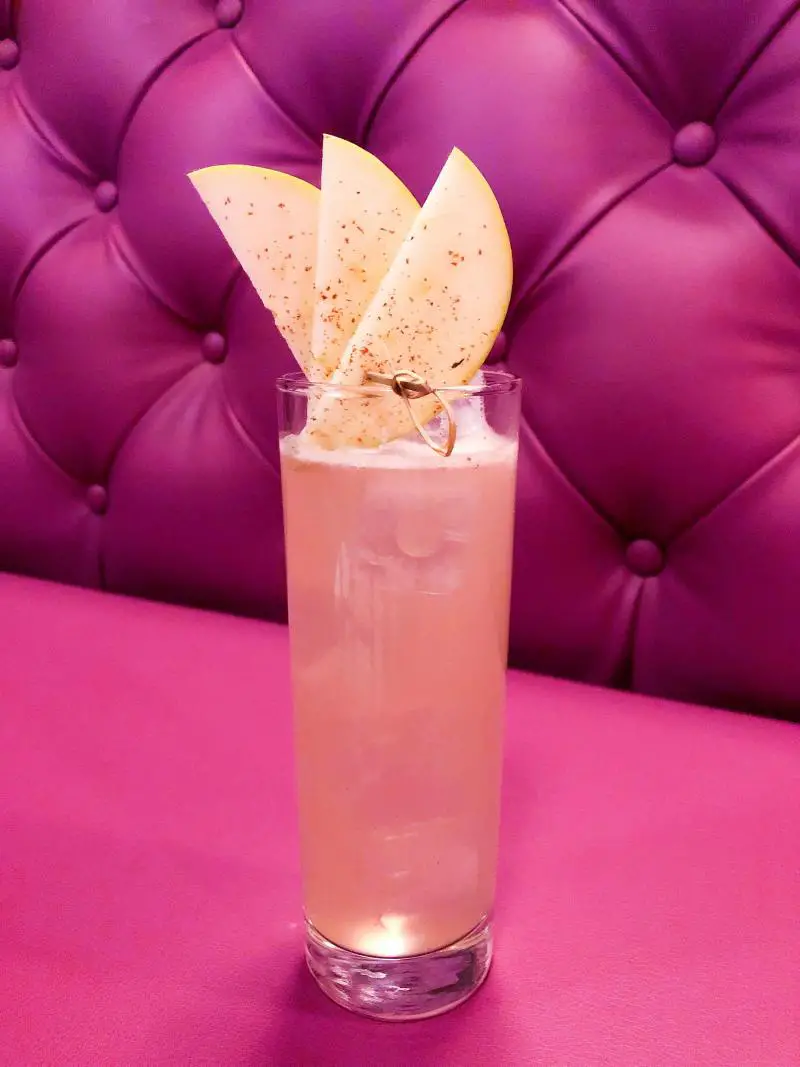 Valerie, a midtown bi-level cocktail bar and restaurant, evokes the golden age of Manhattan with its timeless drink list and Art Deco-inspired décor. Visit its Deco Gatsby Lounge and enjoy a Bertie Brown mocktail. It mingles the flavors of Seedlip Grove 42, spiced apple, lemon, Fee Brothers walnut bitters, and soda. The mocktail, described as a "spiced apple and citrus ingredients complemented by a warm nutty, bitter flavor" was created by Valeri's Bar Director Marshall Minaya. 45 W. 45th St., 212-302-4545, valerienewyorkcity.com