One of the great challenges of producing a travel guide is splitting the difference between leading readers to touristy experiences and spots that are more authentic. You want people not to miss the requisites, but you also want them to experience some of the real city. Moon New York City, a brand-new guide from art and culture writer Christopher Kompanek, does a great job of steering travelers to New York destinations that are both authentic and approachable.
Moon New York City is a complete guide, with 11 color-coded neighborhood maps, easy-to-follow walking tours, and extensive listings of all the latest in New York art, culture, sights, sounds, dining, and destinations. The guide is also great for the way it goes into detail, but also allows for quick hits of knowledge. Starting off with Kompanek's "10 Top Experiences" at the book's beginning and moving on to category highlight pages that provide "best of" overviews, the Moon guide keeps the info you need at your fingertips—much more fluidly than any app can do.
Kompanek recently took a break from his explorations to answer City Guide's questions about his new guide and the advice he has for New York City travelers.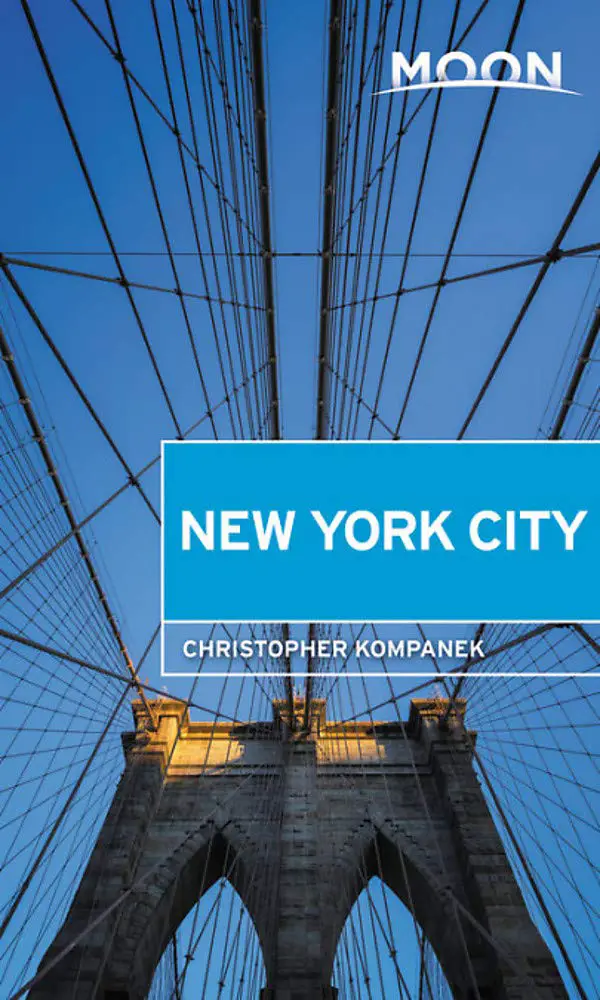 CG: The guide is impressively comprehensive. How did you go about researching it?
CK: Thanks. I'm a native New Yorker, so I started with my favorite places. Then I expanded to places I always wanted to check out. The most beguiling thing about this city is that no matter how long you live here, there will always be a bar, theater, or even a whole neighborhood that you've never set foot in.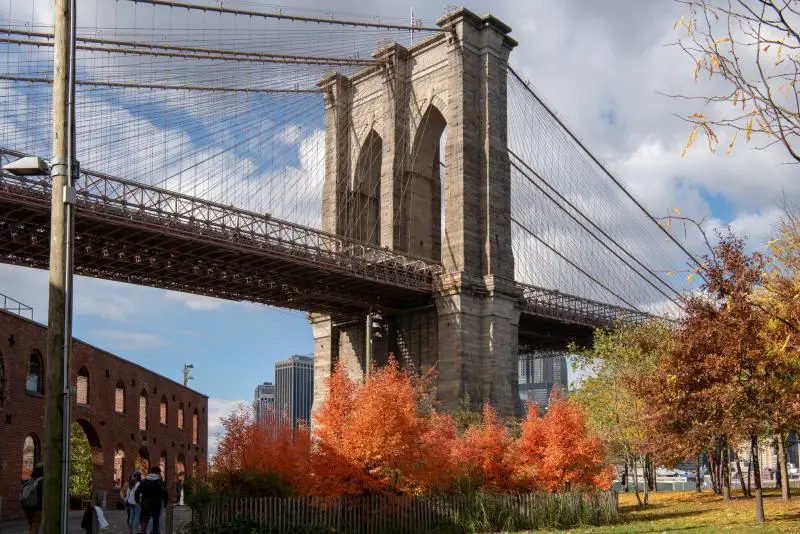 Julienne Schaer/Brooklyn Bridge Park. Kompanek picks the Brooklyn Bridge as the "top sight" in his Downtown Brooklyn neighborhood guide.
CG: There's a ton of great Brooklyn advice here. Is Brooklyn ready for tourists, given how spread out things can be?
CK: Brooklyn is a large borough, but it's also readily accessed by multiple subway lines and is on a grid similar to Manhattan. Many tourists arrive by walking over the Brooklyn Bridge as well. The most important thing to note is that Williamsburg, Greenpoint, and Bushwick are in North Brooklyn and quite a distance away from, say Prospect Park and the Brooklyn Museum.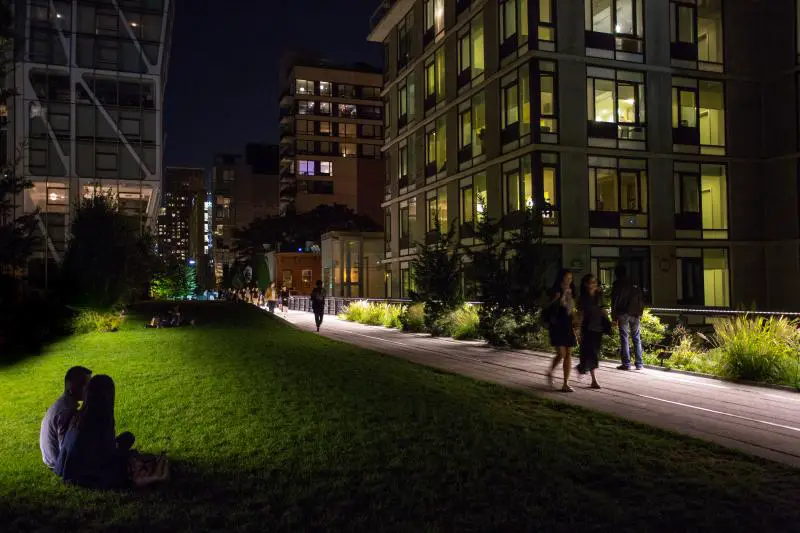 The High Line. Lauri Väin/Flickr.
CG: You split the difference between must-see New York and more off-the-beaten path destinations. Do you have a "guilty pleasure" tourist spot that you go back to?
CK: I love The High Line though I try to go at night or in bad weather to avoid the crowds. When there's enough space to walk at a good clip, it feels like you're gliding just above the city's streets.
melfoody/Flickr.
CG: There are some great walking tours included here. Do you have a favorite neighborhood for just walking around?
CK: New York is quite possibly the greatest walking city in the world (Paris is great for this too) where it's so easy to walk through several neighborhoods in an afternoon. I try to walk everywhere I go, but if I had to choose one neighborhood, I would say Chelsea because you get tree-lined streets, dozens of world-class galleries, and some great restaurants and bars to boot.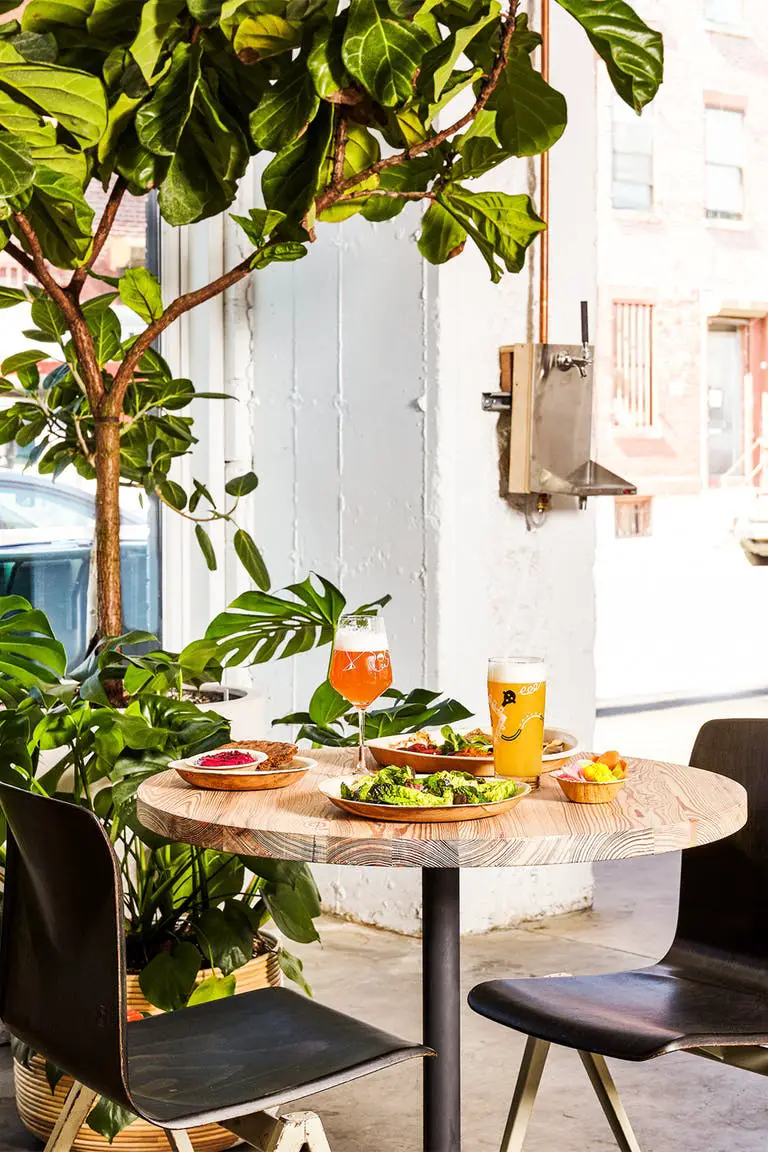 The Grimm taproom in Brooklyn.
CG: There are food courts, speakeasies, craft beer, and bespoke cocktail places here. Is there any New York trend you're particularly excited about?
CK: There are too many to list here, but one that gets me particularly excited is all of the amazing craft breweries that are opening from Grimm to Bridge and Tunnel. There's a tremendous variety and the quality now rivals anything on the West Coast.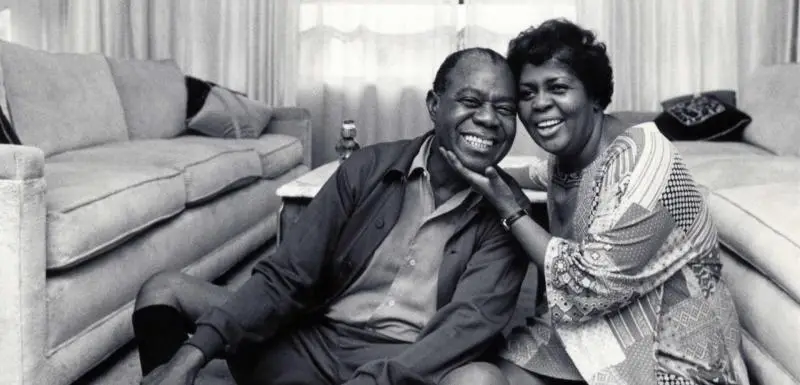 CG: No matter how well you know New York you always find something new. Were you surprised by anything in working up this book?
CK: I discover new things almost every week, but the happiest surprise was the Louis Armstrong Museum in Corona, Queens. It's an immaculately preserved house that lets you walk in the footsteps of one of the city's greatest musical legends. 
---
Moon has been publishing since 1973, directing visitors to authentic experiences in more than 200 destinations. Moon New York City is available from bookstores and online for a retail price of $19.99 ($13.99 on Kindle). Links to purchase sites are available on the Moon website here.