To celebrate the Lincoln Center Theatre's adaptation by James Lapine of late playwright/director/producer Moss Hart's acclaimed autobiography Act One, which begins previews on March 20 (directed by Lapine), St. Martin's Press has reissued, in trade and e-book formats, Hart's 1959 memoir, originally published by Random House two years before his death at age 57.


To celebrate the reissue, SMP and LCT are hosting stars of the play, Tony Shalhoub and Santino Fontana, for an intimate conversation with the playwright/director and the late stage and TV star and society patron Kitty Carlisle's son, Christopher Hart, who's written a foreword for the reprint, on Tuesday at 7pm at Barnes & Noble, 2289 Broadway at 82nd Street. Author Tom Santopietro will moderate. The event is free, but seating is limited. Act One will be available for purchase.
Act One has been praised as a glorious memorial to a bygone age filled with all the wonder, drama, and heartbreak that surrounded Broadway from the 1920s to the years before WWII. The book chronicles Hart's impoverished Bronx/Brooklyn childhood and his long, determined struggle to reach the pinnacle of success, and vivid recollections of colorful characters, especially Kaufman. It remained on the New York Times Best-Seller List for 44 weeks. Time noted it as "one of the best memoirs of this or any other theatrical generation."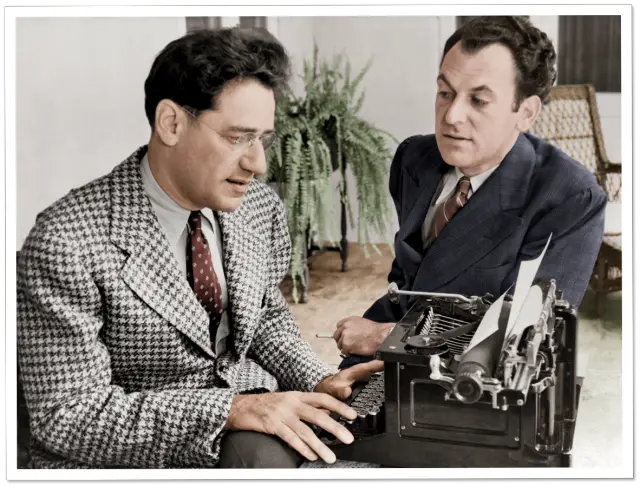 Hart was a major player of his time. In 1926, he made his acting debut in O'Neill's The Emperor Jones as Harry Smithers. With the esteemed George S. Kaufman, he wrote the hits Once in a Lifetime (1930), a farce about Hollywood's struggling transition from silents to sound, which also co-starred Kaufman (as a frustrated playwright adapting to movies) and Hart; and the classics, which have been revived numerous times, the Pulitzer Prize-winning You Can't Take It With You (1936), about an eccentric family coasting along in the middle of America's Depression [directed for the screen by the legendary Frank Capra, it went on to win Best Picture and Best Director], and The Man Who Came to Dinner (1939), the hilarious tale of writer Sheridan Whiteside on tour in the Midwest and having to impose his will on a family after slipping on ice [it's assumed Whiteside was based on the playwrights' friend, caustic critic Alexander Woolcott].
On his own, Hart gained universal recognition for his prodigious writing, which includes As Thousands Cheer (1933); The Great Waltz and Merrily We Roll Along (both 1934), with the latter opening only a week after the former; I'd Rather Be Right (1937); Lady in the Dark, starring Gertrude Lawrence, which he also directed; and Light Up the Sky (1948). His work as director also included Irving Berlin and Robert Sherwood's Miss Liberty (1949); Lerner and Loewe's My Fair Lady (1956), which ran seven years winning him a Best Director Tony, and Camelot (1960). Hart's younger brother, Bernard, was a veteran Broadway producer [The Great Waltz, The Women, Lady in the Dark, My Fair Lady, Camelot].
Hart did screen adaptations of a number of his plays as well as Hans Christian Anderson (1952); the controversial Gentleman's Agreement, which co-starred Gregory Peck [directed by Elia Kazan]; and the musical remake of A Star is Born, (1954), starring Judy Garland and James Mason [directed by George Cukor].