Motown: The Musical Brings the Detroit Sound to the Great White Way
February 11, 2014 - by Elliott Richards
Berry Gordy is the beating heart of Motown: The Musical. He founded the legendary record company in Detroit with $800 from his skeptical family and built it into one of the nation's most highly visible and successful black-owned businesses. He wrote and produced songs. He managed the careers of his artists that ultimately shaped the Motown sound.
And he not only wrote the book to the musical—he is the show's central character.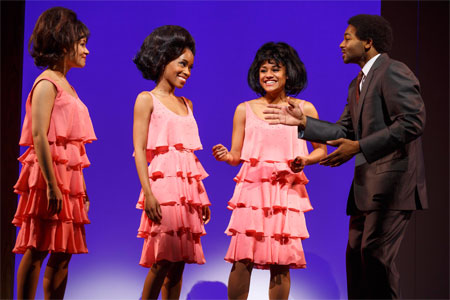 Sydney Morton, Valisia LeKae, Ariana DeBose, and Brandon Victor Dixon
He has a lot of company at the Lunt-Fontanne Theatre: the corps of actors who brilliantly evoke the vocal and onstage styles of the Motown stars Diana Ross, Marvin Gaye (Bryan Terrell Clark), Michael Jackson (Raymond Luke Jr. and Prince George Maynard), Smokey Robinson (Charl Brown), Stevie Wonder (Ryan Shaw), the Four Tops, the Temptations, Mary Wells, Martha Reeves, and Gladys Knight (plus her Pips).
And then there are the songs—60 of them—not credited to one composer but to the Legendary Motown Catalog. They are embedded in the musical brainwaves of most baby boomers who can automatically recall the lyrics of hits like "My Guy," "Stop! In the Name of Love," "I'll Be There," "Ain't Too Proud to Beg," "Get Ready," "I Hear a Symphony," "Dancing in the Street," "ABC," "Mercy, Mercy Me," and "Tears of a Clown."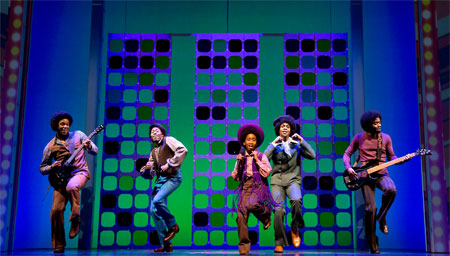 Raymond Luke Jr. as Michael Jackson (center) with the Jackson 5
"The songs are a gift," says Brandon Victor Dixon, who plays Gordy. "I'm a singer and a performer, and the thing I value is quality. These songs are musically giving, but their lyrics and syntax are full of substance that you can communicate with words."
Motown moves quickly over 2 hours and 40 minutes, thanks to director Charles Randolph-Wright and the choreographers Patricia Wilcox and Warren Adams, who resurrected the coordinated movements of groups like the Four Tops and Temptations.
And the show also contains more musical numbers—60!—than any other show on Broadway.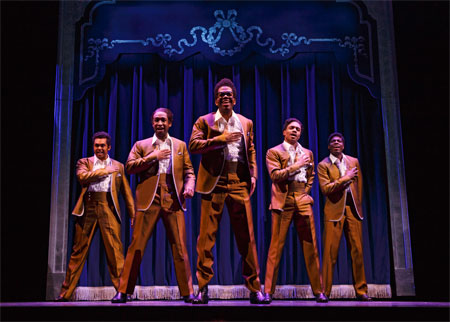 Jesse Nager, Donald Webber, Jr., Julius Thomas III, Ephraim M. Syke and Jawan M. Jackson as the Temptations
"There's so much material and so many songs that what you see onstage was difficult to [execute]," says Dixon. "There were debates about how many songs there would be. Some were lost. Some were found."
Motown is framed by a single event: the 25th anniversary reunion of the Motown artists—and Gordy is reluctant to attend because many of them have left for better record deals elsewhere.
In between, Motown's rise is told through auditions, as well as performances on The Ed Sullivan Show and in the south before segregated audiences. Scenes also take place during meetings in the Motown writers' room where a song's potential for a hit was debated. And then there's the competition nurtured between groups, Gordy's difficulties with black activists, his romance with Diana Ross, and his insistence that her first song as a solo act would be in a waltz's meter.
Ross initially resisted but it became a major hit: "Reach Out and Touch."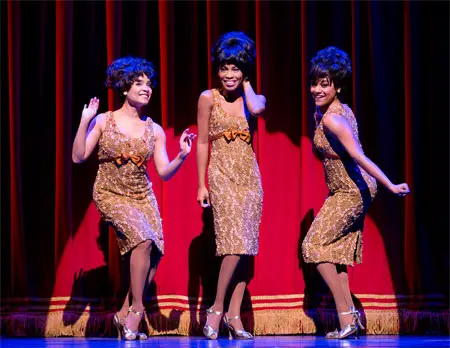 Sydney Morton, Valisia LeKae, and Ariana DeBose as the Supremes
"Berry is a control freak, but the smartest thing about him is that he has an absurd eye for talent and the ability to empower people to their greatest potential," Dixon says. "Behind everything he does is love and joy—he's a real kid in a lot of respects."
Dixon goes on to note that Gordy, who is 83, is a healthy man with a trove of memories.
"I really forget his age," Dixon says. "He acts like a man of 60. We played tennis in L.A. and I'm not going to tell you who won."
Motown bears some obvious resemblances to Jersey Boys, the Tony Award-winning musical about the Four Seasons. Both shows have deep musical roots in the early 1960s and have engaging scripts that find smart openings for their iconic songs.
Still, as Dixon concludes, "Jersey Boys is about a single act and ours is about a company and a movement unique to America."
Motown the Musical is playing at the Lunt-Fontanne Theatre, 205 W. 46th St. For tickets, call 877-250-2929 or click here.
All photos: ©2013 Joan Marcus

Looking for Free Group Planning Services?
Get free advice on planning your group's trip to New York.
RESTAURANTS

A sophisticated, elegant steakhouse with generous portions o...

THEATER

Gaston Leroux's famous period thriller is now one of Broadwa...

SHOPPING

The world's largest source of cameras, camcorders, and more ...

SIGHTSEEING

Spirit Cruises is New York City's most vibrant and entertain...