In the weeks leading up to Moulin Rouge!'s Broadway debut the yowza buzz was robust. Rapturous even. And considering the ravishing welcoming committee flanking the Hirschfeld Theatre's revamped stage—an uninhibited gaggle of buff, brassy, persuasive performers, their thongs and spandex pants topped with vintagesque corsets and topcoats—yowza is an understatement. 1899 meets 2019, with the lush costume mash-up by Catherine Zuber and killer scenic design by Derek McLane elevating a semi-surreal homage to the legendary Parisian nightclub to intoxicating heights.
Photos by Matthew Murphy.
This freewheeling pre-show introduction is just the appetizer to the opening number: a thrilling tsunami of musical, physical, and visual pyrotechnics led by a rouged and ebullient Danny Burstein as Harold Zidler, part emcee, part ringmaster, part heart and soul of the Moulin Rouge which, we are told, is wallowing in a fiscal sinkhole. Hope is wrapped up in potential backing by the sinister Duke of Monroth (Tam Mutu), so Zidler calls upon the show's beautiful—albeit riddled with consumption—star, Satine (Karen Olivo), to save Moulin Rouge by dipping into her seductive bag of tricks.
Naturally, things get muddled when Satine falls for the starving young American playwright Christian (Aaron Tveit), initially mistaking him for the Duke. The two lovers, along with Christian's newfound sidekicks, Latin lover/tango dancer Santiago (Ricky Rojas) and artist Toulouse-Lautrec (Sahr Ngaujah), contrive to mount a new show that (hypothetically) will save the Moulin Rouge.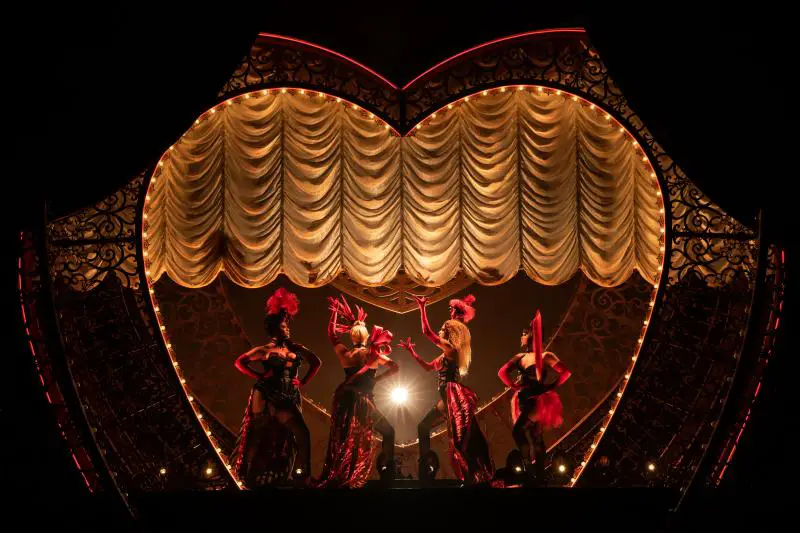 The musical is inspired by the 2001 film of the same name, which director Baz Luhrmann modeled after the legendary fin de siècle club where struggling artists, courtesans, the hoi polloi, and the wealthy mingled lavishly in a world of Champagne, can-can dancers, a giant-sized elephant, velvet banquettes, and entertainers like Le Chocolat. But where Luhrmann's visionary decision to amplify the Belle Époque backdrop with contemporary music and choreography left off, the triumphant coming together on Broadway of director Alex Timbers, choreographer Sonya Tayeh, and Justin Levine (music supervision, orchestrations, arrangements, and additional lyrics), pushes the initial concept to the stars.
Theatrics run from sophisticated to idyllic to camp; dance numbers from Bob Fosse to Busby Berkeley to Jerome Robbins to Cirque du Soleil; but most of all it's the expanded score that takes the handful of numbers introduced in the film and turns them into an almost operatic score of 20th and 21st century (mostly the latter) songs, so deliciously diverse and flowing so gorgeously into each other that even the most jaded jukebox musical critic can't help but be enthralled.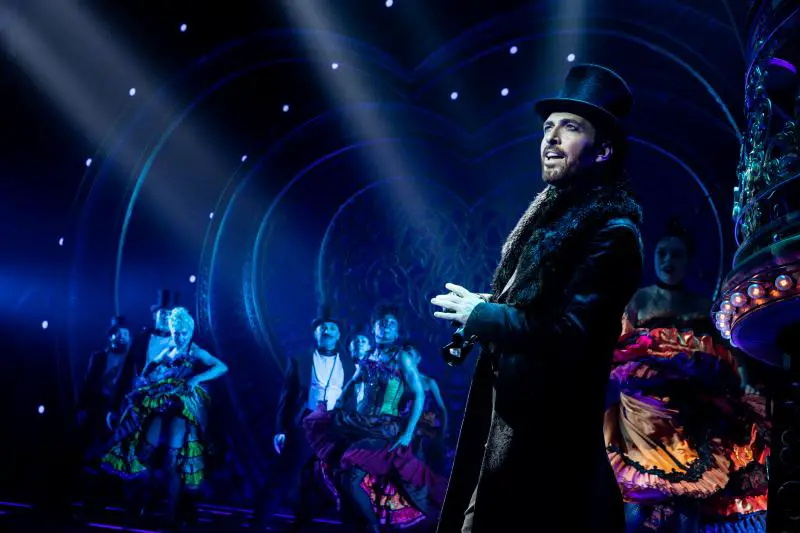 The actors dazzle as they deliver these wonderfully orchestrated numbers, including Burstein's Cab Calloway; Olivo's unforgettable shifting of gears from Monroe to Madonna to Beyoncé, and Tveit's pitch-perfect "Rolling in the Deep." And "Lady Marmalade"…I mean, come on.
For the 2½ hours you're tucked away from the world at Moulin Rouge!, you're "…gonna live like tomorrow doesn't exist."
---
Moulin Rouge! is playing at the Al Hirschfeld Theatre, 302 W. 45th St. Call (800) 653-8000 or visit moulinrougemusical.com for more information.