NYC Must-See Week is a yearly event offering 2-for-1 tickets to attractions throughout New York City. Happening now, Must-See Week will last until February 10, with some truly great steals at a wide range of venues. Several museums are participating, including big names like the Guggenheim and under-the-radar wonders like the Fraunces Tavern Museum. Below are 10 exhibitions at participating museums.
Depending on which museum you choose, discounts are available through an online offer code, by phone, or with a voucher when you buy museum tickets at the box office. Vouchers are available on the NYC Must-See Week main page. See the FAQ for Must-See Week to learn more about the discount.
Museum Exhibitions for NYC Must-See Week: Hilma af Klint at the Guggenheim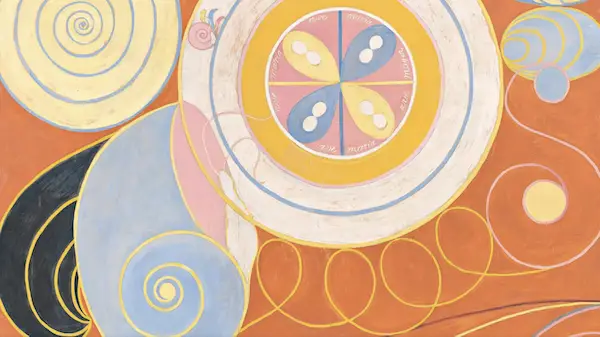 Group IV, the Ten Largest, No. 3, Youth, 1907, from Untitled Series. Photo: Albin Dahlström, Moderna Museet, Stockholm.


Among the first innovators of abstract art, Swedish painter Hilma af Klint created a large body of groundbreaking work around the turn of the 20th century. Her mathematical abstracts and dreamy, semi-botanical pieces radically departed from the representational landscapes, portraits, and still lifes that were popular during her day. Af Klint's abstract work came out of her devotion to spiritualism, which she practiced by communicating with the dead through a medium. The artist worked in near-obscurity during her lifetime and forbade her work from being shown until 20 years after her death; only in recent years has a body of scholarship risen up around this important figure in Western art. On view through April 23, 2019. Present voucher in-person for tickets. 1071 Fifth Ave., 212-423-3500, guggenheim.org
Museum Exhibitions for NYC Must-See Week: Bruce Nauman: Disappearing Acts at MoMA
Catch the final days of Bruce Nauman's solo exhibition at the Museum of Modern Art during Must-See Week. Bruce Nauman has worked since the mid-1960s in a range of media from sculpture to printmaking to drawing to performance. Much of his work is defined by absences and negative space. His work in neon pictures cheeky, suggestive phrases like Run from fear / Fun from rear. The first major showing of its kind, this exhibition occupies the entire sixth floor of the MoMA building in Midtown. Completed works from Nauman's long and impressive career are featured alongside drafts of his current projects. On view through February 18. Present voucher in-person for tickets. 11 W. 53rd St., 212-708-9400, moma.org
Museum Exhibitions for NYC Must-See Week: Defying Gravity at Intrepid
A dynamic new exhibit about women in space is certainly a must-see at the Intrepid Sea, Air & Space Museum. The first African-American woman in space, Dr. Mae Jemison, has lent her digital image to this exciting multimedia presentation, during which a 3D hologram of Jemison leads you through the environment. Aided by impressive digital graphics and the real space shuttle Enterprise, Dr. Jemison tells you her incredible story and those of other women in the space program. This is a mixed-VR experience utilizing Microsoft HoloLens headsets that display the graphics over the physical elements of the exhibit inside the Intrepid aircraft carrier. Ongoing. Use offer code "MUSTSEE19" or present voucher in-person for tickets. Pier 86, W. 46 St. & 12th Ave., 877-957-SHIP, intrepidmuseum.org
Museum Exhibitions for NYC Must-See Week: Half the Picture at Brooklyn Museum
In addition to Soul of a Nation (through Sunday, February 3rd) and the new Frida Kahlo exhibition, which opens on Friday, February 8th (advance tickets available here), the Brooklyn Museum is showing Half the Picture: A Feminist Look at the Collection this winter. The title is drawn from a poster by the art collective Guerrilla Girls, which reads, You're seeing less than half the picture without the vision of women artists and artists of color. Indeed the exhibit features not only women artists and not only subjects relevant to gender, but also intersectional topics like race, space, political oppression, and fraught moments in American history. Featured artists include Wendy Red Star, Philip Pearlstein, Betty Tompkins, Carrie Mae Weems, and Vito Acconci. On view through March 31. Present voucher in-person for tickets. 200 Eastern Pkwy., 718-638-5000, brooklynmuseum.org
Museum Exhibitions for NYC Must-See Week: Reimagining Mobility at Cooper Hewitt, Smithsonian Design Museum
i-ROAD Electric Vehicle, 2013; Toyota Motor Corporation (Aichi Prefecture, Japan); Courtesy of Toyota
Among the many fascinating design concepts at Cooper Hewitt, Smithsonian Design Museum, this exhibition is sure to inspire wonder. The Road Ahead: Reimagining Mobility imagines a future of flying cars, a Hyperloop cargo car, tiny electric automobiles, and bicycles that are also wheelchairs. Through their designs organizations like MIT, Toyota, and Waymo propose city-changing technology like droids, bots, and drones that might improve wide-scale sustainability. On view through March 31. Use offer code "MUSTSEE19" for tickets. 2 E 91st St., 212-849-8400, cooperhewitt.org
Museum Exhibitions for NYC Must-See Week: With a Single Step at MOCA
Walking through Chinatown takes you back in history and presents a fascinating example of an immigrant community in the United States. Located in that historic neighborhood, The Museum of Chinese in America documents the Chinese-American community, their self-perception, and impact on American life. The museum's central exhibition, With a Single Step, begins with Chinese and American relations during the Industrial revolution. The timeline progresses with the rise of anti-Chinese sentiment through the 1882 Chinese Exclusion Act and how Chinatowns shaped several U.S. cities. The exhibition concludes with a look at the present climate of Chinese-American relations and considers the future of the Chinese in America. On view through December 31, 2020. Use offer code "MUSTSEE19" or present voucher in-person for tickets. 215 Centre St., 855-955-MOCA, mocanyc.org
Museum Exhibitions for NYC Must-See Week: Tibetan Shrine at The Rubin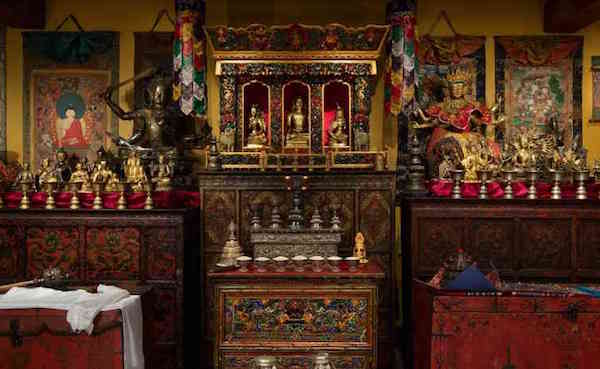 The Rubin Museum in Chelsea explores the art of the Himalayan Mountains. A centerpiece of its impressive collection is the Tibetan Buddhist Shrine Room. This quiet, contemplative space is modeled after a private family shrine you'd find in an affluent Buddhist home. Filled with art and artifacts from the Rubin's collection, the room nonetheless presents as a comfortable space where you can take a break from the hectic streets of New York and create a moment of serenity. Visitors are encouraged to stop, rest, and meditate in this immersive sacred space. Present voucher in-person for tickets. 150 W. 17th St., 212-620-5000, rubinmuseum.org
Museum Exhibitions for NYC Must-See Week: Germ City at The Museum of the City of New York
Germ City: Microbes and the Metropolis at the Museum of the City of New York answers every question you've had while hanging onto the pole in a subway car. In collaboration with The New York Academy of Medicine and Wellcome, Germ City documents the lives microbes in major urban centers. Historically, New York has been plagued by many infectious diseases that influenced government, urban planning, medicine, business, and local activism. Find out the importance of germs yesterday, today, and tomorrow at this fascinating collection of artifacts, contemporary art, books, and interactive digital elements. Use offer code "MUSTSEE19" or present voucher in-person for tickets. 1220 Fifth Ave., 212-534-1672, mcny.org
Museum Exhibitions for NYC Must-See Week: Confidential at Fraunces Tavern Museum
Housed in a 300-year-old building in the Financial District, the Fraunces Tavern Museum collection explores the period surrounding the Revolutionary War. Owned by Samuel Fraunces in the 18th century, the building itself survived the war and hosted President George Washington on several occasions. In addition to the museum's fascinating permanent collection, it's also showing the special exhibition Confidential: The American Revolution's Agents of Espionage. You'll learn about famous traitors like Benedict Arnold, plus tailors, teachers, and slaves who went undercover on behalf of revolutionary forces. While you're around, enjoy a pint and a hearty meal at the Fraunces Tavern bar and restaurant. On view through September. Use offer code "MUSTSEE19" for tickets. 54 Pearl St., 212-425-1778, frauncestavernmuseum.org
Museum Exhibitions for NYC Must-See Week: Releasing Words at Eldridge Street Synagogue
Eldridge Street Synagogue was opened in 1887 in the Lower East Side and remains today as an honored memorial to Jewish culture. The beautiful restored interiors and synagogue museum are a testament to Eastern European immigration in the area and their lasting legacy in New York and the world. The Museum at Eldridge Street's exhibition Releasing Words: The Cut Paper Art of Deborah Ugoretz shows the artist's use of papercutting, a traditional Jewish folk art. Throughout these 30 pieces, Ugoretz pictures characters and symbols from Jewish mythology and scripture. Pieces range from her early papercutting in the 1980s to her current work, including a moving audiovisual installation. Use offer code "MUSTSEE19," call the museum, or use voucher in-person for tickets. 12 Eldridge St., 212-219-0302, eldridgestreet.org