Your weekdays just got a little more interesting. Monday through Friday, NYC museums offer reduced admission, free drawing in museum galleries, live music and cocktails, and much more. Avoid the weekend mob and have a special experience during the week at these cultural institutions. Events are listed by day of the week; plan away!
Mondays: Pay as You Wish at the Museum at Eldridge Street

Eldridge Street Synagogue was opened in 1887 in the Lower East Side and remains today as an honored memorial to Jewish culture. The beautiful interiors, particularly the swirling starscape window in the back of the main hall, also serve as a museum to educate the public about Jewish history in New York. This National Historic Landmark houses historic Yiddish signs, Jewish ritual objects, archival documents, building restoration artifacts, and a collection of oral histories. Monday, visitors can pay whatever they wish and enjoy a free guided tour of the museum (offered hourly every day). 12 Eldridge St., 212-219-0302, eldridgestreet.org
Tuesdays: Extended Hours at The Guggenheim Museum

The Guggenheim Museum was designed by the one and only Frank Lloyd Wright, and his unique architectural talents are undeniable as you make your way up the museum's winding ramp. This summer, the artists are the curators in the Guggenheim Museum's newest exhibition, Artistic License. For the first time, six artists have culled through the museum's massive collection to select surprising juxtapositions of painting, sculpture, photography, and installations created throughout the past century. Cai Guo-Qiang, Paul Chan, Jenny Holzer, Julie Mehretu, Richard Prince, and Carrie Mae Weems will present disruptive takes on the collection that center around themes like war and geography, the tradition of the bather in Western art, and art in black and white. The exhibition honors the 60th anniversary of the Frank Lloyd Wright spiral that is the Guggenheim's iconic home. On Tuesdays (and Saturdays), The Guggenheim is open until 8pm. 1071 Fifth Ave., 212-423-3500, guggenheim.org


Tuesdays: Free Admission at the 9/11 Memorial & Museum
The 9/11 Memorial & Museum occupies the space of the former World Trade Center in downtown Manhattan. The museum commemorates the 2,983 lives we lost on September 11, 2001, and the terrorist bombing at the World Trade Center on February 26, 1993. Recovered artifacts like fire helmets and personal effects are displayed alongside photographic and video footage taken in the season surrounding 9/11. The Museum also seeks to explore the lasting effects of these devastating attacks in the years since 2001. Tuesdays, free tickets to the museum are distributed on-site at 4pm (first come, first served). You can enter the museum at 5 pm and stay until closing time at 8 pm. 180 Greenwich St, 212-312-8800, 911memorial.org
Wednesdays: Pay-What-You-Wish & Draw-What-You-Wish at The Frick Collection
The Frick Collection houses masterpieces of painting, sculpture, and design objects inside a Gilded Age mansion on Fifth Avenue. There are so many reasons to spend a few hours touring the stately interiors and serene gardens, but we'll keep it short: you can select your own ticket price on Wednesday evenings from 2pm to 6pm! If you're an artist yourself, come Wednesdays to find inspiration from the galleries for free. Draw-What-You-Wish occurs at 4pm on select Wednesdays in the Garden Court during Pay-What-You-Wish hours. Every other Wednesday, come for after-hours drawing time in one of the museum's stunning galleries. Free materials will also be provided at this special Wednesday Atelier. 1 E 70th St, 212-288-0700, frick.org
Wednesdays & Thursdays: Free Admission at Museum of Jewish Heritage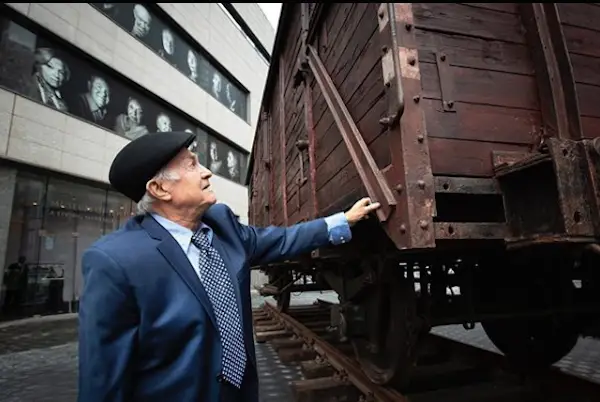 The Museum of Jewish Heritage—A Living Memorial to the Holocaust is one of New York City's most beloved treasures, featuring a core exhibition of more than 800 artifacts and 2000 photographs that bring Jewish history. The space is contemplative and always changing, making it the perfect place to visit again and again. On Wednesdays and Thursdays, all visitors can get free admission between 4pm and 9pm to all exhibitions except Auschwitz. Not long ago. Not far away. Exhibitions included in these free evening events are Ordinary Treasures: Highlights from the Museum of Jewish Heritage Collection, The Last Goodbye, and The Number on Great-Grandpa's Arm. 36 Battery Pl., 646-437-4202, mjhnyc.org
Thursdays: Cocktails at Cooper Hewitt

In an area full of amazing culture, Cooper Hewitt, Smithsonian Design Museum might just be the coolest member of Museum Mile. This converted mansion features fascinating collections of design objects like a room full of magically changing wallpaper. If that doesn't convince you to go, what about happy hour in a garden with live music? Thursdays at Cooper Hewitt mean cocktails and a diverse lineup of musicians, all al fresco, throughout the summer. The season kicks off in Brooklyn at A/D/O, followed by weekly performances and cocktails flowing from June 13 through August 15. Cocktails at Cooper Hewitt last from 6 to 9 pm. Tickets cost $14 online and $16 at the door. 2 East 91st St., 212-849-8400, cooperhewitt.org
Thursdays: Pay-What-You-Wish at the Museum of Arts and Design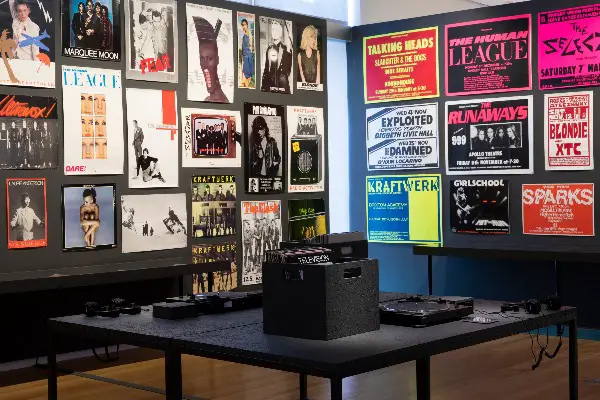 Installation view of Too Fast to Live, Too Young to Die: Punk Graphics, 1976-1986 at the Museum of Arts and Design. Photo by Jenna Bascom.
Immerse yourself in the fine art of handicrafts at MAD this summer. The museum, located at Columbus Circle, offers floors full of Tiffany lamps, intricate ceramics, jewelry and other design objects made by world-class artists. Right now, see punk-rock posters, zines, and film at Too Fast to Live, Too Young to Die: Punk Graphics, 1976-1986, as well as exhibitions on retrofuturistic jewelry and the installations of Roger Brown. Swing by on Thursdays for Pay-What-You-Wish hours from 6 to 9pm. 2 Columbus Circle, 212-299-7777, madmuseum.org
Fridays: Friday Evening Jazz & Free Admission at The Morgan
Bebop into the weekend with free jazz performances at the Morgan Library & Museum on Friday nights. This Midtown East gem, the former home of Gilded Age financier John Pierpont Morgan, is filled with fine art and rare books in its lavish interiors. See the museum's Gutenberg Bible, rare manuscripts, and upcoming exhibitions like Walt Whitman: Bard of Democracy. Fridays, admission is free from 7 to 9pm, and jazz performances occur at the Gilbert Court from 6:30 to 7:30pm. The concerts are also free to attend. 225 Madison Ave., 212-685-0008, themorgan.org