Making a beautiful cake is pretty challenging, but what if you had to make it on a navy ship? The Intrepid Sea, Air & Space Museum's new exhibition explores the history of naval personnel and their incredible cakes this fall. Navy Cakes: A Slice of History opens October 11. 
Like contestants on your favorite reality baking show, the sailors of the past created impressive, sculptural cakes aboard their ships. Two vessels that saw the creation of these cakes include the museum structure itself, the aircraft carrier USS Intrepid, and the Cold War submarine currently aboard Intrepid, the USS Growler. The exhibition will explore the development of these cakes and the officers who made them through recipes, photographs, and objects. Personal testimonies from naval personnel will also give you a taste of what these celebrations—and their desserts—were really like.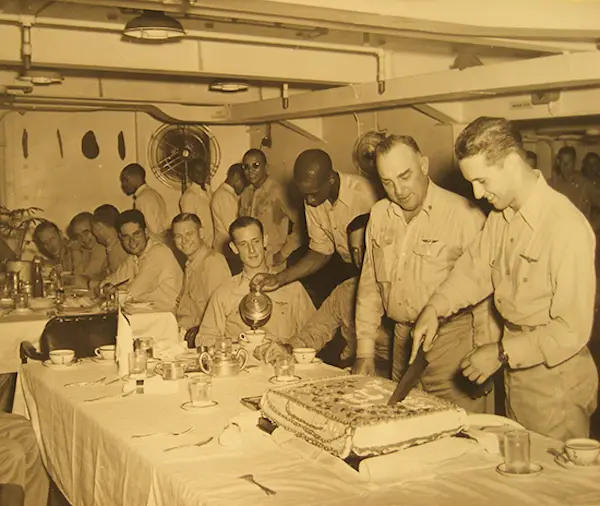 Dinner and cake in Intrepid's wardroom in October 1944. Photo from National Archives and Records Administration.
The naval officers in the kitchens of these ships luckily had plenty of resources to use for their cakes. The exhibition web page states that the average navy cake was large enough to feed 100 people. The kind of 50-pound bags of flour they might have used aboard ships in 1963 cost $3.25 at that time. Also, at the first anniversary celebration of Intrepid, the bakers used 90 dozen eggs (that's 1,080 eggs!). 
After you check out Navy Cakes, be sure to visit the Space Shuttle Pavilion for a look at Enterprise and the history of space shuttles. In addition to its resonance in "Navy Cakes," the USS Growler is also the subject of its own exhibition, "A View from the Deep: The Submarine Growler and The Cold War." Intrepid's role in the Vietnam War is explored in "On the Line." You can also take a quick trip to the International Space Station with a virtual reality experience located inside the museum. 
And don't forget use this City Guide coupon for $5 off your ticket at the Intrepid Museum!
---
The Intrepid Sea, Air & Space Museum is located at Pier 86 at West 46 Street and 12th Avenue.  For tickets and more information, call 877-957-SHIP or visit intrepidmuseum.org.