Tide Deck on newly opened Pier 26. Photo by Max Guliani for Hudson River Park.
Spikes in a handful of outer borough zip codes have led to school closures and a mayor-governor snit over which non-essential businesses in those areas should join them. That said, this is not March. NYC has vastly better testing, treatment, and understanding of containment. And despite the news of the last few days—the president's infection and weakness in the September jobs report—there's actually plenty of data pointing toward optimism. Scientists have found "no direct correlation between public transit use and COVID-19 spread, either worldwide or in New York City." Reopenings are continuing: horse-drawn carriage rides are back, The Kimberly Hotel and The Marlton Hotel are open again, and Steiner Studios at the Brooklyn Navy Yard is filming once again.

Nationally, travel spending continues to tick upward. This week's poll numbers from tourism research and marketing company Destination Analysts show traveler concerns about contracting COVID-19 and finances dropped to 30-week lows. After a long season of beach interest, New York is holding down the #4 slot as the most desired upcoming travel destination. As Loews Hotels & Co. President Alex Tisch put it, "There's no place that's more resilient than New York. Eventually, people are going to want to come back see the great things that places like New York have to offer, which, frankly, resort destinations just don't have."
Links of Interest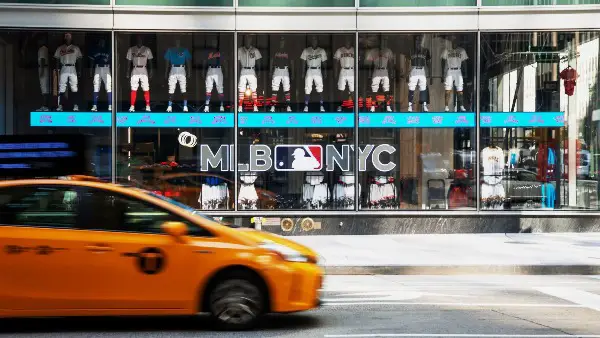 NYC
Just in time for playoff baseball, the MLB Flagship Store opens in midtown. 

The Whitney pushes off its Biennial until 2022.

Expand your food horizons this weekend with New York African Restaurant Week.

Bed-Stuy is NYC's lone representative on Time Out's global 40 Coolest Neighborhoods list.

A new speakeasy is coming to JFK.

Kevin Young, the Schomburg Center director, to become director of the National Museum of African American History and Culture.

New York city and state both downgraded as Moody's warns of long return to normal.

Colder weather brings new struggles for Brooklyn restaurants.

Audit by state Comptroller Thomas DiNapoli suggests massive restaurant losses in NYC.

Steve Barnes of Cellino & Barnes fame dies in a plane crash.

NATIONAL
American Hotel & Lodging Association and U.S. Travel partner with 150 organizations to launch the COVID Relief Now Coalition (and the industry issues a statement slamming the president's decision to end stimulus discussions).

Luxury hotel amenity Bedside Reading, which places books by bedsides, rolls out new BEDSIDE READING on the download touchless program. Complimentary copies available here.

CLOSING TIME
Regal Cinemas is shuttering all its theaters, including 10 in New York.

The Loeb Boathouse lays off its employees, may try for 2021 comeback.

Mission Chinese's Manhattan location says goodbye.

After seven decades, UWS stalwart Old John's Luncheonette hangs it up.

84 years later, Colandrea New Corner Restaurant ends its run.

The West End Lounge draws the curtain.
Join City Guide's Community Tourism Program
City Guide has developed a discount digital program called the ETD Pass (Everything To Do) to encourage local residents to visit restaurants, attractions, museums, and retailers. You can connect with these consumers by signing-up for this FREE marketing program. Davler Media reaches hundreds of thousands of "regionals" monthly who are looking for a chance to support local businesses and explore their own community. The ETD Pass enables them to achieve this while saving money through passholder discounts. What this means for you is additional dining, attraction, and shopping customers. As part of our community program, during 2020, all first responders will be offered a FREE Passholder subscription for one year. This ETD Pass was designed to be simple for businesses who are open, want to build awareness of their offerings, and attract new customers. For no investment, you will get more business and free marketing. Join our community today. Click here to get more information.

Everything to Do NYC Facebook Group Post of the Week
As the city returns, City Guide's Facebook Group Everything to Do NYC is accelerating in growth, with 300 new members coming on every week. These are people with a strong interest in keeping up with what's going on in the city, as well as a constructive group eager to share their knowledge with visitors. You can see both sides of the debates over reopening with a look at the comments on a recent post like this one, which has already generated 51 comments: 
We have a trip scheduled for New York 16th-23rd. I just heard the governor might be shutting non essential business down because of COVID we were so looking forward to this trip
Quarantine requirements and the latest from the governor were noted, in addition to encouragement to check out Manhattan's many open attractions, unaffected by the recent shutdowns. You can check out the full response here. Other recent posts provide insight into what locals and visitors are thinking.
---
Want more on New York City tourism? Sign up for our free weekly Tourism Happenings newsletter. Just drop a line to ewolff@davlermedia.com.