Off-Broadway is often where some of the city's best theatre is found, even if it doesn't have the clout of its more mainstream Broadway brethren. This February, those looking to discover all Off-Broadway has to offer can do so—without making a huge dent in their wallets. NYC Off-Broadway Week returns this month, offering discounted tickets to a wide range of Off-Broadway shows.
Taking place from February 10-23, 2020, Off-Broadway Week gives audiences the chance to purchase 2-for-1 tickets, using the code "OBW20." Theatergoers can take advantage of the promotion to check out or revisit some of off-Broadway's most enduring hits, including Blue Man Group, Perfect Crime, and STOMP. With Off-Broadway now hosting the second run of several long-running Broadway hits, it's also now cheaper than ever to check out one-time Broadway productions like Jersey Boys, Rock of Ages, and the uproarious Play that Goes Wrong.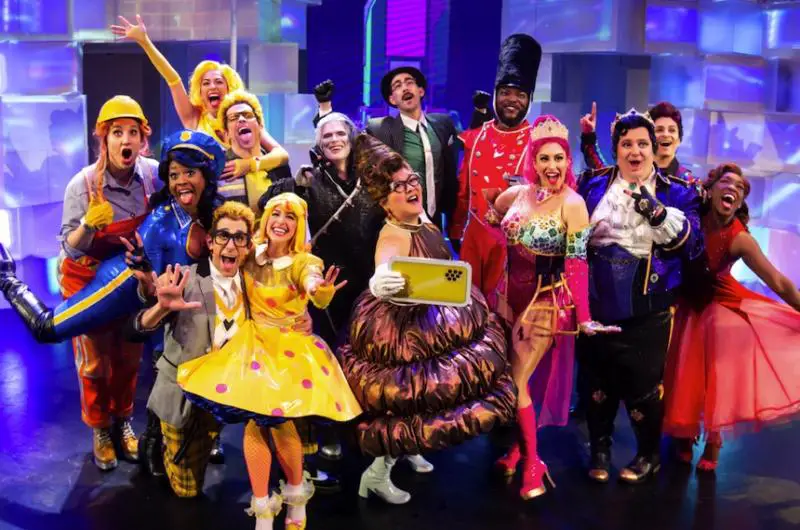 Emojiland the Musical's full cast, photo by Jeremy Daniel.
Musical lovers have plenty of shows to look forward to during Off-Broadway Week, from the world premiere of Bob & Carol & Ted & Alice, featuring music by Spring Awakening composer Duncan Sheik, to the revival of The Unsinkable Molly Brown and the inventive new Emojiland musical. Off-Broadway has also become home to a number of musical parodies of your favorite properties in recent years, from The Office! A Musical Parody to A Musical About Star Wars. And of course, there's always the original Off-Broadway spoof: Forbidden Broadway, a hilarious revue sending up some of Broadway's greatest and latest hits.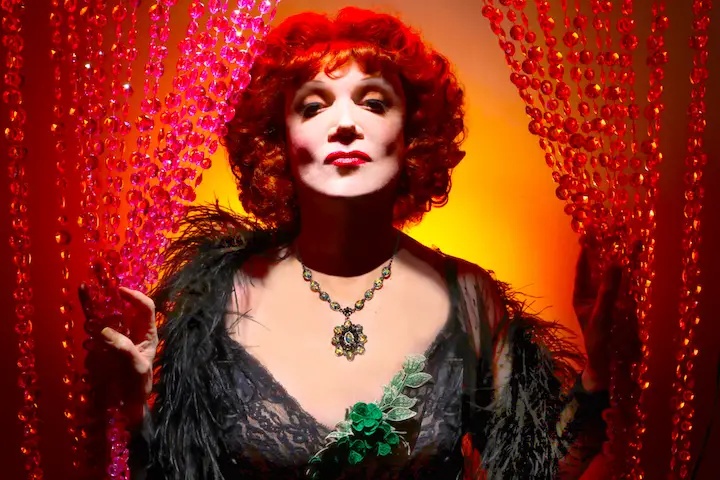 Playgoers also have plenty of Off-Broadway Week options, including new takes on Dracula, Frankenstein, and Paradise Lost, and Charles Busch's The Confession of Lily Dare (above), which draws inspiration from pre-code Hollywood films. Take advantage of the special promotion to discover the newest offerings at some of Off-Broadway's top nonprofit theaters: Make your way to Playwrights Horizons for the new generation-spanning musical Unknown Soldier, or check out Manhattan Theatre Club's family drama The Perplexed, Vineyard Theater's Dana H., or Roundabout Theater Company's immigration-focused 72 Miles to Go… Second Stage Theater, meanwhile, will offer a special discount to We're Gonna Die—which, despite the name, is an uplifting celebration of life from playwright Young Jean Lee, whose play Straight White Men played on Broadway last year. Also on offer are a full slate of solo show offerings by performers like Katsura Sunshine, the only Western master of the Japanese comic art Rakugo; Rick Miller, whose show BOOM takes on the Baby Boomer generation; and Drew Doege with his new show Happy Birthday Doug. Barra Grant also performs in her one-woman show Miss America's Ugly Daughter, as she shares her experience of being the daughter of the world's first and only Jewish Miss America.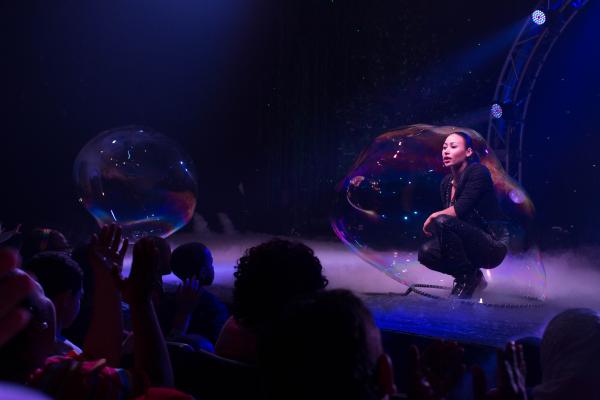 Visual razzle-dazzle awaits at Gazillion Bubble Show.
Beyond your typical plays and musicals, off-Broadway is also home to some less-traditional fare, much of which will be participating in the Off-Broadway Week promotion. Pop over to the Gazillion Bubble Show, perhaps, or enjoy Monday Night Magic at the Players Theatre. Those wanting to have a more intoxicating trip to the theatre, meanwhile, can enjoy an inebriated take on the Bard at Drunk Shakespeare, or learn about the history of spirits and cocktails—and try some out for yourself—at The Imbible: A Spirited History of Drinking.
---
NYC Off-Broadway Week will run from February 10-23. For more information and to purchase tickets, visit NYCgo.com.