A Confident and Compelling 'Othello: The Remix'
January 4, 2017 - by Griffin Miller, Theatre Editor
On the record: I have a thing for Shakespeare's Othello. I know, it's a tragedy, a happy ending is not to be expected, death and heartbreak are pretty much a given, and the play's provocateur is evil personified. Still the story grabs me every time.
I first read Othello in high school; I directed a scene from it in college; I've sat through countless stage productions and I've caught a few film versions here and there (thank you, TCM). But I have never been as swept up in the emotional trajectory of the characters as I was in the Q Brothers' hip-hop take, Othello: The Remix. And, despite its ability to cut to the jugular at appropriate times, it comes steeped with animated sight gags and verbal shenanigans.
Postell Pringle puts a contemporary slant on Shakespeare in Othello: The Remix. Photo by Carol Rosegg.
A tsunami of hip-hop dialogue surges throughout the production non-stop as these four young guys—Q Brothers GQ and JQ, Postell Pringle, and Jackson Doran—bring it home under an infectious beat by DJ Supernova. Bottom line: performers and audience are in a kind of virtual sync throughout this confident and compelling Othello revamp.
Even the character breakdowns are miles away from the original, yet they fit into the plot like puzzle pieces. The always surprisingly malleable Othello is likened to Jay-Z; the villainous Iago to Eminem; Cassio, who "raps about dancing and flirting with the ladies," is a Will Smith type. As for Desdemona, who is never seen onstage and heard very occasionally, she basically falls into the Adele/Christina Aguilera category.
In re-envisioning the Bard, the Q Brothers turned Othello the general into a ghetto kid who rapped his way up in the world to become a "hip-hop mogul."
"Momma so cracked out, she don't recognize me.
I had to get out, for my life and my sanity,
'Stead o' gettin' high waitin' to die like my family
Grabbin' me a pen with a will that's rare...
Now I'm a mother----in' millionaire!"
Yes, a word has been dropped to protect the innocent, but then again this is hip-hop: sterile won't cut it. That said, the show calls to both middle schoolers and adults...and, like Hamilton, you can walk in all anti-rap, but you'll walk out with a whole new appreciation for the genre.
As for the other male characters, for the most part instead of captains, ensigns, and so on, they are members of Othello's crew or techies; Desdemona is "a powerful soul singer."
Those are the basics. I'm not going to go all minutiae on you—it's a tragedy... but it's frequently hilarious. There are dudes in ladies' wigs. There are wonderfully bizarre quasi-costumes by Christina M. Leinicke. And sometimes a pillow can be a soul-wrenching item. Oh yes, it's also produced by John Leguizamo and it should be #1 on your "must see" list!!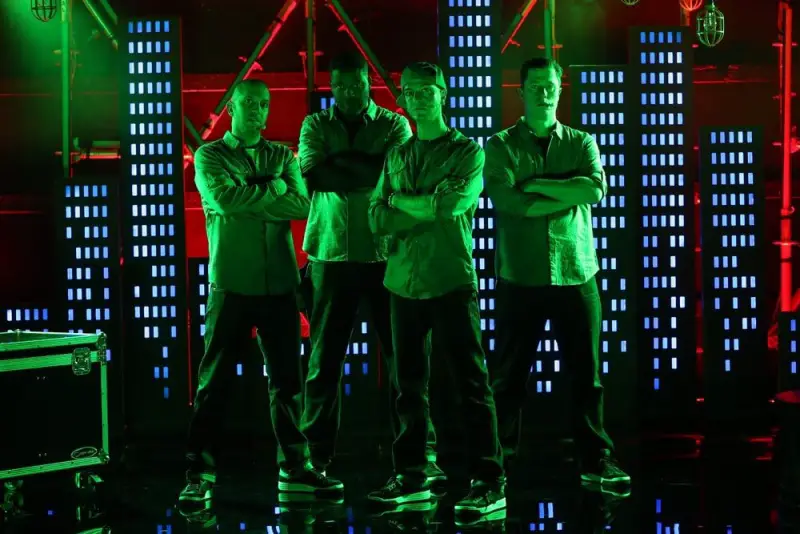 Photo by Carol Rosegg
---
Othello: The Remix is playing through January 15th, 2017 at Westside Theatre, 407 W. 43rd St. For more information, visit othellotheremix.com.
Looking for Free Group Planning Services?
Get free advice on planning your group's trip to New York.
RESTAURANTS

New York City's most famous landmark, the Empire State Build...

THEATER

A new musical following a wannabe rock star who poses as tea...

SHOPPING

Heaven for designers, artists, and antiques lovers....

SIGHTSEEING

Start by ascending to the top of the tallest building in the...