Manhattan has its fair share of museums, but if you take a step out of New York's primary borough, there is plenty of culture yet to uncover. See the oldest building in the city, an acclaimed botanical garden, and an exciting new film screening among these eight institutions to check out in Brooklyn, Staten Island, The Bronx, and Queens. 
Brooklyn Museum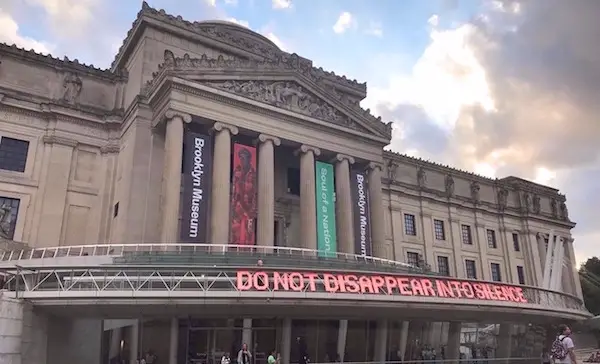 Similar to The Metropolitan Museum of Art, Brooklyn Museum offers a comprehensive look at a wide swath of art history and design. It is renowned for its collection of ancient Egyptian artifacts and its Elizabeth A. Sackler Center for Feminist Art, in addition to fascinating exhibitions every season. On the first Saturday of every month, the museum invites the community for free admission to the galleries, plus talks and performances. Michelin-starred Chef Saul Bolton is also on hand at the museum's restaurant, The Norm. Take a stroll through nearby Prospect Park after your museum visit! 200 Eastern Pkwy., 718-638-5000, brooklynmuseum.org
New York Transit Museum
Step inside a vintage token booth at New York Transit Museum.
Step into the former Court Street subway station in Downtown Brooklyn, and you'll find yourself in an unconventional cultural institution. The New York Transit Museum covers the fascinating history of public transportation in the city. See various iterations of subway tokens and turnstiles, and walk through a series of antique subway cars. This family-friendly museum also showcases various bus designs, transit maps, rotating exhibitions, and more. 99 Schermerhorn St., 718-694-1600, nytransitmuseum.org
Wyckoff House Museum 
Brooklyn is home to the city's oldest structure: the Wyckoff House. Built in 1652, this Canarsie dwelling housed the Wyckoff family and witnessed a pivotal period of American history. Take a tour of the house for just $5, and hang out on the grounds around this antique farmhouse. 5816 Clarendon Rd., 718-629-5400, wyckoffmuseum.org
Snug Harbor Cultural Center & Botanical Garden
Photo courtesy Snug Harbor Cultural Center & Botanical Garden.
Snug Harbor is the cultural gem of Staten Island, where you'll get several museums at one central location. Take the free ferry to this lesser-known borough, and explore the 180-year history of this preserved nineteenth-century community. There are several botanical gardens on site, including the stunning Chinese Scholar's Garden, as well as a suite of buildings full of history and art. The Staten Island Museum provides context for the island, while the Newhouse Center for Contemporary Art nearby hosts a diverse slate of rotating art exhibitions. Kids can also enjoy the hands-on learning at the Staten Island Children's Museum at Snug Harbor. 1000 Richmond Terrace, 718-425-3504, snug-harbor.org
The Bronx Museum of the Arts
Housed in a state-of-the-art facility on Grand Concourse, The Bronx Museum of the Arts showcases contemporary art through its robust permanent collection and special exhibitions. Wandering through the museum reflects the diverse, vibrant culture of The Bronx itself, and the collection contains over 2,000 works, including painting, sculpture, works on paper, and more. Admission is always free for all to this now forty-year-old institution. 1040 Grand Concourse, 718-681-6000, bronxmuseum.org
Edgar Allan Poe Cottage
See the house where Edgar Allan Poe penned his dark poetry and prose and lived the last few years of his life. The Edgar Allan Poe Cottage is a small house built around 1812 and now operated as a museum by The Bronx County Historical Society, which offers select tours explaining the history of the writer and his time in New York. See Poe's residence for just $5, as well as Poe Park, at this site near Fordham University and New York Botanical Garden. 2640 Grand Concourse, 718-881-8900, bronxhistoricalsociety.org/poe-cottage/
Museum of the Moving Image
New York is a world capital of filmmaking. After your tour through some of the most filmed places in the city, learn how the mediums of film and television evolved at the Museum of the Moving Image in Astoria, Queens. There are antique film cameras and a replica of a vintage movie theater inside, plus special exhibitions on various filmmakers and how they make their magic. Weekly screenings on site offer film buffs and families a glimpse of rare, foreign, classic, and popular films. The museum now features a permanent Jim Henson Exhibition, letting you see your favorite characters up close. 36-01 35th Ave., 718-777-6888, movingimage.us
MoMA PS1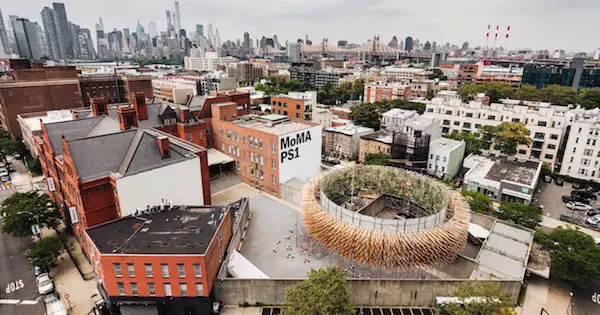 The Museum of Modern Art's Queens campus is well worth a visit to Long Island City. The exhibition spaces here hold new wonders every season, as PS1 does not have a permanent collection but rather functions as an ever-changing gallery. Popular programs at the museum include their outdoor DJ dance parties, collectively called Warm Up. This fall a new museum restaurant, Mina's, will open for museum-goers who like Mediterranean flavors. 22-25 Jackson Ave., 212-708-9400, momaps1.org