Nearly a year ago, the quirky/brilliant Peter and the Starcatcher—adapted for the stage by Rick Elice (from the 2006 novel by Dave Barry and Ridley Pearson) and directed by Roger Rees and Alex Timbers—picked up five Tony Awards (it was nominated for nine!) for its engagingly inventive prequel take on James M. Barrie's Peter Pan. It had already been a multi-extended hit Off-Broadway in 2011 prior to hitting the Great White Way (lead cast intact)—before landing on Broadway to rave reviews.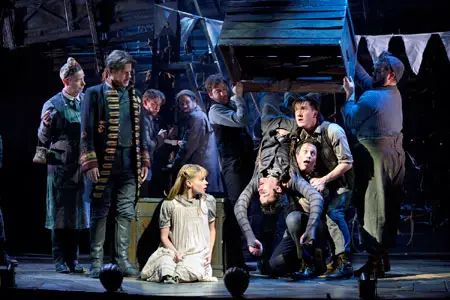 Audiences agreed. Its Broadway run was in the healthy 300's and far too popular to let wither on the closing-night vine. And so, on March 18, it was resurrected at Off-Broadway's New World Stages (340 W. 50th St.), a venue known for housing former Broadway hits.
And OMG! Peter and company are soaring once again in their current new digs—particularly with young theatregoers (middle- & high school kids mostly) who react to the onstage shenanigans with uncensored enthusiasm.
I say this having been personally swept up in an audience of teens who were so caught up in the show that they actually interacted with each other while buying souvenir t-shirts during intermission—cell phones untouched. Really.
As a devoted fan of the show, I get it… but what made my first Off-Broadway viewing such a fabulous departure was the intimacy of the smaller house that jettisoned both audience and cast inhibitions. The show, beloved on Broadway, became a "play" in every sense of the word. The actors, egged on by the kids, served a divine buffet of lunacy: double takes became triple takes, physical comedy turned manic and the fun quotient took over the theatre.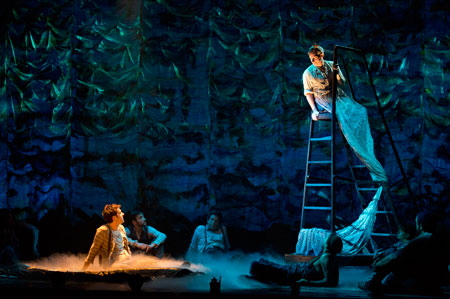 In short, if you loved it on Broadway see it again at New World. A couple of the cast members remain, including Kevin Del Aguila as Smee and Matt D'Amico as Slank. Also in the mix are Jason Ralph as Peter (he understudied the role on Broadway) and Rick Holmes, whose très goofy antics as Black Stache totally blur any memories of his straight man role of Lord Astor on the Great White Way.
What can I say? Peter and the Starcatcher is more hilarious than ever in its latest home. See it—and don't even think about leaving your kids at home. Their reactions, I promise, will enhance your overall parent cred for a long, long time. peterandthestarcatcher.com