One of the best views in Manhattan, Pier A looks out onto New York Harbor, filled with boats, ferries, and Lady Liberty herself. Come gaze at this incredible view, and relish a plate of fresh seafood while you're at it. The Oyster House at Pier A is a casual seafood bar and eatery, perfect for a stop-off after your tour of the Statue of Liberty or a day at the World Trade Center.
The Eats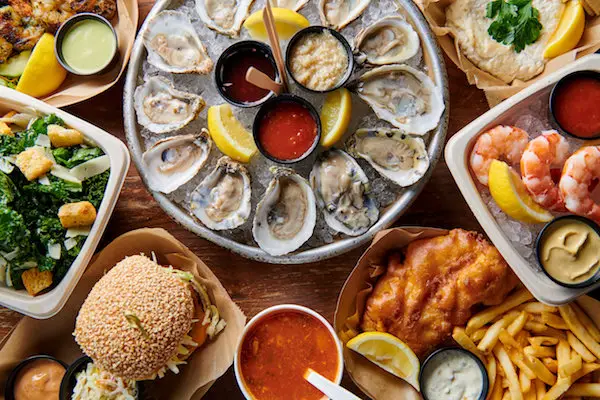 The Oyster House prides itself on fresh seafood, as the restaurant hearkens back to New York's historical oyster eateries and former downtown institutions like the Fulton Fish Market. Raw offerings include East Coast and West Coast oysters with all the fixings. Or you might like your fish fried or grilled—The Oyster House has you covered there too. Try beer-battered haddock or Colossal Shrimp, or you might like fried clam bellies. These fried dishes come with French fries and tartar sauce. Grilled seafoods include tiger shrimp, mahi mahi, and Cajun-style swordfish, all served with salad and sauce like salsa verde or sweet chili lime.


Not feeling seafood? Have grilled chicken kebab with a house salad, a Double Stack Burger with cheddar, or chicken tinga tacos. Plant-eaters can also enjoy the Black Bean Veggie Burger or butternut squash soup. The Oyster House menu labels its gluten-free dishes for your convenience; order one of their sandwiches with gluten-free bread, or indulge in snacks like Chinatown Pickled Eggs or Old Bay Fries.
True to its New York roots, local purveyors at The Oyster House include Acme Smoked Fish, its products featured on the shareable Brooklyn Lox Plate. Also from Brooklyn is Steve's Key Lime Pie, the famous Red Hook dessert that caps off your seafood meal perfectly.
Before you go to The Oyster House, know that it operates via counter service rather than table service. Here's how it works: order from The Oyster House's all-day menu at one of the bars inside. You'll get a tracker that alerts you when your food is ready and receive your order from a member of the wait staff shortly after.
The Location
The Oyster House takes pride in the area's history and is located inside a building that opened in 1886. Pier A is listed on the National Register of Historic Places and is a New York City landmark. Study the walls inside for photographs and objects that recall the coastline's storied past.
Outside, dining tables overlook the harbor beyond. For your next event, book space inside, outside, or both for parties of various sizes. Check out The Oyster House's private events packages here.
The Drinks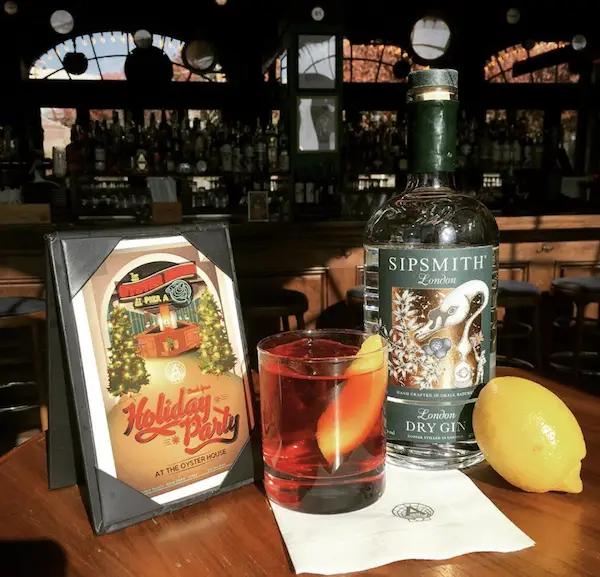 Drinks at The Oyster House come from its full-service bar, offering unique cocktails, beer, and wine. Try a Red Snapper, a Bloody Mary variation with cucumber vodka, tomato, celery, and spices. Perfect for the pub-like atmosphere, you can also have an Irish coffee at brunch or a pineapple daiquiri when you're feeling tropical. Come for The Oyster Hour, Monday through Friday from 3 to 7pm, for deals on drinks and bites. Right now, Oyster Hour specials pair six fresh oysters on the half shell with drinks like Guinness, a house martini, or a glass of muscadet.
---
The Oyster House is located at Pier A: 22 Battery Place. For more information, call 212-785-0153 or visit oysterhousenyc.com.