Impossible Foods, Beyond Meat, and a lineup of other eco-conscious, animal-friendly companies offer plant-based burgers that deliver the delectable flavor and tantalizing aroma of meat without employing the use of cows. For Impossible Foods, a mix of soy and potato proteins create the delicious taste and nutritional benefits that make up their burgers. Many New York City eateries offer this vegan option. Embrace the environment and explore these meat-free offerings!
Heartland Brewery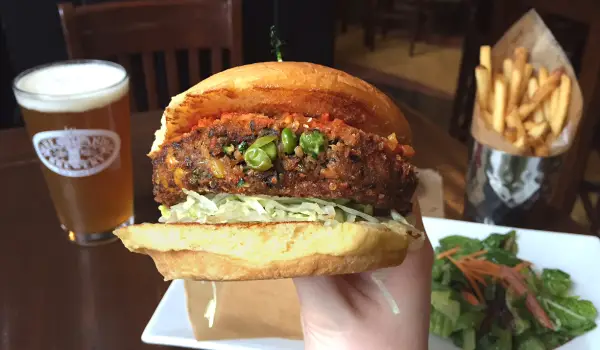 You can imbibe a cold brew at Heartland Brewery, and chow down on a tasty, meat-free burger. Their Veggie Burger is house-made with black beans, brown rice, quinoa, lentils, 7 kinds of veggies topped with tomato chutney. 350 Fifth Ave. (34th St.) 212-563-3433; 127 W. 43rd St. (btw. Sixth & Seventh Aves.) , 646-366-0235, heartlandbrewery.com


Bareburger
Specializing in clean comfort food, Bareburger's Impossible Burger is topped with American cheese, caramelized onions, dill pickles, and leafy lettuce. It's served on a brioche bun with a tasty special sauce. Bareburger's team is proud to dedicate more than one-third of its menu to vegetarian or plant-based foods. Locations all around NYC, including 514 Third Ave., 212-679-2273, bareburger.com
Farm to Burger
Photo credit: Noah Fecks.
The Aliz Hotel Times Square is home to Farm to Burger—a farm-to-table restaurant that boasts a chic country farmhouse vibe. Its veggie burger, which is dubbed "The Millennial," is seasoned with tahini and griddled tomato. It comes with lettuce and red pickled onions, and is served on a multigrain bun. The burger is courtesy of Impossible Foods; all buns hail from Bien Cuit. "From using exclusively pasture-raised beef to eco-friendly takeout boxes, we are embracing an environmentally conscious approach to burgers," says Alberto Benenati, Co-owner, Yves Jadot Restaurant Group. 310 W. 40th St., farmtoburger.com
Nishi
The trendy, style savvy area of Chelsea is home to Nishi, which is led by Chef Nick Tamburo and offers a limited number of Impossible Burgers daily. They're available on a first come, first served basis, so get there early and enjoy. 232 Eighth Ave., 646-518-1919, nishi.momofuku.com
Valerie
Gin-focused eatery/cocktail bar Valerie offers an Impossible Burger, which is available for dinner and upon request at brunch-time. It features pickled mushrooms, slices of dill pickle, and dijon mustard. 45 W. 45th St., 212-302-4545, valerienewyorkcity.com
Saxon + Parole
Photo credit: Aubrie Pick.
Saxon + Parole offers a tasty meatless burger topped with mushroom purée, roasted oyster mushrooms, sherry onions, and a rich truffle cream. 316 Bowery, 212-254-0350, saxonandparole.com