Dear Helga Hufflepuff,
Finally—how many centuries is it now?—whatever.  At any rate, dearest Helga, your legacy has officially come into its own thanks to a spunky little Off-Broadway show that could…and did. And continues to do.
I'm talking, of course, about Puffs, Or: Seven Increasingly Eventful Years at a Certain School of Magic and Magic, a comedic hopscotch through the Hogwarts lives of a bunch of misfit kids sorted into the House of Hufflepuff parallel to the arrival of H. Potter and his Gryffindor BFFs.
The ragtag Hufflepuffs (who aren't nearly as ragtag as they originally were before moving to New World Stages), with their yellow and black color palette and Badger crests prove themselves worthy of entertaining audiences—who absolutely don't need to know tons of stuff about Hogwarts or Potter or J.K. Rowling or Voldemort or Cedric Diggory to have fun in this Puff-centric world. The backdrop is a school and this is a learning experience after all. However, theatregoers possessing a cult follower's passion for the books and films will have an edge when it comes to insider jokes.
But Helga, I digress. The reason for this unexpected letter rests in some news—possibly the most mondo Hufflepuffuian news ever: the two-day, nationwide screening of Puffs: Filmed Live Off Broadway.
I'll give you a moment to catch your breath.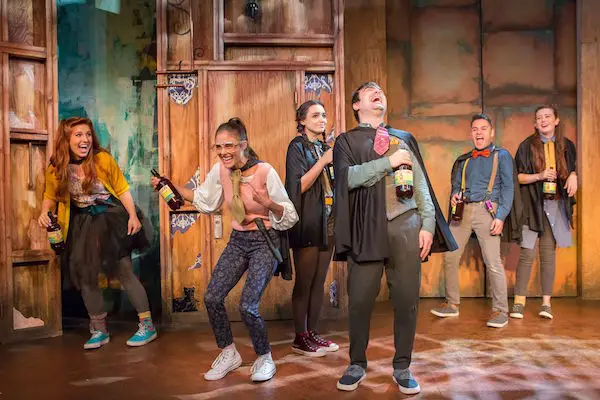 Okay, I'm back. Shot this past February over two performances at its New World home, big screen Puffs is a must-see for moviegoers desiring to take in the stage experience in a rare cinematic adventure. I'm talking close-ups, wickedly inventive angles, and never-before-caught-on-film behind-the-scenes goodies. All thanks to the coming together of Fathom Events and Tilted Windmills Theatricals. Sweet.
Said Fathom Events Chief Content and Programming Officer Gordon Synn, "This epic secondary storyline, imagined from one of the world's most famous wizarding sagas, has maintained its popularity with fans for years. Puffs: Filmed Live Off Broadway now offers those fans a unique new way to experience this hilarious twist on a classic story, proving that underdogs can be the heroes." 
In case you haven't had a chance to catch the stage version, it's described thusly to attract not only witches and wizards, but cult-minded muggles as well:
"For seven years, a certain boy wizard went to wizard school. This, however, is not his story. This is the story of The Puffs…who just happened to be there too. A tale for anyone who has never been destined to save the world."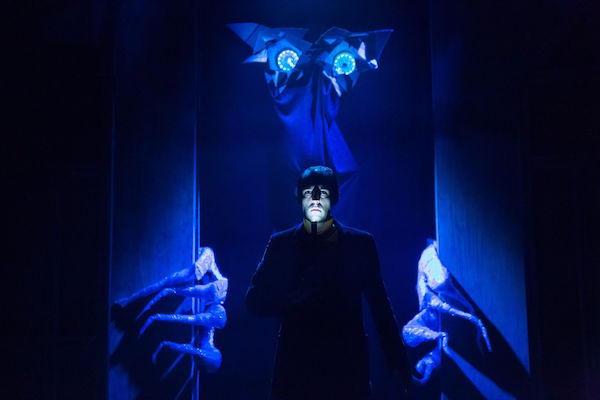 With the filmed edition's release, the show's ever-growing (albeit limited) Big Apple following can now reach tons more Puffslovers and wannabes vis-à-vis more than 600 movie theatres! Brilliant, right?
I hope you have social media, Helga, because the Puff culture will be spreading like wildfire…or a really big campfire with Hufflepuff marshmallows. And if you don't believe me, maybe these words from associate producer David Carpenter will seal the deal: 
"Our fans have meant the world to us since the very beginning of the production and every week we continue to delight audiences in New York. This incredible partnership with Fathom will allow us to bring the magic of the show and our incredible cast to our fans across the country and invite whole new audiences to experience the joy that is Puffs."
So mark your calendar for Wednesday, May 7th at 7pm and Saturday, May 12th at 12:55pm (all local times), through Fathom's Digital Broadcast Network (DBN). And don't forget to purchase your tickets here or at participating theater box offices. FYI: the Fathom Events site also has a complete list of theater locations (subject to change…but then, what isn't?).
So spread the word, Helga—it's going to be a wild yellow and black ride!
Go Puffs!!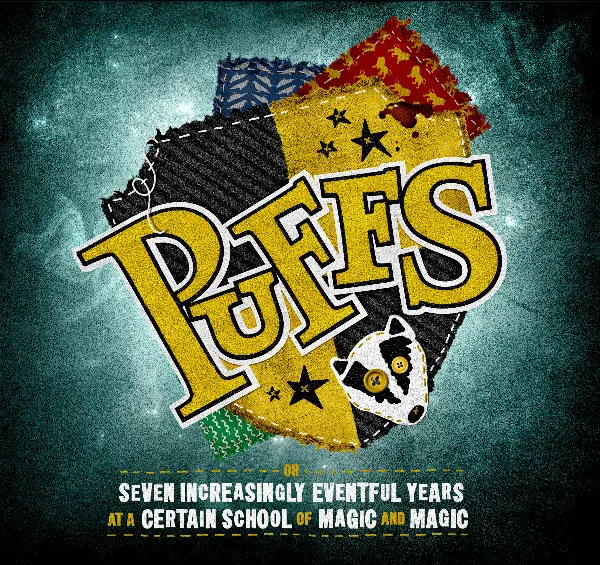 P.S. if you're in town, don't forget to check out Puffs, Or: Seven Increasingly Eventful Years at a Certain School of Magic and Magic live at New World Stages, 340 W. 50th St. For tickets you can either call 212-239-6200 or visit puffstheplay.com.