This week's announcement by Governor Cuomo of a May 19th accelerated reopening will ripple out across every segment of NYC. We anticipate Broadway shows will begin announcing September dates as early as next week. Retail, food, gyms, amusement parks, salons, and houses of worship will all fully reopen within the constraint of 6 feet of social distancing (and that can be waived if everybody is vaccinated or tests negative for COVID). The outdoor social gathering limit increases to 500 on May 10th and the indoor social gathering limit increases to 250 on May 19th. The subway will run 24/7 once again. This feels like a turning point for the tourism industry. Businesses can start developing strategies for working towards higher capacity levels.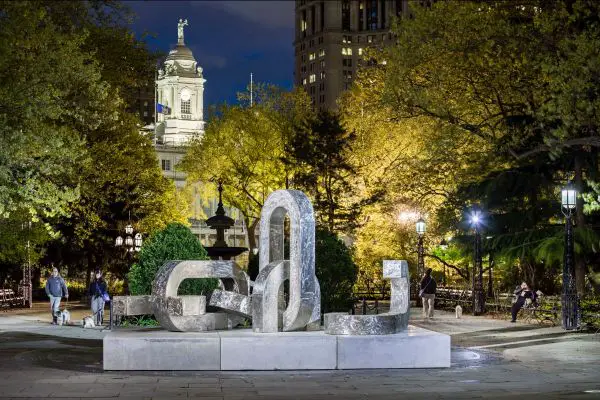 Brighter Days, the first outdoor exhibition of Melvin Edwards' large scale sculptures, debuted yesterday at City Hall Park. Photo: Nicholas Knight, Courtesy of Public Art Fund, NY.
Calendars are already filling with openings and returns:
The loosening of restrictions by the CDC is another major positive, as is the increasing vaccination rate. More than 56% of Manhattan has received at least one dose. A recent LinkedIn survey notes optimism spiking for most every sector of employment, but none as dramatic as travel and recreation, where the outlook is on a steep vertical climb upwards. With "occupancy rates surging" and guests "eager to spend," it's not surprising.
Yesterday, Davler Media gathered together more than 50 local marketing pros to share notes and data about the outlook for 2021 travel. We heard on-the-ground reporting about pent-up demand already starting to manifest. Cristyne Nicholas of Nicholas & Lence Communications shared the expectation for "a huge surge of tourism" in the areas within easy drives of NYC. David Miller, CEO of Davler Media, gave details from a recent Davler-Parents survey of one-thousand area parents, with highlights like:
90% of respondents say they are planning to travel this summer
Families looking to pursue local NY area activities reported local beaches, zoos/aquariums, and NYC attractions as their top 3 choices
Over 60% of the families expected to spend more than $1,000 on summer activities, which for more than half is the same or more than they spent in 2019
The seminar also provided a platform for sharing strategies for reaching families and a discussion on developing partnerships.
Links of Interest
Maya Lin (American, b. 1959), Ghost Forest, 2021. Opens May 10th. Courtesy the artist and Madison Square Park Conservancy. Photo credit: Maya Lin Studio. 

NYC
NATIONAL