Just to the north (and a block or two east) of the bright lights of Times Square is another of the city's most famous areas: Rockefeller Center, a cluster of art, media, and business located between Fifth & Seventh Aves. and 49th & 51st Sts. Its most famous building is the GE Building ("30 Rock"), home to NBC's New York studios, where Saturday Night Live, Late Night With Jimmy Fallon, and the Today show are taped. It's also where you'll find the NBC Experience Store and Top of the Rock observation deck. Nearby on Sixth Avenue is the "showplace of the nation," Radio City Music Hall, home of the Rockettes, the Mighty Wurlitzer, and more.

Photo courtesy of Tishman Speyer/Photographer Bart Barlow


Of course, the holidays are a big deal around here. Christmas and New Year's may be behind us, but the Rockefeller Center Christmas Tree remains lit through January 7th and skating on the world-famous rink continues through April. For schedules, skate rental information, and more, visit therinkatrockcenter.com or call 212-332-7654.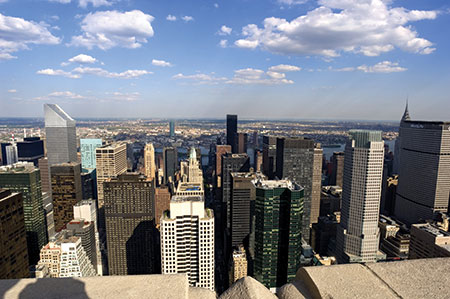 Top of the Rock's (30 Rockefeller Plaza, W. 50th St. btw. Fifth & Sixth Aves.) dazzling, 360-degree indoor and outdoor views were the brainchild of John D. Rockefeller. The original deck was designed to evoke the luxurious upper decks of a 1930s grand ocean liner, and they've preserved the historic integrity of Rockefeller's creation while incorporating innovative features, new technology, and three decks featuring outdoor terraces and indoor space.
Top of the Rock offers ticketing options that combine admission to nearby attractions at a reduced price. The RockPASS includes adult admission to Top of the Rock and the Rockefeller Center Tour (49th St. btw. Fifth & Sixth Aves.) for $38. (The Rockefeller Center Tour runs hourly from 10am.) If the nearby Museum of Modern Art is on your agenda, a $42 combo ticket that provides access to both Top of the Rock as well as MoMA is available at the Top of the Rock box office.
Sky Skate ($35) offers a view from above and below, offering the opportunity to take a spin on the ice at the Rink and a visit to the Top of the Rock. For more information and tickets, call 877-NYC-ROCK or visit topoftherocknyc.com. Top of the Rock is open every day 8am-midnight, with the last elevator going up at 11pm.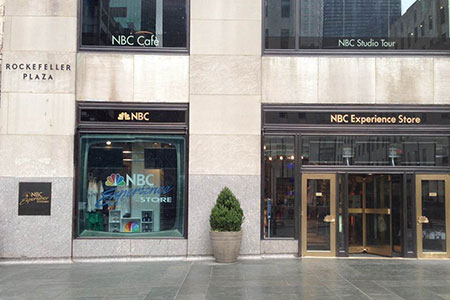 The aforementioned Rock Pass will lead you to NBC Experience Store (30 Rockefeller Plaza, 49th St. btw. Fifth & Sixth Aves., 212-664-3700; nbcuniversalstore.com), a 20,000-square-foot retail attraction with hundreds of items from NBC shows, as well as interactive activities. It's also a great spot to do some shopping, with collectibles from the upcoming 2014 Olympics in Sochi, The Office, Parks & Recreation, The Biggest Loser, and more.
Rockefeller Center also offers a host of shopping and dining options. Retail stores include Nintendo World (48th St. & Rockefeller Plaza), which offers an interactive experience and all the newest games, Onassis (61 W. 49th St.), RAIN (59 W. 49th St.), the Cole Haan flagship store (620 Fifth Ave.), Façonnable (636 Fifth Ave.), Brooks Brothers (1270 Sixth Ave.), and Tous (610 Fifth Ave.), among many others. For a great meal any time of day, try Bouchon Bakery (1 Rockefeller Plaza), the Rock Center Cafe (20 W. 50th St.), Del Frisco's Grille (50 Rockefeller Plaza), Cucina & Co. (30 Rockefeller Plaza), the Sea Grill (19 W. 49th St.), or Del Frisco's Double Eagle Steak House (49th St. & Sixth Ave., 212-575-5129; delfriscos.com), with its two-story-high windows offering a spectacular view of the neighborhood and fresh, USDA aged prime beef shipped from the Midwest twice a week.