Orlando Bloom may have the Hollywood red-carpet/paparazzi–packed/light-beams-flashing premiere-night thing down pat, but when it comes to East Coast theatre — specifically Broadway — he's a neophyte. Better make that was, since he broke the debut barrier but good when he took the stage of the Richard Rodgers Theatre as that love-smitten Montague lad in Romeo and Juliet. According to opening-night critics, he did rather well.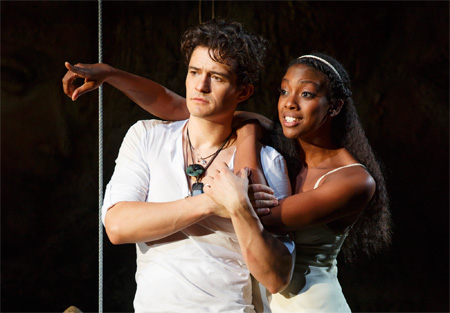 Photo: Carol Rosegg
"[W]e have a Romeo who evolves substantively, from a posturing youth in love with love to a man who discovers the startling revelation of real love, with a last-act descent into bilious, bitter anger that verges on madness," wrote the New York Times in a scrapbook-worthy endorsement.


And then there's Juliet Capulet — a Juliet for the 21st century, if you will — played with radiant, girlish charm by Condola Rashad. A Tony-nominated veteran of two Broadway shows (Stick Fly and The Trip to Bountiful) who's but 26 years old, Rashad already has a serious theatrical fan base here in New York. Chances are, the exposure she's getting from this current production will send her career soaring into other entertainment genres. Still, I sense her heart will always belong to the stage, as she was quite literally born to it: her mom is Tony winner Phylicia Rashad and her aunt is two-time Tony nominee Debbie Allen.

Photo: Carol Rosegg
Juxtaposing the poetry of Shakespeare's words against a tension-filled latticework of modern day animus between families — i.e., parental defiance in the teen romance department and hotheaded kids making bad decisions (battling to the death, for example) — is key to the production. To today's audiences, the fact that Romeo's family is white and Juliet's heritage is black reflects less on the obvious racial component than on the way in which the feuding grownups fail to consider a grey area: their inability to see outside their own parameters — that's the black and white presented here.
"Shakespeare did not only write of his world, he imagined ours," says director David Leveaux. "The very improbability that two young people might, through their imaginations and their courage, change the world by overcoming the cynical tyranny of division handed down to them by their elders, is the best and happily most improbable reason I can imagine to bring this story to the Broadway stage today."
Bring it he does. Romeo is a biker and Juliet a schoolgirl when the play begins, but once they hook up, the chemistry that ignites the balcony scene is palpable, propelling them on to ultimate tragedy.
Leveaux, a five-time Tony nominee has made deft casting choices. Bloom and Rashad are exquisitely matched to their characters, as are all the players in this rewarding production.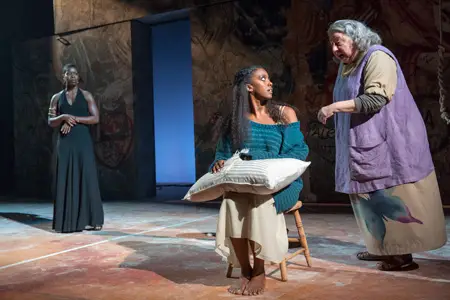 Roslyn Ruff, Rashad and Houdyshell. Photo: Richard Termine.
The cast includes two-time Tony nominee Jayne Houdyshell as the Nurse and Tony winners Brent Carver and Chuck Cooper as Friar Laurence and Lord Capulet, respectively.
Launched as a limited run (the show is scheduled to close on January 12th), it's not surprising that both Bloom and Rashad have been the subjects of umpteen interviews. Still, I have to say my favorite quote comes from one of Rashad's post-opening tweets: "I feel that my heart grows a little every time single time we run this play. Thank you, Shakespeare, you beautiful teacher!"

Did You Know...
• Bloom and Rashad were essentially Shakespearean rookies when they began rehearsals for Romeo and Juliet. (They're staggeringly adept learners.)
• The star-crossed duo first appeared in an Italian novella in the 1500s; the 1562 English translation is the one Shakespeare used for his stage adaptation.
• The last time Romeo and Juliet was on Broadway (at Circle in the Square Theatre) it was 1977, the same year Orlando Bloom was born.
• Bloom is an avid NON-social networker: if you see a tweet or post credited to him, assume it's bogus.
---
Romeo and Juliet is playing at the Richard Rodgers Theatre, 226 W. 46th St. For tickets, call 800-745-3000 or click here.