The calendar has turned to September in NYC, but even with the fall coming on there is plenty of time to check out the city's rooftop bars! Sipping on a cocktail while viewing Manhattan from above is a great way to experience New York City. Here are just a handful of nightlife favorites.
1. Allora Alto (Manhattan)
Allora Ristorante is a classic Italian-American restaurant and bar in the heart of midtown. High above its elegant dining room is one of the city's best kept rooftop secrets: Allora Alto. Enjoy skyline views in a sophisticated space with delectable bites and memorable cocktails. alloranyc.com
2. Top of the Strand (Manhattan)
Top of the Strand is a midtown rooftop bar located (as the name suggests) on the top of the Strand Hotel. The exact address is 33 W. 37th St. It's open from 5 pm to 1 am from Tuesday to Saturday and open from 5 pm to 12 am on Sunday and Monday. The bar is on the 21st floor of the hotel, giving you a spectacular view of the Empire State Building. Go for the happy hour deals, stay for a night in a great atmosphere and those great pictures with you and the Empire State Building in the back. topofthestrand.com
3. Cloud Social Rooftop Bar (Manhattan)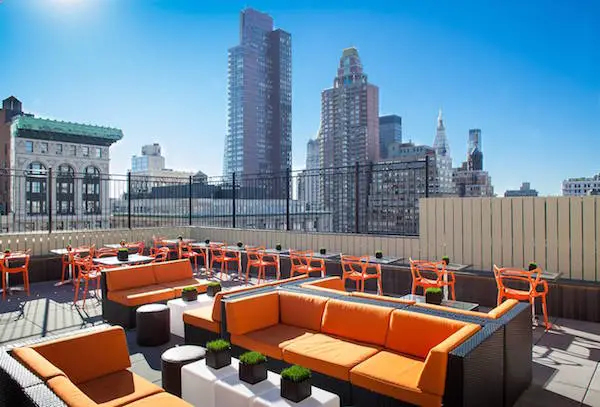 Looking for a relaxed rooftop bar, for a casual happy hour? Head on over to Cloud Social Rooftop Bar. Located not too far from Top of the Strand, at 6 W. 32nd St., this bar will provide you with some stunning views of the city, and Empire State Building. The bar is open from 3 pm to 12 am Sunday to Friday and open from 3 pm to 1 am on Saturday and Sunday. cloudsocialnyc.com
4. Berry Park (Brooklyn)
Want to sip on a cold beer in a bar with Manhattan in the background? Berry Park is a good place for just that. Venture out of Manhattan to this Brooklyn bar located on the border of Williamsburg and Greenpoint. The bar is open Monday through Thursday from 5 pm to 2 am, from 5 pm to 4 am on Friday, from 11 am to 4 am on Saturdays, and from 11 am to 2 am on Sundays. berryparkbk.com
5. Bar 54 (Manhattan)

Want to be as far up as you can? Then the highest rooftop bar in Manhattan might be just the thing for you. Bar 54 is located at 135 W. 45th St.in Midtown, at the Hyatt Times Square, and it's open from 4 pm every day, with closing hours varying from 1 am to 2 am. Bar 54 is located 54 stories up, a great vantage point.
6. 230 FIFTH (Manhattan)

Last, but not least, we have 230 FIFTH. The bar is known for its stylish interior, and stunning views. It's also open seven days a week, from 4 pm to 4 am from Monday to Friday, from 10 am to 4 am on Saturday, and from 10 am to 12 am on Sunday. 230-fifth.com
---
About the author: Nina is the Engagement and Corporate Communications Analyst for RentHop, a national apartment rental site based in New York City. She moved overseas from Norway three years ago and has since been living and working as an expat in New York, enjoying everything the city has to offer.