It's highly probable that your first encounter with the thriller JAWS left you with vivid memories, not the least of which was the demise of Quint, the obsessed shark hunter played by British actor Robert Shaw. Nothing sends the message "steer clear of oceanic predators" quite like it.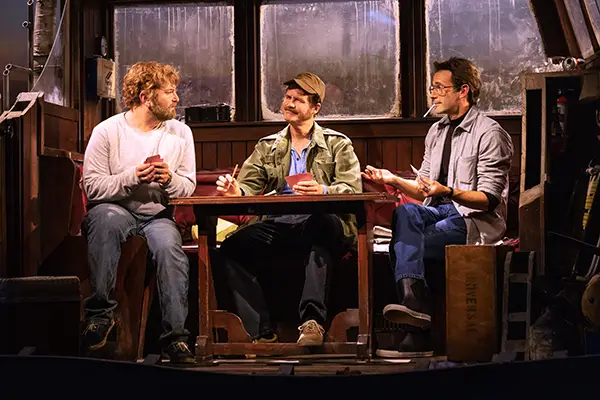 Above L to R: Alex Brightman, Ian Shaw, Colin Donnell in The Shark Is Broken. Photo by Matthew Murphy.
Yet when the movie hit theaters in June, 1975, and became an immediate supersized success, many involved in the filming were surprised. There had been issues brought about by the petulant title character, portrayed on screen by several mechanical doppelgangers, none of whom seemed able to keep fin and fang together long enough to adhere to director Steven Spielberg's shooting schedule. By the end, the reticence of the shark(s)—nicknamed "Bruce" by crew and cast—to perform had pushed time aboard The Orca from 55 to 159 days. And this is where the Broadway hit The Shark Is Broken begins...during the hours of downtime when the film's three stars, Shaw, Roy Scheider, and Richard Dreyfuss, waited around for Bruce's hydraulic pistons to kick in.
Ian Shaw. Photo by Matthew Murphy.
Stepping into the role his father immortalized on screen is Ian Shaw, who co-wrote the script with Joseph Nixon. Ian, a dead-ringer for his dad, effortlessly captures the heavy-drinking, verbally pugnacious Shaw senior, never ignoring that underneath it all beat the heart of a poet. Playing Dreyfuss is two-time Tony nominee Alex Brightman whose transformation into the Oscar winner—from vocal quirks, to physicality, to facial expressions—moves beyond accurate into borderline eerie.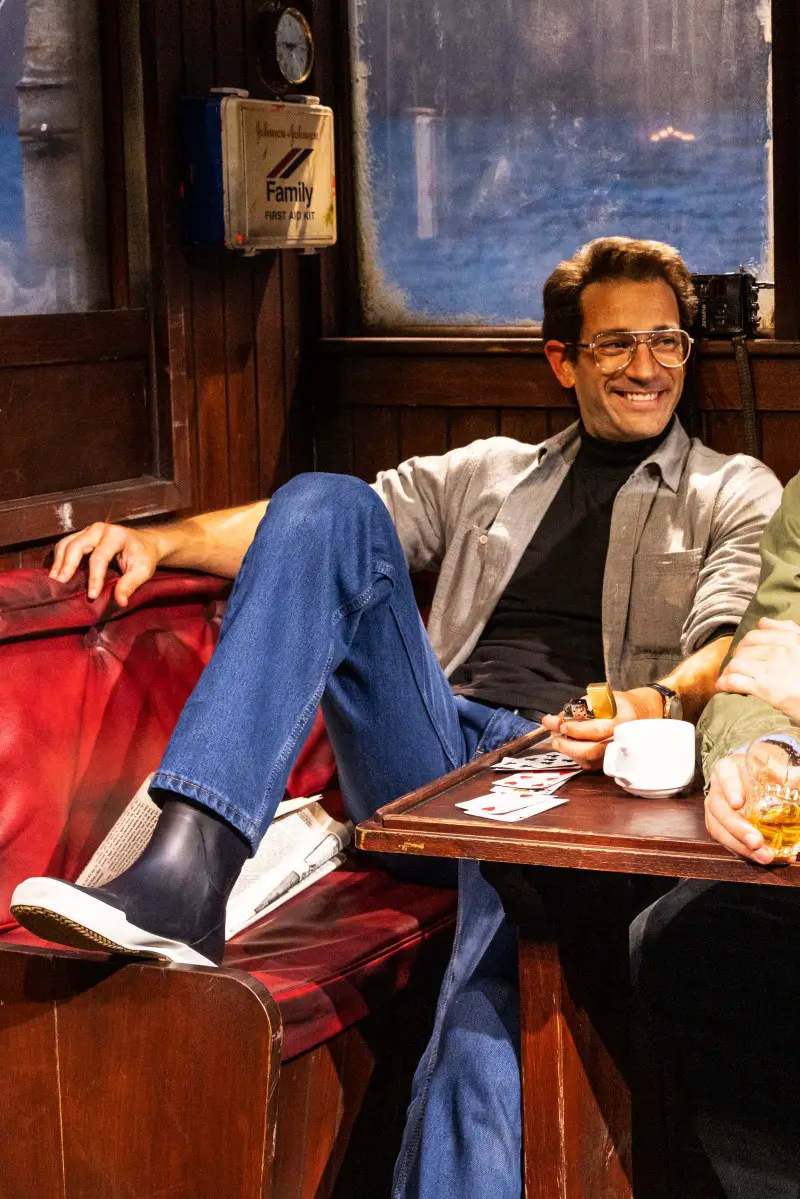 Colin Donnell. Photo by Matthew Murphy.
As for the role of Scheider, Colin Donnell has claimed that for his own as well. "The intention was never to do straight up impressions, but rather to capture these three individuals where they were in this place in time," he explains. "When I put on those glasses every night, I slip into Roy."
Fans who know Donnell's work from Broadway musicals and TV shows like Chicago Med and Arrow, will no doubt notice a pronounced physical change in the actor, who showcases his body in a Speedo at one point. "Roy was very typical of the svelte '70s aesthetic," notes Donnell, who first began watching his diet and working out after his second child came along. Still, he upped the ante once he was cast as Scheider, citing the importance of bringing a real person to life for theatregoers. Plus, the Speedo scene punctuates a running joke about Roy's tan and passion for sunbathing.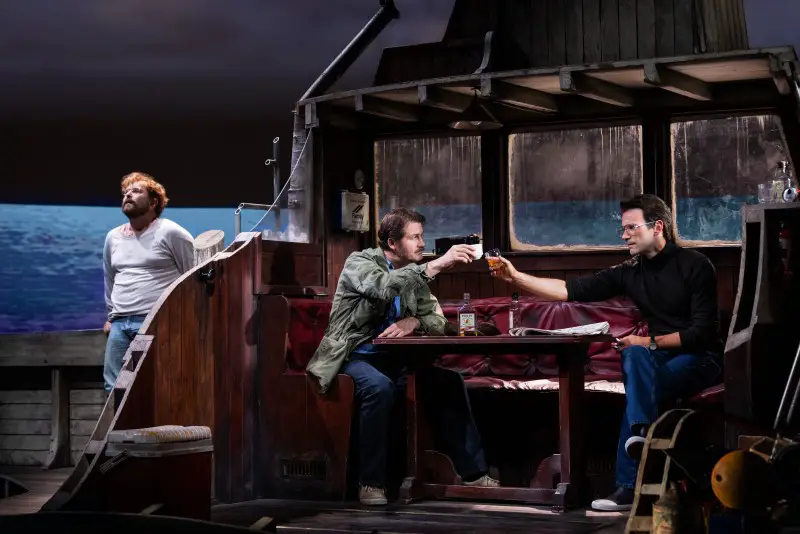 Alex Brightman, Ian Shaw, and Colin Donnell. Photo by Matthew Murphy.
From early on in the show, it's clear that Scheider was, by default and temperament, the one who kept the powder keg personalities of Shaw and Dreyfuss from going up in flames. "Roy had a great deal of respect for Robert, and at the same time he was able to see talent rising in Richard," says Donnell, acknowledging how coming from two distinct generations made his fellow actors naturally combative. "There has to be a counterbalance, and Roy was it."
Fortunately, backstage at the Golden Theatre anger management is far from necessary. When Shaw brought The Shark Is Broken to Broadway (following rave reviews and an Olivier-nominated run in London's West End) without his original costars, he sought out the right chemistry. After he found it, the deal was quickly sealed. "Trust was established right from the beginning," says Donnell, who has known Brightman for years. "But this is the first time we've worked together, and Ian embraced the two of us from the get-go. So there was trust from the beginning."
Once they moved from rehearsal studio into the detailed replica of the Orca's cramped inner cabin—surrounded by a vast video screen of sky and water (kudos to set designer Duncan Henderson and projection designer Nina Dunn)—there was no question the play had its sea legs. Between the claustrophobia and the unsettled sense of ocean, the comedy comes into hyperfocus, not only for the actors, but for everyone in the audience basking in the voyeuristic pleasure derived from a behind-the-scenes logjam of tempers, whiskey, and egos, triggered by ennui.
And for theatregoers, there's another draw: with the exception of Saturday, every evening performance of The Shark Is Broken begins at 7pm which, Donnell is quick to point out, makes it a show about an iconic movie where you can have a beer in your seat, laugh for 90 minutes, and still have time for a leisurely 9pm dinner. A perfect theatre experience—and all the more impressive when you realize it's based on a near cinematic disaster.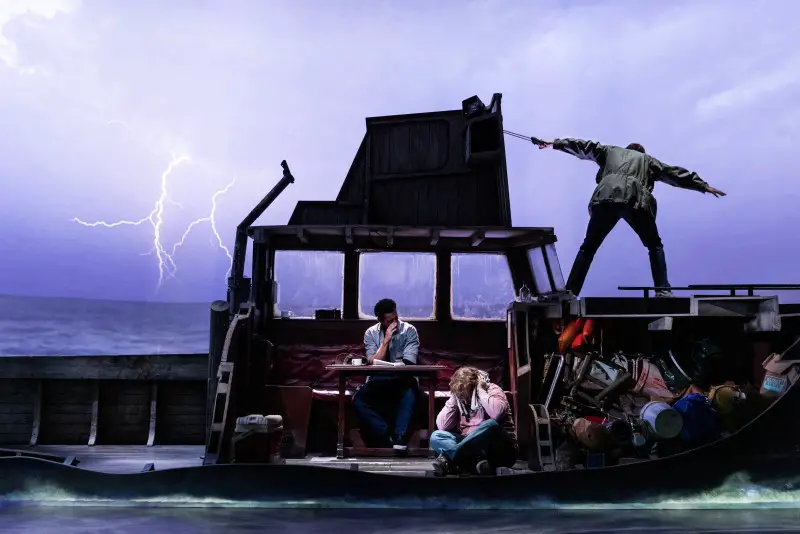 Colin Donnell, Alex Brightman, and Ian Shaw. Photo by Matthew Murphy.
"Every aspect of JAWS seemed fraught," says Donnell. "It was Spielberg's first major film, and the audacity to shoot on the ocean with an epic animatronic shark—no wonder things went wrong. Part of the fun of our show is you come in knowing that the movie left its mark on our culture. If you're a huge fan of the film, wonderful…and if not, the thrill is still there."
The Shark Is Broken is playing at Broadway's John Golden Theatre, 252 W. 45th St. To reserve tickets, call 212-239-6200 or visit thesharkisbroken.com.
Find more on NYC in our roundups for Broadway and Off-Broadway and in our Theatre section.