Shopping in New York City is both a sport and a pastime. Manhattanites spend years pounding pavement, scouting out stores to service their every need, but even if you're just in town for a weekend or a three-day spree, you can experience city shopping like a local. We've pulled together expert intel to compile a list of must-visit shops, from the chic uptown streets to the cobblestones of downtown. Read on for our guide to the best of NYC shopping in 3 days or less. Ready, set, shop!
Day 1 Shopping NYC: Uptown
The Upper East Side has the crème de la crème. There is nothing quite like entering a bustling New York City department store to get a jolt of shopping energy. Start at the iconic 7-floor Bloomingdale's, which has sat at 59th Street and Lexington Avenue for a whopping 130 years. Work your way up from bottom to top, first perusing the main floor beauty counters and then taking in ready-to-wear (be sure to stop by the Chanel in-store boutique) and ultimately home goods higher up. Note that insiders know the real jewel at Bloomie's is a tiny frozen yogurt shop nestled on the top floor: Forty Carrots. You'll need the sugar fix for your next stop: Madison Avenue. The street is ripe with designer boutiques (Hermès, Michael Kors, Cartier) and worth at least an hour or two of browsing.


Bloomingdale's, 1000 Third Ave., bloomingdales.com
Hermès, 691 Madison Ave., hermes.com
Michael Kors, 667 Madison Ave., michaelkors.com
Cartier, 828 Madison Ave., cartier.us
Day 2 Shopping NYC: Midtown
MoMA Design and Book Store
Think of midtown Manhattan as where the pulse of the city gets its beat. The area includes Times Square (enough said) and all the streets up to Central Park South. Avoid getting caught up in the unnecessary hustle and bustle and head straight to the Museum of Modern Art's impeccable MoMA Design and Book Store. The store goes beyond the ordinary museum shop, featuring everything from ingenious cooking tools (we love the beaker-like olive oil dispenser) to gorgeous coffee table books. There are great gift ideas aplenty too. Next, head to a nondescript corner of the Midtown East neighborhood Murray Hil, at 30th Street and Lexington Avenue. Here you will find the coolest department store around: Dover Street Market. This gemlike store is in a meticulously preserved Beaux Arts building. However, inside you will find half a dozen floors of true fashion wonderland. The shop features hipper-than-thou designers like Rick Owens, Comme des Garçons (the brand's designer is the brainchild behind Dover Street Market), and plenty of accessories to ogle. On the ground floor is the impeccable bakery-cum-café Rose Bakery, an offshoot of the original Paris location. It's the perfect place for a shopping pit stop—the vegetable quiche and plum tartelettes are not to be missed.
MoMA Design and Book Shop, 11 W. 53rd St., momastore.org
Dover Street Market and Rose Bakery, 160 Lexington Ave., newyork.doverstreetmarket.com
Day 3 Shopping NYC: Downtown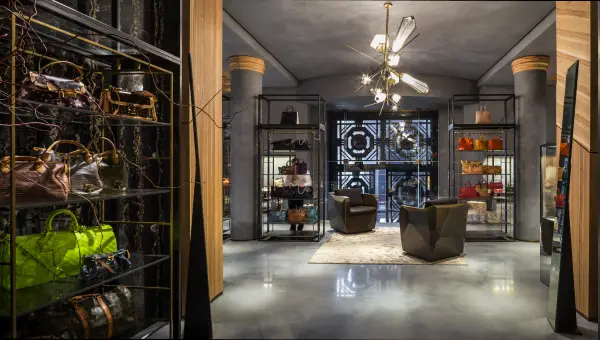 New to Century 21 is C21 Edition, a designer luxury concept shop.
For your shopping grand finale, do like the Petula Clark song and head "downtown". The southern tip of Manhattan has recently undergone an epic revitalization, from Santiago Caltrava's new transit hub (the birdlike structure is definitely worth a gander) near Ground Zero, to the airy indoor shops of Brookfield Place. Nestled in the Financial District, the shopping complex boasts ultra-luxurious shops like Bottega Veneta, Gucci, and Tory Burch, as well as a sprawling food hall with only the most niche (read: seriously hip) offerings. From boutique grilled cheese to French tartines, there's a food item to satisfy even the most hangry of your shopping crew. Be sure to take in the gorgeous views of the Hudson River just out the windows.
Now that you're properly fueled up, it's time to tackle the glorious world of Manhattan discount shopping. Century 21 has been a shopper's greatest secret for over half a century. Their flagship has an epic and daily changing range of merchandise to peruse, from a sprawling floor of designer shoes to designer ready-to-wear and menswear and kids. Set aside at least a couple hours to take it all in. Next, it's time to tackle the wondrous world of NYC vintage at the expertly curated A Second Chance Designer Resale Boutique in SoHo. Prepare to find vintage treasures that will set your heart aflutter, including classic Chanel shoulder bags (in pristine condition, natch) and Bulgari rings.
Brookfield Place, 230 Vesey St., brookfieldplaceny.com
Century 21, 21 Dey St., c21stores.com
A Second Chance Designer Resale Boutique, 155 Prince St., asecondchanceresale.com