6 Smashing Avocado Toasts in NYC
August 30, 2018 - by Merrill Lee Girardeau
Granted, avocado toast had its moment a few years ago. But let's be honest: we're all still eating (and Instagramming) it. An import from Australia, this creamy, crunchy concoction satisfies vegans and omnivores alike. Below are some of the most exemplary avocado toasts in New York, some tricked out with veggies, sauces, and salmon, and others simple and satisfying.
Best Avocado Toasts in NYC: Midtown East

Blank Slate is two shops under one banner: one half is for tea, the other for coffee and food. A diverse gourmet menu boasts rustic chicken sandwich, truffled popcorn, and rose berry waffle. The avocado toast is perfectly calibrated, with chili-spiced honey and smoked salt to top off the nutty flavors of the country bread. 121 Madison Ave., 212-683-7800, blankslatenyc.com
Best Avocado Toasts in NYC: Upper East Side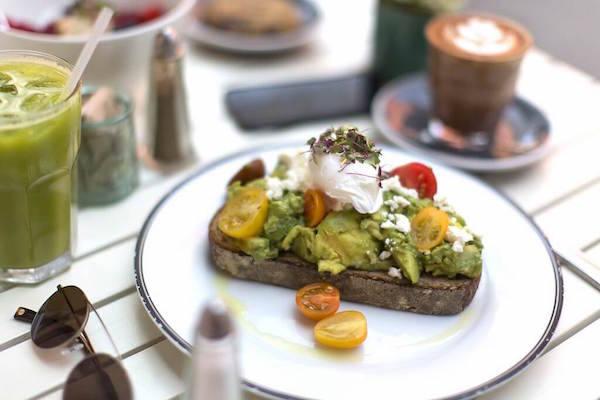 An Australian cafe and a runaway success, Bluestone Lane has about a bazillion locations. Okay, it's just 16, but that's still a lot of places where you can find consistently great and authentic avocado toast. Bluestone Lane's sets itself apart with the use of bread from the legendary bakery, Balthazar. Add to that fresh lemon juice, salt, pepper, chili flakes, and olive oil. There are BL coffee shops in busy neighborhoods all over the city, as well as BL cafes with more extensive menus and more seating. P.S. We like the one in the Church of the Heavenly Rest on the Upper East Side. Various locations, bluestonelane.com
Best Avocado Toasts in NYC: Midtown East
Little Collins is a useful place to have in your back pocket when you're in Midtown East. It's named for a street in Melbourne where coffee shops like this one got their start (there's even an eponymous street sign hanging near the back of the room). Get a flat white and an avocado toast to soothe your soul at this small and mighty Australian cafe. Their toast is topped with a fried egg and pepitas, and fans agree it's one of the best in the city. 667 Lexington Ave., 212-308-1969, littlecollinsnyc.com
Best Avocado Toasts in NYC: Nolita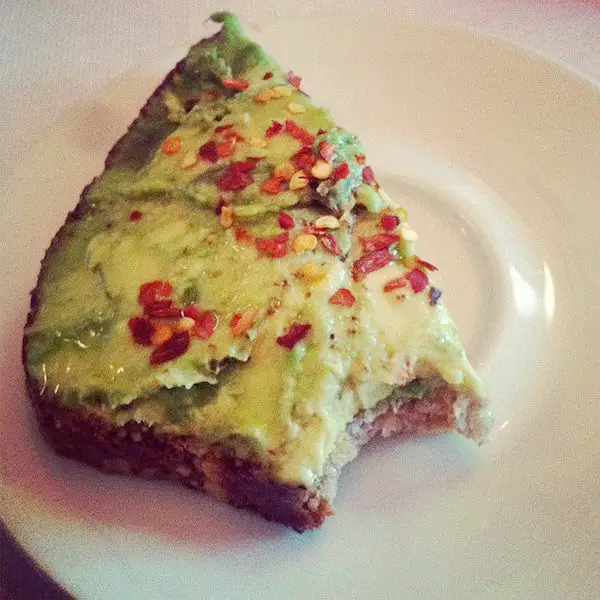 Instagram: Gabrielle Bernstein
Cafe Gitane in Nolita feels like walking onto the set of the French film Amélie. The whimsical yellow cash register and mid-century vintage feel make it oh-so-French. Avocado toast is a welcome, if non-native, addition to their menu. It comes on seven-grain toast, and bonus: they don't skimp on the avocado. It's topped with a spritz of lemon, olive oil, and chili flakes. Order the beautifully plated couscous dish with merguez sausage too! 242 Mott St., 212-334-9552, cafegitanenyc.com
Best Avocado Toasts in NYC: Lower East Side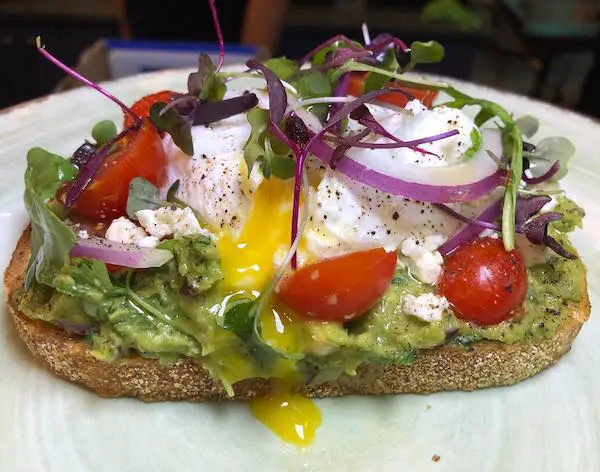 Aspiring Insta-stars, take note of this pick. There's no such thing as too much avocado at Avocado Appetit on the Lower East Side. One wall of the cafe is painted with bright green avocado plants. There's even an avocado pillow on the bench near the wall! As for the toast, you have 5 (!) varieties to choose from. There's the Hearty with radish and blood orange-infused olive oil, the Spring Feta, the Lox, the Sunny Caprese, and the Beet Garden. And the other menu items, from fries to smoothies, share a key trait. That's right, avocado. 114 Eldridge St., 917-388-3675
Best Avocado Toasts in NYC: Astoria, Queens

A lovely bar/restaurant in Astoria with a great backyard, The Bonnie brings it in the avo toast department. Come for weekend brunch for their deconstructed version of the recipe. Toppings like poached eggs, cucumber, Aleppo pepper, feta, and mint. Up the photogenic factor with one of their irresistible brunch cocktails like the Garden Sangria with rose, elderflower, and ginger. 29-12 23rd Ave., 718-274-2105, thebonnie.com
Looking for Free Group Planning Services?
Get free advice on planning your group's trip to New York.
RESTAURANTS

Beloved midtown spot takes inspiration from local tradition,...

THEATER

In a heartbeat, 38 planes with 6,579 passengers were strand...

SHOPPING

DataVision is redefining retail with their new, fully intera...

SIGHTSEEING

Sweeping, unobstructed, open-air views of NYC from the top o...