Proponents of Black Power had no better advocates than the artists among their ranks. Painters, sculptors, and performance artists rose up during this era to make protest art that spoke to the black experience in America and critiqued the white establishment that resisted them. Soul of a Nation: Art in the Age of Black Power at the Brooklyn Museum features over 150 works of art inspired by this vital sociopolitical movement.
Barkley Hendricks, Blood (Donald Formey), 1975. Photo, Jonathan Dorado, Brooklyn Museum.


Barkley Hendricks' vivid portrait Blood (Donald Formey) situates the black experience in the color most associated with pain: blood red. Painters like Alma Thomas, William T. Williams, and Jack Whitten make their statements in this show more abstract, with striking geometric forms. Thomas also uses red in her Mars Dust, a haunting deep blue image obscured by a veil of scaly red rectangles. Whitten's triangular tribute to Malcolm X, an inky black painting in elegy to the assassinated leader, will also be featured.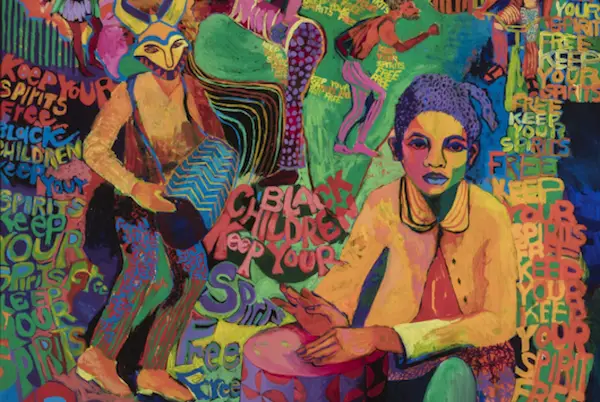 Carolyn Lawrence, Black Children Keep Your Spirits Free. The exhibition, which opens September 14, presents a wide range of painting, photography, and sculpture from over 60 artists on the fourth and fifth floors of the museum. Photo by Michael Tropea.
An enduring art group founded during the Black Power era was AfriCOBRA ("African Commune of Bad Relevant Artists"). Artists in this Chicago-born collective include Barbara Jones-Hogu, Nelson Stevens, and James Phillips, and others who still count themselves members of the group today. The aesthetic is often brightly colored and features text alongside the imagery: a means of solidarity within the black community, not so much resisting outside forces as creating strength from within. This is perfectly captured in Soul of a Nation by Carolyn Lawrence's Black Children Keep Your Spirits Free, a dynamic painting bursting with color, music, and mystery.
Featured sculptors will include Melvin Edwards, who fuses steel parts such as chains, screwdrivers, and locks into striking relief sculptures. Betye Saar's The Liberation of Aunt Jemima depicts the stereotypical black slave in the form of a syrup label background, a sculpture, and a painting embedded in the body of the sculpture. The small Jemima figure in Saar's piece deceives on first glance, as she holds a green broom in one hand and, on closer inspection, a rifle in the other. On the bottom half of the painting is an upraised fist with thumbnail painted red. The standing figure is standing on a cloud of cotton, another reminder of slavery's ruthless oppression of African-Americans. 
Roy DeCarava, Couple Walking, 1979. 
Don't miss the late Roy DeCarava's plaintive black and white photographs such as Couple Walking, or Ming Smith's When You See Me Comin' Raise Your Window High, also in black and white. These portrayals of black urban life document daily glories and struggles with exquisite beauty and dignity. 
Begun in the 1960s, The Black Power movement responded to egregious racial injustices against black Americans. On all fronts, black people were experiencing prolonged institutional prejudice and segregation as a result of policies like the Jim Crow Laws, which required white and black people to use separate water fountains, bathrooms, and bus seats. Like Martin Luther King, Jr., Malcolm X rose up during the Civil Rights Movement as one of its most compelling voices. He too cried for justice and demanded black voices be heard, although unlike King's peaceful protests, X's followers were not so meek. His followers, including organizations like The Black Panthers, took up the cause of Black Power to create a more militant social justice crusade. Its symbol, still recognized to this day, is an upraised fist that speaks resistance and solidarity to all. 
Soul of a Nation will run until February 3, 2019 at the Brooklyn Museum. It was first organized by the Tate Modern in London, in collaboration with the Brooklyn Museum, Crystal Bridges Museum of American Art in Bentonville, Arkansas, and The Broad in Los Angeles, California.
The Brooklyn Museum is located at 200 Eastern Parkway. Call 718-638-5000 or visit brooklynmuseum.org.