SpongeBob SquarePants: The Broadway Musical quickly and emphatically answers the question on the minds of audiences at the Palace Theatre: can a tender-hearted animated yellow sponge (who lives in a pineapple) and the other creatures of the undersea world of Bikini Bottom survive—and thrive—onstage?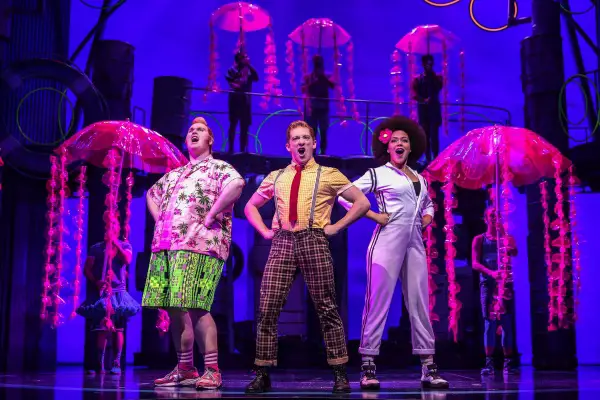 Danny Skinner, Lilli Cooper, and Ethan Slater sing under the sea in SpongeBob SquarePants. Photo by Joan Marcus.
Yes, they can. Absolutely. Brilliantly. Director Tina Landau's exhilaratingly goofy production is faithful to the long-running Nickelodeon series while at the same time wonderfully reimagining it.


The plot: a volcanic eruption threatens Bikini Bottom unless SpongeBob and his pals, starfish Patrick (Danny Skinner) and squirrel (don't ask) Sandy Cheeks (Lilli Cooper), can save the watery paradise. It could be an episode of the cartoon created by marine biologist Stephen Hillenburg—only longer and with real people and many, many nifty sets.
"This is as big as the threats come in Bikini Bottom," says Ethan Slater, who made his Broadway debut as SpongeBob after immersing himself in the animated hit, although he does recall a lesser disaster: "A green fungus grew over everything in Season 5."
Photo by Joan Marcus.
Faced with looming Armageddon, anxious Bikini Bottomites wait as a doomsday clock ticks down to the eruption. Meanwhile, the town's resident villain, Sheldon Plankton, hatches an evil plot, the double-talking mayor evades the seriousness of the situation, and boulders are unleashed from two enormous Rube Goldberg contraptions flanking the stage.
Yet even with chaos, shenanigans, and fear, SpongeBob is quick to remind every last fish and crustacean of their homeland's inherent values of kindness and decency. "At his core, SpongeBob is a really good friend—that is innate to him and his world view," Slater says. "His most admirable quality is that he is able to find love and joy in any situation."
Slater and the rest of the cast have been driven adroitly to success by Landau; David Zinn, whose wildly inventive set and costume designs bring Bikini Bottom and its denizens to vivid life; the witty book by Kyle Jarrow; and songs from a collection of musicial artists—ranging from David Bowie and John Legend to Cyndi Lauper and They Might Be Giants, blending as if they had been collaborating together for years.
In "Best Day Ever" (co-written by Tom Kenny, SpongeBob's cartoon voice since the series' debut), as the volcano percolates, SpongeBob sings, "Lava doesn't scare me, it can't disguise/This magic that's happening right before my eyes/Whatever comes, there's just one thing to do/Make this the best day ever."
And even though the cast plays cartoon characters as humans, they are instantly recognizable. Slater wears plaid pants, suspenders, and a tie; his cranky neighbor and Krusty Krab co-worker, Squidward (Gavin Lee), sports a pair of prosthetic legs that mimic extra limbs; and Patrick's triangular pompadour and pink Hawaiian shirt capture the starfish within.
Slater says there was never any question whether the characters would be portrayed as anything other than people. Slater worked on SpongeBob in its workshop phase while he was still in college and says it would have been easy "to take a two-dimensional character and do a two-dimensional portrait." But "Tina was insistent that we were telling a grounded story and that our characters had to be relatable."
Gavin Lee as Squidward Q. Tentacles. Photo by Joan Marcus.
Which is especially true when it comes to Squidward. Playing a cephalopod who sees himself as an unlikable, talentless nobody is all kinds of human. Still, it's Lee who's center stage during the show's glitziest production number. Surrounded by a chorus line of glittering sea anemones, he belts "I'm Not a Loser" while tap dancing with all four of his shoes.
"My aim with those extra legs is to make the audience not work at figuring out which are my legs," says the Mary Poppins vet. "I try to make all four taps hit the floor."
Lee says that SpongeBob's success at transcending its animated roots can be measured by the audience's exuberance as they sing gleefully along with the original SpongeBob theme song at the end of the show.
"I'd think that half our audience has never watched SpongeBob, but most of them leave saying they had a fantastic time," Lee says. "So many people start off telling us, 'I didn't really want to come but now I'm going to tell every single friend to come.' "
---
SpongeBob SquarePants is playing at Broadway's Palace Theatre, 1654 Broadway at 47th St. For reservations call 822-250-2929 or visit SpongeBobBroadway.com.