Brazilian steakhouse Fogo de Chão presents a feast unlike any other. The spit-fired meats, fresh vegetables, delectable seafood, and wine are hand-picked so that every customer has a delightful meal. This spring, come to Fogo's three-level location near Rockefeller Center in Midtown Manhattan for lunch, drinks, brunch, and dinner, and see what the churrasco is serving up.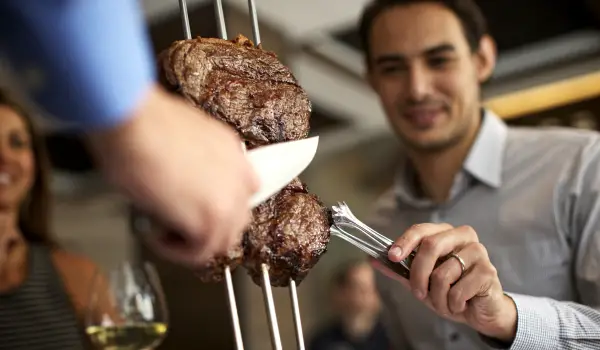 Background
Fogo de Chão was born in the Serra Gaucha in South Brazil. Co-founders and brothers Arri and Jair Coser grew up raising cattle on a ranch and learning to prepare beef gaucho-style. The first Fogo was located in Porto Alegre, Brazil, in 1979, with a second in Sao Pãolo in 1987. The churrasco expanded to Texas and other Stateside locations over the following years, and its New York flagship opened in 2013. This 16,000-square-foot restaurant dazzles with elegant interiors, a sculpture fashioned after a monument in Porto Alegre, and trained servers who wear traditional gaucho pants and carving meat tableside. Fogo serves thousands every week during every meal, including Gaucho Brunch on weekends, with personal service, lively atmosphere, and exceptional cuisine.


The Churrasco Experience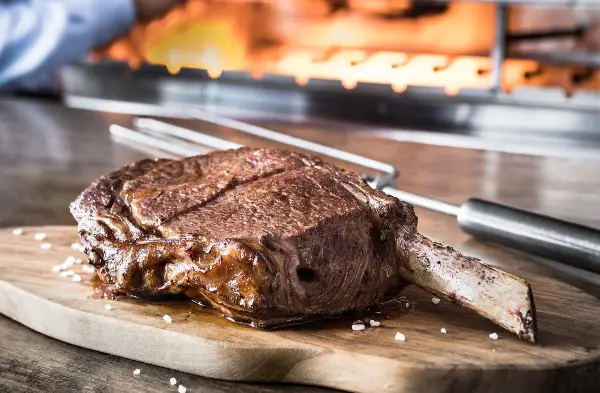 As you might imagine, it's all about the meat at Fogo. Whether you eat beef or lamb during lunch or dinner, you'll be treated to fine cuts prepared exactly to your liking. You can choose from a variety of steaks such as filet mignon, bacon-wrapped steak, and picanha, the top sirloin cut that Brazilian steakhouses are known for. Fogo de Chão has recently brought back the cowboy bone-in ribeye, above, a cut that is aged for 21 days and slow-roasted to maximize flavor (P.S. it's best closest to the bone!). Other bone-in cuts include beef ribs, cured center-cut pork chops, and lamb chops.
Once you order your protein, you can load up your plate with veggies, grains, and other sides at the Market Table buffet. Then a gaucho will come to your table holding a skewer filled with meat and carve strips directly onto your plate. Fogo takes care to cook every skewer and every cut to a perfect temperature and slice it just the way you like.
$18 Gaucho Lunch
Weekdays at Fogo, stop by for an affordable lunch at the Market Table. This elegant buffet is full of tasty, healthful vegetables, grains, and other dishes. The spring menu for Market Table is in full swing as of March 11, and Fogo has rolled out new seasonal eats like carrot & ginger soup, roasted zucchini, marinated mushrooms, and roasted cauliflower. You can also indulge in an apple salad, asparagus, Brazilian kale and orange salad, and sliced vine-ripened tomatoes.
In case you're having some carnivorous cravings, there's also charcuterie at the buffet, as well as a Gaucho Lunch with Grilled Selection for an upcharge. Choose steak, pork, chicken, or lamb, for just a few dollars more to enhance your Midtown lunch.
Cellar Selects
Sure, there's happy hour at Fogo (4:30-6:30pm, Monday-Friday), but Cellar Selects ups the ante. Right now, any bottle of South American wine in the Fogo cellar priced under $100 will be half off. If that's not reason enough to go to the churrasco, we don't know what is.
---
Fogo de Chão is located at 40 W. 53rd St. Call 212-969-9980 for reservations, or visit fogodechao.com/location/new-york.