Although it doesn't have canals like Venice (the Gowanus Canal notwithstanding), New York is still a city on the water. Four of the city's five boroughs are on islands, and the Bronx—while attached to the mainland—is bounded, for the most part, by water. Not only that, but the city has several important "minor" islands, including Liberty Island, Ellis Island, Governors Island, Roosevelt Island, Randall's Island, and City Island.
The main bodies of water dividing the city, the Hudson and East Rivers, offer a lot of opportunities to see the city and its sights from a beautiful perspective, or to simply get from point A to point B in a relaxing and scenic manner. There are ferries, water taxis, and dinner cruises that can show you the city from the water.


Whether you are exploring New York for the first time, rediscovering your hometown, or seeking a mini-vacation, a Circle Line Sightseeing cruise is a relaxing and fun way to see the world's most famous skyline. There are numerous cruises to choose from, with beverages, wine, beer, cocktails, and food available on board. To see the whole island, take their Full Island Cruise and discover the secrets of the city. You'll circumnavigate Manhattan Island and see over 100 sights: Harlem, Gracie Mansion, South Street Seaport, the Brooklyn Bridge, and, of course, a magnificent close-up of the Statue of Liberty. If you want to just hit the highlights, jump onboard their 90-minute Harbor Lights Cruise, and bask in the glow of the setting sun and be dazzled by millions of glistening lights. Pier 83, 42nd St. and the Hudson River, 212-630-8888; circleline42.com
One of the best ways to experience NYC during the spring is with a bicycle tour or rental from Bike and Roll NYC. They offer both bike rentals and their unique guided tours—which include Inside Central Park, Greenway and Central Park, a guided Bike and Boat with NY Water Taxi, Hudson River and Brooklyn Bridge, 9/11 Memorial Museum, Brooklyn Bridge and Beyond, and New York at Night. Their multiple locations include Pier 84 (Hudson River Park at W. 43rd St.), Central Park (Columbus Circle, Broadway & 59th St. & Tavern on the Green, Central Park West and 67th St.), and Battery Park (Pier A, Battery Pl. & West St.). For more information and other locations, call 212-260-0400 or visit bikenewyorkcity.com.
If you'd like option for seeing the city from the water, hop aboard New York Water Taxi. Their tours include: the 1-hour Statue of Liberty Express ($30); the Statue by Night Tour (daily at 7:30pm; $30), which goes past the Statue of Liberty, the Brooklyn Bridge and more with a complimentary champagne toast and cash bar; and their All-Day Access Pass, which stops at many of the city's top neighborhoods and attractions, and includes an exclusive visitor pass to the 9/11 Memorial. To find out more about their routes, fares, and schedules, visit nywatertaxi.com or call 212-742-1969.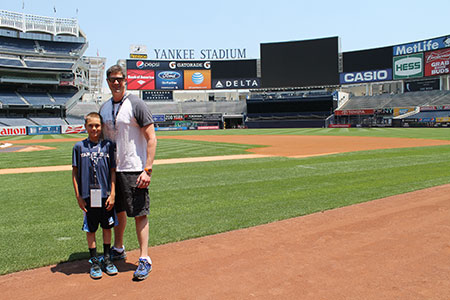 Spring also means baseball! The young season is just getting started, so celebrate the beautiful weather with Yankee Stadium Tours, which offer a behind-the-scenes look at the stadium and the 27-time World Champion Yankees. You'll see monuments, plaques, and retired numbers, as well as World Series trophies, rings, and baseball artifacts in the Yankees Museum. You can also combine a tour with lunch at the Hard Rock Cafe by purchasing a lunch voucher with your tour ticket online at yankees.com/tours. 1 E. 161st St., 646-977-8687.