An hour before performances for Harry Potter and the Cursed Child (HPCC) begin, the Lyric Theatre opens its doors to theatregoers: witches, wizards, muggles, squibs, house elves…anyone with a ticket and the desire to deep dive into the thrill-a-minute Potterverse sequel, live on stage.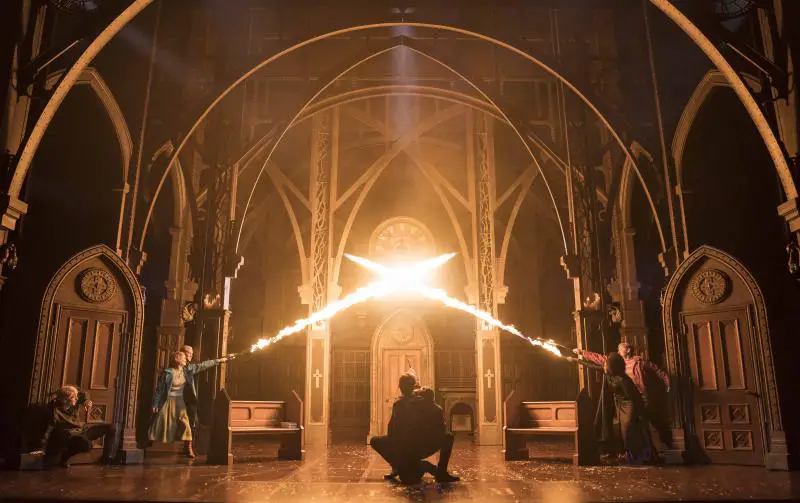 HPCC Cast, photo by Matthew Murphy.
And should you be among the savviest of the savvy who take full advantage of early entry, you'll find yourself privy to such wizard-centricities as Butterbeer and Chocolate Frogs, along with the ability to dabble in site-specific QR conjuring that animates portraits, produces Patronuses, and sparks the lobby's Enchanted Ceiling. All in all, a five-star orientation.
Still, if you're a HP neophyte—or feel a refresher course is in order—both the website and the show's program summarize the seven original novels (plus wizarding world lingo) quite nicely.


The show itself kicks off 19 years after Harry triumphed over Lord Voldemort. Now a grown up with three kids, including his 11-year-old son, Albus (Joel Meyers), who is anxious about starting his first year at Hogwarts School of Witchcraft and Wizardry. Sharing a good-bye moment on Platform 9¾, Harry offers reassurances; Albus boards the Hogwarts Express where he bonds with Draco Malfoy's nerdy son, Scorpius (Erik C. Peterson); second generation adventures go wildly awry; Harry is (at least temporarily) at a loss.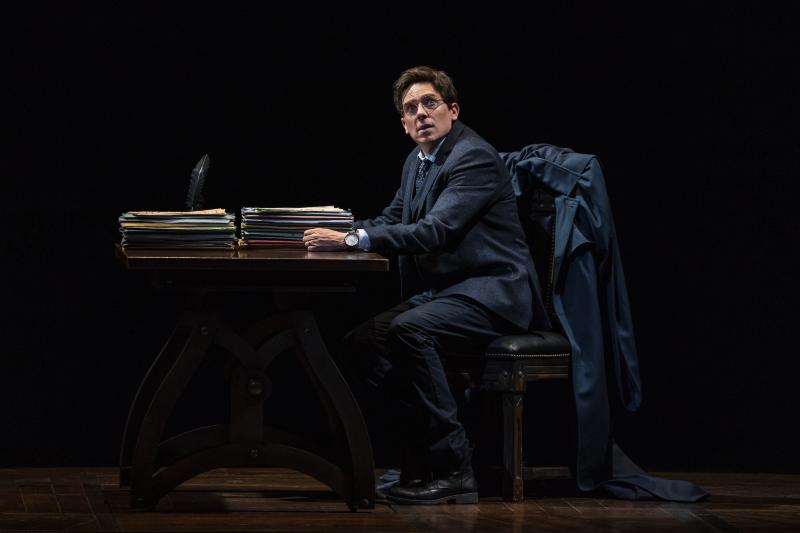 Steve Haggard as Harry Potter. Photo by Matthew Murphy.
Steve Haggard, who has been Broadway's official Harry Potter for the past two years with no immediate end in sight, which is no surprise when you take into account his affinity for the character, both past and present. "It's incredible and such a privilege to play Harry. I've loved him as a character and related to him so much in the book series, and being able to continue his story is truly a gift," he says, adding that he's read and re-read the books many times.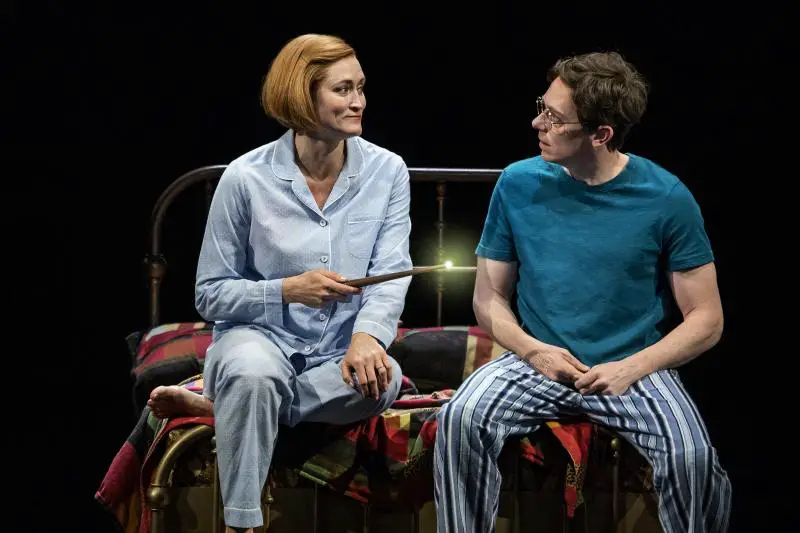 Angela Reed as Ginny Potter and Steve Haggard as Harry Potter. Photo by Matthew Murphy,
Theatrically speaking, the Tony-winning HPCC is a visual marvel, with gorgeous choreography sidling up to mind-blowing special effects spanning everything from time-turning travel and wand pyrotechnics to nightmarish Dementors and Haggard's favorite: the Polyjuice illusion. Adding to the drama (and yes, humor) are an iconic assortment of familiar characters—some, like Hermione (Jenny Jules), Ron (David Abeles), Ginny (Angela Reed), and Draco (Aaron Bartz) play substantial parts, while others like Dumbledore, Snape, and Moaning Myrtle show up in extended cameo roles.
According to Haggard, there was definitely a learning curve when it came to picking up the skills necessary to pull off believable magic. "It was a bit like trying to walk and chew gum at first," he recalls. "But we have an amazing team of actual magicians who taught us the illusions and help us refine them routinely. The magic is such an integral part of the story and so it needs to be perfect…[and it's] real in this world. And it is so much fun to watch the audience not believe what they just saw."
 A native of Lexington, Kentucky, Haggard's family moved to Columbus, Ohio when he was five and it was there, while performing the lead in a high school production of How to Succeed in Business Without Really Trying, Haggard locked into the idea of performing as a career, eventually moving to Chicago to study acting at DePaul University. And while he stuck around the Windy City as a working actor for several years after graduating, his time playing Harry Potter has proven especially poignant.
"The cast and crew feel a bit like a family unit. We work so closely together and depend on each other," he says, adding, "There's no way to do any part of this show by yourself. You may not always see them but there's an army of folks backstage keeping everything running smoothly and having a lot of fun."
THE NEXT GENERATION
News Flash or Remembrall: In the wizarding world, traveling back and forth in time is accomplished with devices known as Time-Turners—at least it was when Harry and Hermione saved Sirius and Buckbeak in The Prisoner of Azkaban. But by HPCC, the cool but dangerous gizmos have been outlawed. Still, kid-wizard savvy prevails and Albus and Scorpius manage to get their hands on one. From this point on things accelerate into all kinds of crazy, opening the door to a satisfying assortment of subversive plot twists and pyrotechnic thrills.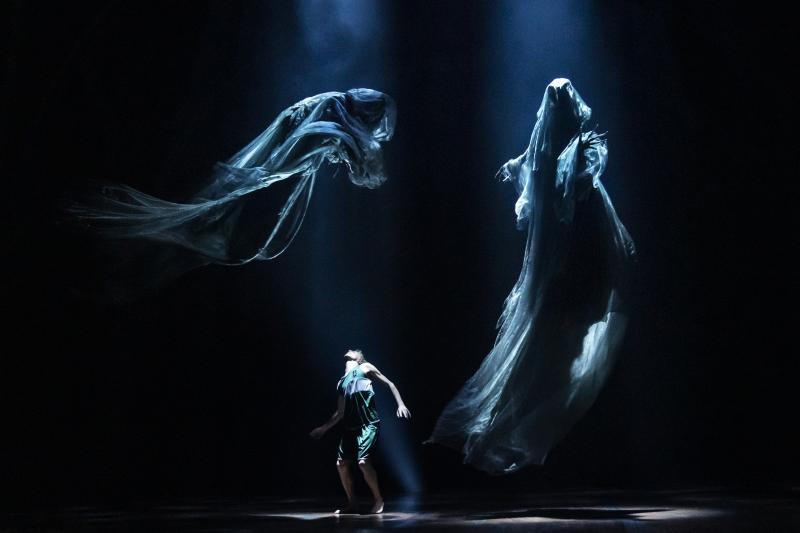 Scorpius Malfoy with the Dementors. Photo by Matthew Murphy.
To ensure all this heart-stopping hocus-pocus comes off without a hitch, the company is carefully groomed by the same illusionists who conjured the production's effects. As a result, all or most of the HPCC cast has the power to execute anything from sleight of hand to cunning stage magic.
And while the roles of Albus and Scorpius require above-and-beyond stamina and quicksilver moves to dart from present to past, causing havoc with their incautious shenanigans, they are not alone in their pedal-to-metal wherewithal. Credit for the playing of kids and cameos goes to the stellar ensemble who manage to keep up a fierce momentum while doubling and tripling up on roles and flying through some of the most demanding choreography on Broadway. For these performers, every show is a marathon, not a sprint.
Herein lies the real magic behind bringing Harry Potter to the stage…the talented people who give it life: creatively, theatrically, professionally…exquisitely. 
Harry Potter and the Cursed Child is playing at Broadway's Lyric Theatre, 214 W. 43rd St. For reservations and show info call 212-305-4100, or visit broadway.harrypottertheplay.com.