When heat waves sizzle their way into the Big Apple, take note: with enticing productions, noted actors, and generous blasts of A/C, Broadway and Off-Broadway theatres are NYC's optimum chill-out havens.
While superstar power will always be in vogue—Bruce Springsteen's up-close-and-musical Springsteen on Broadway; Bette Midler's return to Hello, Dolly! for the show's home-stretch weeks—summer 2018 is delivering seriously electrifying theatre dividends.
From the Tonys: Three of this year's winning productions—The Band's Visit, Once on This Island, and Harry Potter and the Cursed Child—are all going strong with most of their original stars intact. And while the exquisitely etched The Band's Visit no longer boasts its Best Actor champ Tony Shalhoub, award-winning Israeli actor
Sasson Gabay, who created Shalhoub's role in the 2007 film that spawned the musical, has stepped in to share the stage with Tony winners Katrina Lenk and Ari'el Stachel. Inspired!
Straight White Men.
Debut Docket: As a rule (not etched in steel, but pretty dependable), June, July, and August are not earmarked as new show preview months on Broadway. Not so this year. Already four newbies are kicking up dust in the bullpen. Here's the scoop:
• Straight White Men: From the savvy folks at Second Stage comes a testosterone-fueled drama with Broadway debut dudes Josh Charles (The Good Wife), Armie Hammer (Call Me by Your Name) and Paul Schneider (Parks and Recreation), as well as Stephen Payne (Law & Order: SVU.)
• Head Over Heels: Produced by Gwyneth Paltrow, this Elizabethan-esque Go-Go's jukebox musical features Broadway vets Jeremy Kushnier (Footloose), Tom Alan Robbins (The Lion King), and Rachel York (Disaster!), alongside Peppermint (RuPaul's Drag Race) and others.
• Gettin' the Band Back Together: A musical comedy led by Mitchell Jarvis (Rock of Ages), Marilu Henner (Taxi) and Kelli Barrett (Doctor Zhivago), this high-energy, rock-infused musical comedy is already generating primo buzz!
• Pretty Woman: The season's first in a cavalcade of silver screen spin-offs stars Samantha Barks (Éponine in Universal Pictures's Les Misérables) and Olivier Award winner/Tony nominee Andy Karl (Groundhog Day). The Broadway vetted cast also includes Tony nominee Orfeh (Legally Blonde), whose real-life husband happens to be Mr. Karl.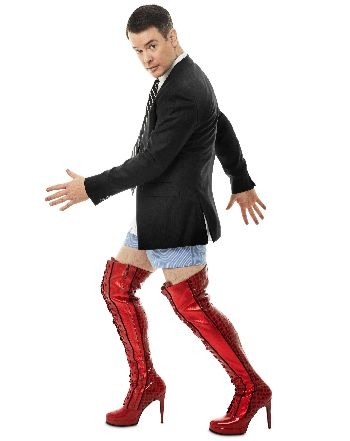 David Cook returns to kick up his heels in Kinky Boots.
Getting Kinky: In case you missed him his first time around, American Idol winner David Cook recently returned to the role of shoe-factory heir Charlie Price in the long-running Cyndi Lauper/Harvey Fierstein hit Kinky Boots. Notes Cook: "I am so honored and excited to get to come back to the factory…I can't wait to help tell the story again!"