Ever wondered how a magician could catch a bullet, saw someone in half, or make an audience member disappear? When did these mysterious traditions start, and why are we still dazzled by them today? These and many other questions will be answered at New-York Historical Society's Summer of Magic. The museum's July, August, and September schedule is packed with talks, film screenings, historical artifacts, and the ghosts of famous magicians (more on that later). You and your family can learn the secret history of magic and even try some tricks yourselves! Read on for escapes from straitjackets, fortune-tellers, needle-swallowing, séances, and much more.
Summer of Magic at the N-Y Historical Society: Exhibition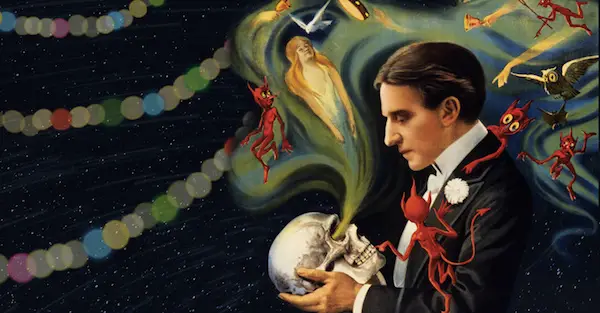 Magic and New York have a long history together. Famous city magic shops like Macy's Magic Counter and Tannen's Magic Shop carried special treasures for aspiring magicians during magic's heyday (called "The Golden Age of Magic," around 1853-1932). The new exhibition at the New-York Historical Society, called Summer of Magic: Treasures from the David Copperfield Collection, features a recreation of an antique magic shop, shelves complete with magic sets, decks of cards, linking rings, and a disappearing bird cage. Most of the artifacts come from the Emmy-winning illusionist David Copperfield's International Museum and Library of the Conjuring Arts. Famous magicians' props will also be on display, including a pair of Harry Houdini handcuffs, a dress likely worn by bullet-catching "Queen of Magic" Adelaide Hermann, and Copperfield's own Death Saw. You'll also see Houdini's Metamorphosis Trunk and Dante the Magician's Inexhaustible Barrel. On view June 15 through September 16.


Summer of Magic at the N-Y Historical Society: Special Events
Regulation straitjacket used by Harry Houdini, ca. 1920. Copperfield Collection. Photo: Glenn Castellano.
Mark your calendar for two special weekends happening at the Summer of Magic. Houdini Weekend is July 13 through 15, a celebration of history's most famous magician. The weekend kicks off with a screening of the PBS documentary Houdini, showing you the magician's life and death-defying tricks through historical footage. See modern-day heirs to Houdini at The Great Dubini's Needle Swallow & More Parlor Magic on July 14 and escape artist Adam RealMan breaking free from a straitjacket and handcuffs on July 15. On both July 14 and 15, find clues throughout the museum with a family scavenger hunt at History Detective Briefcase: Summer of Magic Edition.

In late August, come to Capturing the Magic weekend. See a Magic Lantern, a precursor to the modern film projector that magicians used in the Victorian era. Watch as filmmaker Joel Schlemowitz depicts ghosts, ethereal worlds, and silly jokes using the antique Magic Lantern at events each day throughout the weekend (August 24-26). The evening of August 24, stick around for The Prestige, the spellbinding Christopher Nolan film about two dueling magicians played by Christian Bale and Hugh Jackman. History Detective Briefcase: Summer of Magic Edition will also be available the 24th and 25th, as well as all Saturdays and Sundays throughout the Summer of Magic!
Summer of Magic at the N-Y Historical Society: Evening Programs
Learn magical tricks and the history of staged illusions all summer at an exciting series of evening talks and workshops! New York Historical Society is bringing magicians, historians, storytellers, and adventurers in to explore magic with you and your family. Try a scarf trick or two at the Magic Workshop, a 90-minute hands-on class offered on July 17 and August 7. Take your kids on a thrilling, puzzle-filled scavenger hunt with Watson Adventures' "Escape the New York Historical Society" on July 20 and August 10. Harry Houdini's nemesis The Witch of Lime Street will be discussed on July 18, while more Women in the Golden Age of Magic are presented Thursday, August 2. Other bewitching historical topics include Civil-War-era Parlor Mind Reading, deaths and other accidents during magic shows at Tragic Magic, The Psychology of Magic (exploring why we believe in illusions), and an evening with the hosts of The Bowery Boys podcast.
Summer of Magic at the N-Y Historical Society: Films
Hugh Jackman, Scarlet Johansson, and Christian Bale star in the 2006 film The Prestige.
Movies and magic make a perfect pair: both rely on visual sleight-of-hand that enable viewers to believe the impossible. As mentioned above, the PBS documentary Houdini, detailing the life of history's most famous magician, will screen July 13. Have a ball with the star-studded cast of Now You See Me, who use magic to stage a series of heists, on July 27. Love the original? Try the sequel the following week with Now You See Me 2 on August 3. Experience magic of a different kind with the maker of Citizen Kane in the 2014 documentary Magician: The Astonishing Life and Work of Orson Welles, showing August 9. Welles' famous hoax, in which his radio broadcast convinced the public that aliens were attacking earth, is documented in the nonfiction film War of the Worlds, to be shown August 17. One of the best modern movies about magic will screen August 24: Christopher Nolan's The Prestige. Admission to the screenings is free with museum admission. As a plus, most screenings occur on Fridays as part of the museum's Pay-What-You-Wish Fridays!
Summer of Magic at the N-Y Historical Society: Family Programs
Your kids can get up close and personal with the history of magic as the N-Y Historical Society brings famous magicians to life throughout the Summer of Magic! Saturdays and Sundays are Living History Weekends, when Living Historians play figures like Harry Houdini (performing dates in July and September), a fortune-teller from the Golden Age of Magic, "Queen of Magic" Adelaide Hermann, and colonial illusionist Mr. Bayly. Not only will your kids see magic tricks from these experts in sleight of hand, but they will also learn the magicians' historical context in their respective eras. Saturdays and Sundays from June 16 through August 26, be sure to check out History Detective Briefcase: Summer of Magic Edition to experience the museum exhibition through a family scavenger hunt. Other family programming includes dates in June and July with escape artist Adam RealMan and stories of paranormal séances with Jonathan Kruk on July 28 and 29. As part of Capturing the Magic weekend (see above), catch a glimpse of spooky projections of ghosts and ghouls at a Victorian Magic Lantern Show, August 25 and 26.
---
The New-York Historical Society is located at 170 Central Park West. Call 212-873-3400 or visit nyhistory.org to learn more about the museum. Find a full schedule and tickets to Summer of Magic at nyhistory.org/summer-magic.