With a loving wink to the 1939 MGM film, Broadway's Wicked takes flight with Glinda the Good, floating above the citizens of Oz in a bubble extravaganza wearing a fairy tale ball gown and a radiant smile. Showered with adoration from a crowd celebrating the demise of "the enemy of us all," Glinda begins a memory spun from her schooldays at Shiz University alongside the young, green-skinned Elphaba.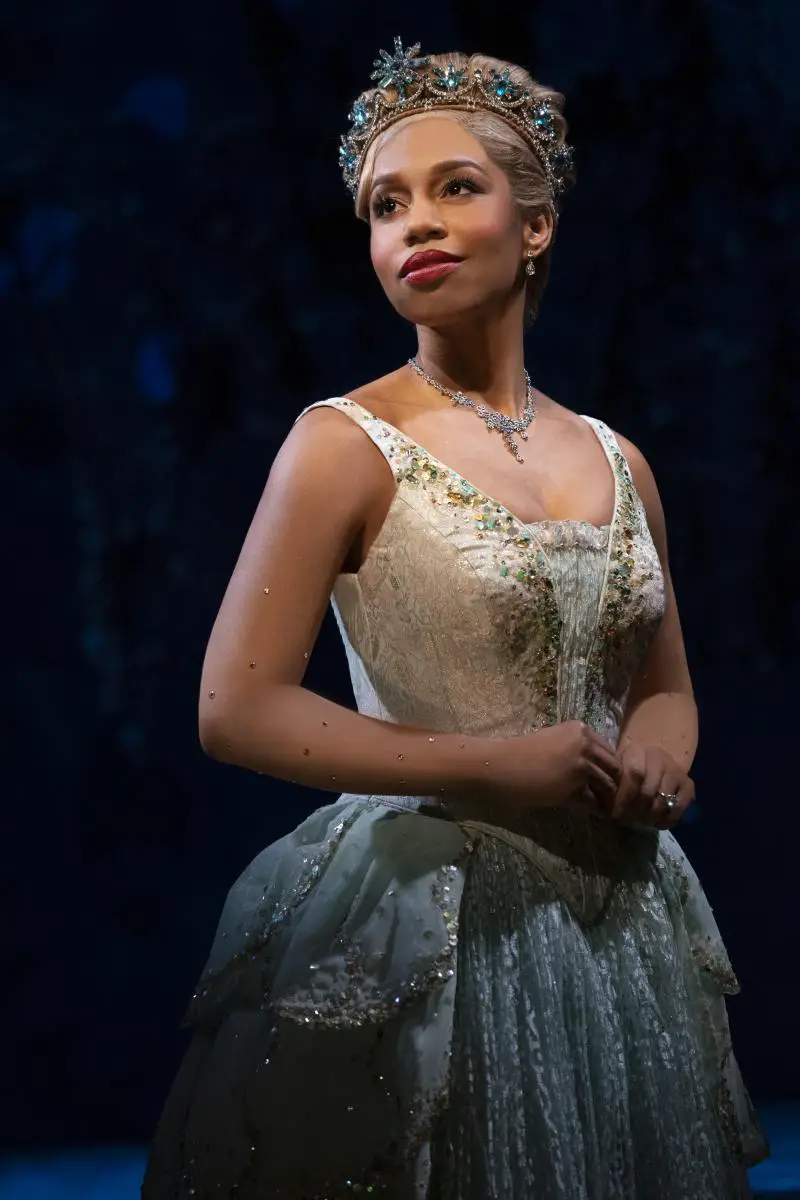 Photos by Joan Marcus.
And so begins Wicked, the wildly successful musical that made its Broadway debut June 10, 2003 as both a prequel and sequel to The Wizard of Oz, with a smattering of references to that Dorothy girl and her terrier traveling companion, Toto—the unwitting assassin who ended "the wickedest witch there ever was" with a hearty splash of H2O.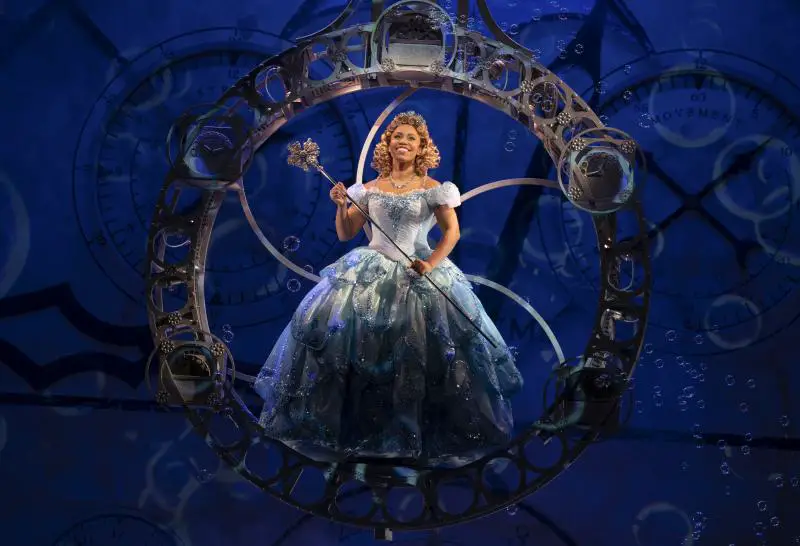 Based on the novel by Gregory Maguire, featuring music and lyrics by Stephen Schwartz (Pippin) and a book by Winnie Holzman (My So-Called Life), Wicked emerges as a smart revisionist tale where no one dances down the yellow brick road and the emerald-tinged witch doesn't necessarily spew evil or melt. Instead, a complex Ozian world emerges featuring new characters with a unique vocabulary (words like "confusifying" and "linguification" pepper the dialogue), who experience both youthful infatuations and ominous prejudices. 
In "Stage Notes"—the show's teachers' guide—Schwartz said: "We didn't follow the book's structure at all, but we did incorporate some very strong elements...like when Elphaba went to college and she ended up rooming with Glinda. That detail had to be shown," he continued, "because whenever you tell people…the two went to college together, people laugh."
Consequently, the show's storyline follows the unlikely witch friendship of studious Elphaba—a green-skinned outcast shunned by her governor of Munchkinland dad and de facto guardian of her disabled younger sister Nessarose—and bubbly, self-absorbed, ultra-"Popular" Glinda.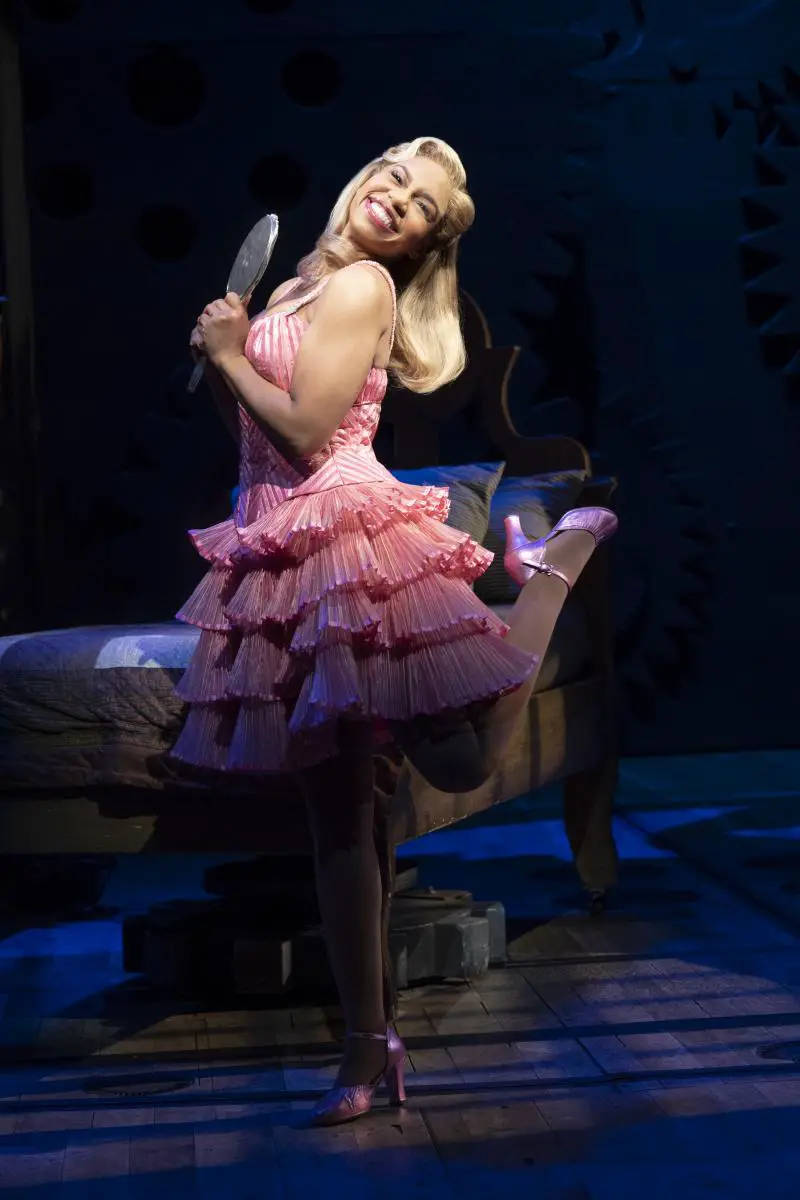 Like her mentor and friend Kristin Chenoweth, who originated the role on Broadway, Brittney Johnson brings fine-tuned comic timing to the Glinda character, as well as the sense of achievement that comes with being the first Black actor to play the role full time in the history of the show. As she posted on Instagram after hearing the news, "If this is a dream, don't wake me…I'm honored, grateful, and speechless."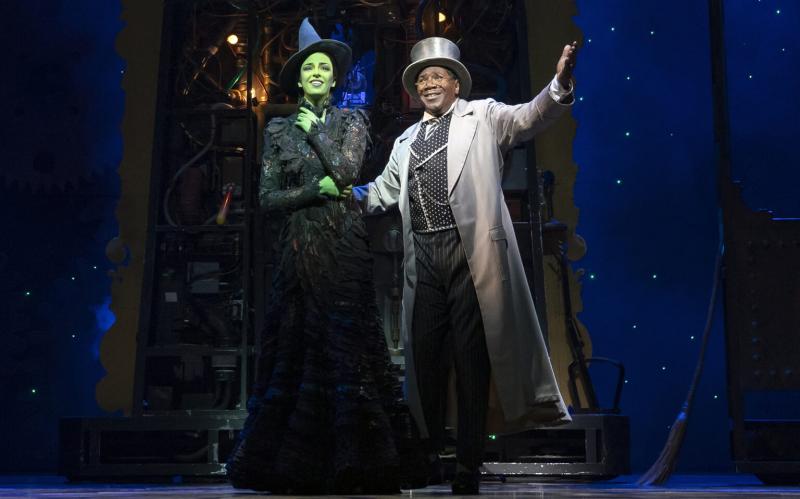 Broadway's current Elphaba is Talia Suskauer, who began going green during her stint with the Munchkinland National Tour in 2019. Like many Wicked stars and alums, Suskauer was instantly infatuated with Wicked after seeing it at the Gershwin Theatre as a nine-year-old kid.
As for bringing Elphaba and Glinda's stage personas to life, Holzman found getting the script into its final form to be an ambitious study in rewrites and cuts. "Nothing was too small to think about and be concerned about," she recalled, adding there were times when the process left her feeling lost. "Now I see that I was always plodding along where I needed to be."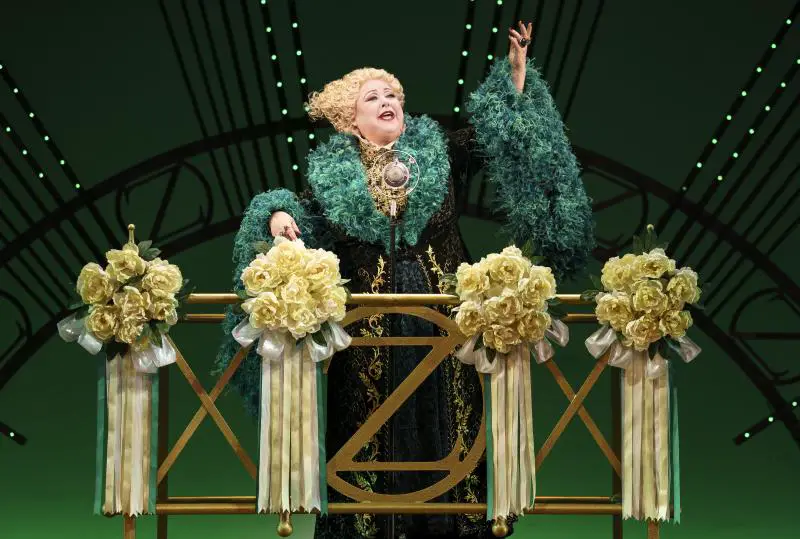 And where she needed to be was on the Shiz University campus where reluctant roomies Glinda and Elphaba become BFFs. While in school both are taught by the formidable Madame Morrible (Sharon Sachs) and Doctor Dillamond (Tony nominee Clifton Davis), fall in love with school heartthrob Fiyero (James D. Gish), and eventually find themselves separated emotionally in Oz's battle of good and evil.
It is the Wizard (Tony winner Cleavant Derricks) whose far-from-"wonderful" machinations (like sending flying monkeys to scout Oz for subversive animal activity) force the big-hearted and resourceful Elphaba into rebellious acts that cast her as the Wizard's enemy.
By the end, the musical has shot into a stratosphere of the unexpected and the inspired, hinted at midway with its most heart-stopping and talked-about number, the Act I finale where Elphaba soars above Oz, belting her anthem of empowerment, "Defying Gravity." 
With fiery determination she sings:   
As someone told me lately
'Everyone deserves the chance to fly.'
And if I'm flying solo
At least I'm flying free.
To those who'd ground me
Take a message back from me:
Tell them how I
Am defying gravity.
Wicked is playing at the Gershwin Theatre, 222 W. 51st St. For tickets call 877-250-2929 or visit wickedthemusical.com.