A New Tradition: Two Takes on Fiddler in Yiddish
September 6, 2018 - by Griffin Miller
See the Yiddish version of Fiddler on the Roof (with English and Russian supertitles), currently playing at the Museum of Jewish Heritage, and you will know right off: there's something about the Yiddish language. First off, it's chock full of savory, multi-syllabic words that tell it like it is. Take ongepotchket (awn-ge-potch-ket) for example: the perfect description for anything over-the-top gaudy. Try it on for size and you'll see how a word like "tasteless" pales in comparison.
Second, it's innately theatrical, in both the comedic "klutz" and "shtick" sense and the dramatic troyer (sorrow) and hodeven (humble) sense. And third, it's winning over audiences without a background in Yiddish, not just at the MJH downtown, but also in a second Off-Broadway production—both with extensions through October.
Fidler Afn Dakh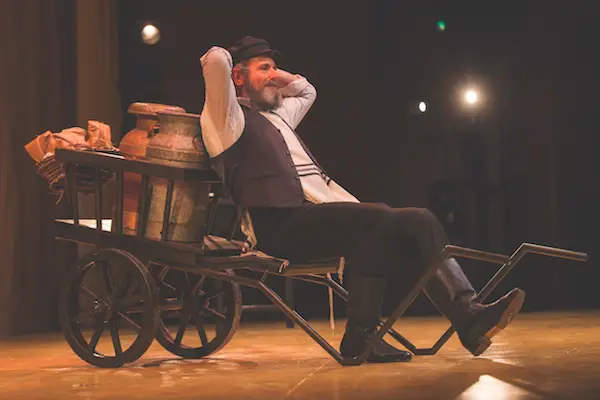 Star of Yiddish Fiddler: Steven Skybell. Photo: Victor Nechy, ProperPix.com.
The version at the Museum of Jewish Heritage debuted on July 4th and is slated to run through October 25th. Presented by the National Yiddish Theatre Folksbiene, and directed by Oscar and Tony winner Joel Grey, the production smoothly navigates the original language of the "Tevye the Dairy Man" (Tevye der milkhiker) stories by Sholom Aleichem on which Fiddler is based. It's even more impressive when you realize that neither Grey, nor his hand-picked cast, came into the project fluent in Yiddish. Singing and acting talent were Grey's determining factors and it paid off with a terrific company featuring such Broadway vets as Emmy nominated comedienne Jackie Hoffman (Charlie and the Chocolate Factory, The Addams Family) as Yente the matchmaker; Steven Skybell (Fiddler on the Roof, Wicked) as Tevye; and Jennifer Babiak (Fiddler On The Roof, West Side Story, Evita) as Golde.
Oscar and Tony winner Joel Grey directs the Yiddish production of Fiddler on the Roof. Photo: Lev Radin.
Credit for translating this beautifully poignant production from English goes to the late Shraga Friedman, who plucked quotes from Aleichem's text, deftly juggling syntax, rhymes, and inventive wherewithal to match the famous lyrics by Pulitzer Prize winner Sheldon Harnick. His efforts resulted in an Israeli production mounted in 1965—the same year Harnick picked up a Tony for Fiddler on Broadway. The current production marks the first time Friedman's translation has been mounted in the U.S.
Is it perfect? Well, as to the Yiddish, my years at Catholic school didn't exactly arm me with the any judgmental rights (and truth be told, I wasn't exactly a Latin class superstar, either). But thanks to Folksbeine, and the several Yiddish speakers in the audience, it was clear this Fiddler and its performers (working off Friedman's transliteration) got it right. Could some of the costumes (especially the men's footwear) use retrofitting? That I can speak to—and yes. But hardly a reason to miss this rare and wondrous musical experience! NYTF.org
Tevye Served Raw (Garnished with Jews)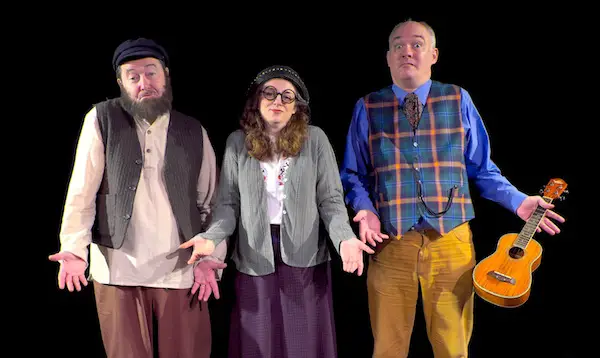 The cast from Teyve Served Raw.
On July 5th—just a day after Fiddler on the Roof opened for business downtown, a trio of Yiddish savvy actors stepped into the midtown Theatre District spotlight with the New York debut of Tevye Served Raw, a lovingly assembled collection of Sholem Aleichem stories. For the show's more serious "Tevye" scenes, translation to English is provided by simultaneous supertitles, while the comedic pieces—"Strange Jews on a Train," "The Yiddish Sisyphus," and "A Stepmother's Trash-Talk," are served up via "rapid-fire interpolated English dialogue."
The stars of the show, which packs an impressive critical and word-of-mouth wallop, are Yelena Shmulenson and Allen Lewis Rickman—stage and screen veterans (A Serious Man), and real-life husband and wife. They're joined by "the best-loved Episcopalian on the Yiddish stage today," Shane Baker, who translated Waiting for Godot into Yiddish.
Of the "Tevye" material, Rickman, who also directed the show, said that it veers away from the humor so familiar to audiences whose exposure to the character is based exclusively on Fiddler on the Roof.
"What we did is go back to the source: what's in our show is what Sholem Aleichem, who was there in the shtetl and saw it all himself, actually wrote. It's his words, his observations, unfiltered, 'raw,' " notes Rickman, adding, "It's a question of authenticity. If people want to get a sense of where most American Jews actually came from, this is the real deal."
Playing Wednesdays at 3 and 7pm through October 3rd, Tevye Served Raw is definitely a unique take and well worth checking out. As producer Ben Feldman observes, "It's incredible, really—it's a tiny little show, but people are just knocked over by it…Who knew?" TevyeServedRaw.com
Looking for Free Group Planning Services?
Get free advice on planning your group's trip to New York.
RESTAURANTS

Multi-concept restaurant offering modern Japanese cuisine, a...

THEATER

In a heartbeat, 38 planes with 6,579 passengers were strand...

SHOPPING

An array of quality branded merchandise showcasing HBO's® aw...

SIGHTSEEING

In addition to 360-degree views from Midtown Manhattan, the ...