After the Macy's Thanksgiving Day parade has ended and Santa has officially heralded in the holiday season, you may find yourself with some time on your hands. What to do? This year, eschew shopping and squabbling with relatives and try out some alternative experiences in New York City.
If you've decided to forego cooking the meal yourself this year—or are visiting someone who is—a number of wonderful restaurants are open for the holiday. If you're looking for an offbeat-yet-quintessentially New York option, head to Katz's Deli on the Lower East Side. You can opt for the classic pastrami sandwich, or else go all American and order roast turkey and pie. (And there's a story to take back home—Thanksgiving at Katz's!)
Joseph Leonard in the Village is going all out with a three-course menu—turkey, stuffing, Parker House rolls, and more. The neighborhood also offers some lovely post-meal strolls.


DB Bistro Moderne, on West 44th Street, has menus both traditional and unexpected: For your main course, you can choose from entrees that include sole Veronique, pumpkin risotto, or Amish turkey. For dessert--pumpkin profiteroles, anyone? And The Smith, a brasserie near Lincoln Center, offers a three-course prix-fixe menu with starters like butternut squash soup and ricotta gnocchi and moves on to turkey in various forms (roast; pot pie.)
What to do after the meal? If you feel like hanging out with some celebrities—you never know when the urge might overtake you—you could head over to Madame Tussauds: nothing says Thanksgiving like a figure of Heidi Klum made out of wax. You can choose from various displays and experiences, like the fashion experience, in which you can digitally create a couture look, or a Ghostbusters experience, where you can capture your own ghost. Who ya gonna call, indeed.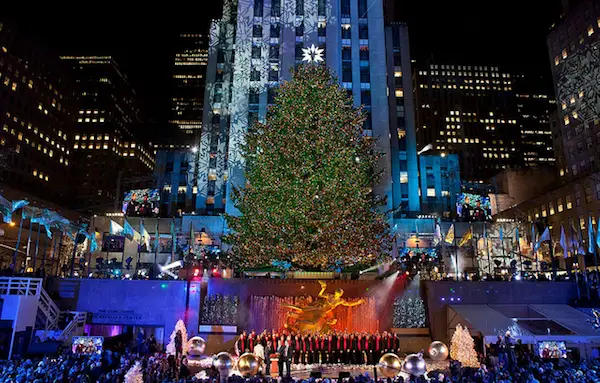 Some post-turkey exercise might not be a bad idea—and you can combine that with a premiere holiday experience: gaze at the spectacular Rockefeller Center Christmas tree while enjoying the ice skating rink (and that's two holiday events you can check off your list at once.)
Looking for an all-out, classic visitor experience? The Empire State Building is open 365 days a year, from 8am to 2am, so you can fit in a visit before or after your dining festivities. It's a guaranteed crowd pleaser, and a sweeping view of the city might be just the calming tonic you need after Cousin Greta asks you for the eleventh time if you really like your new haircut.
And if you're looking for a lively, post-dining experience, wander through Central Park (weather permitting) and then head to the Central Park Zoo. It's open every day, and a brisk walk among the animals might be just the ticket. Don't forget to visit the elusive snow leopard and the red panda, and to bring coins to feed the animals in the children's zoo—after all, it's Thanksgiving for them too.
Madame Tussauds
234 West 42nd Street
Rockefeller Center
45 Rockefeller Plaza
Central Park Zoo
Fifth Avenue and 64th Street
Joseph Leonard
170 Waverly Place
DB Bistro Moderne
55 W. 44th St.
The Smith
1900 Broadway
Empire State Building
350 Fifth Avenue