There's nothing like the warm glow that a surfeit of food, friends, relatives, and perhaps a touch football game or a brisk walk can bring on; they're Thanksgiving traditions, and we wouldn't have it any other way. But many people are secretly glad to get back to the real world after the holiday, and if you're in New York, Thanksgiving weekend offers a bundle of seasonal activities that have nothing to do with hearing that story of how you fell down in your third-grade class play once again.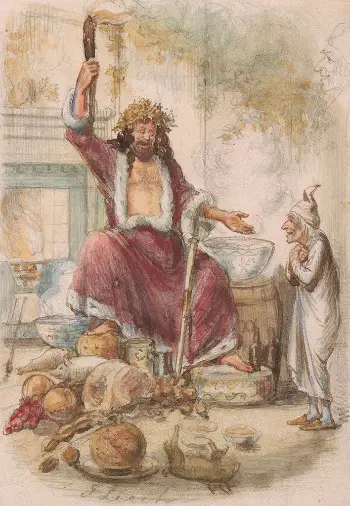 For starters, dazzling museum shows are in abundance this fall. A great seasonal show can be found at The Morgan Library & Museum (225 Madison Avenue). Charles Dickens and the Spirit of Christmas (through Jan. 14) brings together for the first time all five manuscripts of Dickens's Christmas books—A Christmas Carol (1843), The Chimes (1844), The Cricket on the Hearth (1845), The Battle of Life (1846), and The Haunted Man (1848), and tells the story of Dickens' famous reading tour of the U.S. in 1867.
Michelangelo, Archers Shooting at a Herm, circa 1530. Photograph: Royal Collection Trust/© Her Majesty Queen Elizabeth II, 2017.
On the Upper East Side of things, look to the Metropolitan Museum (1000 Fifth Avenue) for "Leonardo to Matisse: Drawings from the Robert Lehman Collection" (through Jan. 7). More than 60 drawings from artists including Seurat, Rembrandt and Da Vinci are included, tracing the development of drawing in Europe through the early 20th century. The big draw at the Met this fall, though, is "Michelangelo: Divine Draftsman & Designer." (Through February 12, 2018.) The exhibition includes drawings, sculpture, paintings, and even a wooden architectural model: it's not to be missed.
While you're uptown, pop into the Cooper Hewitt, Smithsonian Design Museum (2 East 91st Street) for "The Virtue in Vice," an often amusing look at the seven deadly sins as exemplified through art. Everything from a soup tureen designed by Cindy Sherman after one commissioned by Madame de Pompadour to a Roomba vacuum is here. Fun activity: See if you can match an object with a sin.
Also uptown: "Murillo: The Self Portraits" at The Frick Collection—a small but well-chosen exhibit that focuses on the painter of the Spanish Golden Age; it includes Murillo's only two known self-portraits, as well as some additional works (1 East 70th Street).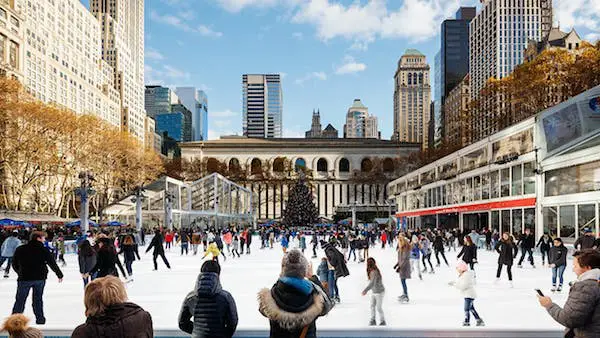 When you've had your uptown culture fix, it may be time for some holiday shopping. The holiday markets are in full swing, so head to the Bank of America Winter Village at Bryant Park (476 Fifth Avenue). The Village includes the pop up Public Fare, from restaurateur Danny Meyer; it features sandwiches, snacks and pastries, with a coffee bar in the morning and cocktails in the evening. Bryant Park also features the only ice skating rink in New York that's free of charge. Plus, of course, there's the justly famous open-air market, with more than 150 food vendors and kiosks for holiday shopping galore. Artisans and craftspeople, both local and international, make this the perfect place to pick up some African baskets or handmade jewelry, soaps or socks or leather goods. You can even find chopstick art, puppets, dumplings and churros.
If you're midtown, the Columbus Circle holiday market, across from the Time Warner Center, and on the fringe of Central Park, is also a shopping mecca. Crafts, home accessories, clothing, and even handmade wooden puzzles and chocolates are the draw here, as are socially conscious goods.
Looking for books? There's bit of a mini resurgence in independent bookstores in the city, and this would be a great weekend to check out some of them out, both the new ones and the mainstays. Start with Albertine at 972 Fifth Avenue (above), housed in the gorgeous Payne Whitney mansion and filled to the brim with books in French and English (but mostly French). They also have a cozy kids' section.
McNally Jackson in Soho (52 Prince Street) offers indie books, popular fiction, and some hard-to-find titles (and you can have a quick bite to eat there as well). Books Are Magic in Cobble Hill (225 Smith Street) has kids' books, best sellers and just plain, offbeat books (Star Wars Made Easy; Distillery Cats). What's not to like?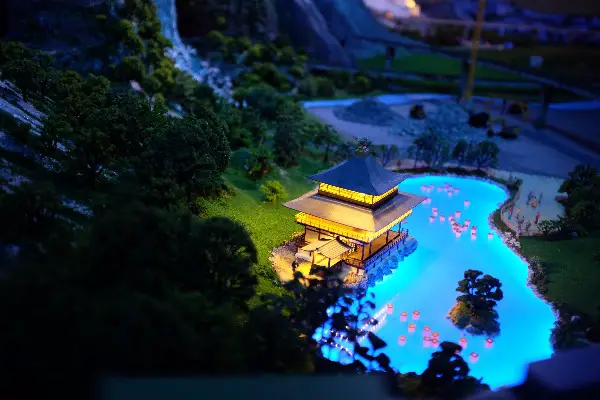 Of course you should set aside time to just have fun. Ready to get small? Gulliver's Gate offers a block-long miniature world, sporting replicas of famous landmarks as well as tiny people in New York, the first stop. Major landmarks like Times Square and the Statue of Liberty are of course represented, as are some more offbeat sights—can you spot the tightrope walker? You'll also see sights in Europe, from the large Hadron Collider to the Coliseum, as well as Asia (the Taj Mahal, and Angor Wat, to name but two), the Middle East, and Latin America (216 West 44th Street).
For that offbeat, wait-until-you-hear about-this stop, try the Society of Illustrators (128 East 63rd Street), the oldest non-profit organization dedicated to the art of illustration in America. It also houses a mini museum, the MoCCA, dedicated to comic book art. Through December, catch a show on George Booth, whose spiky drawings have graced the pages of the New Yorker for many years; it's the first exhibit dedicated to his work. You can even pop by the shop for some holiday shopping; it carries items ranging from kids' books to tote bags and t-shirts; and there's Cousin Mabel's present taken care of.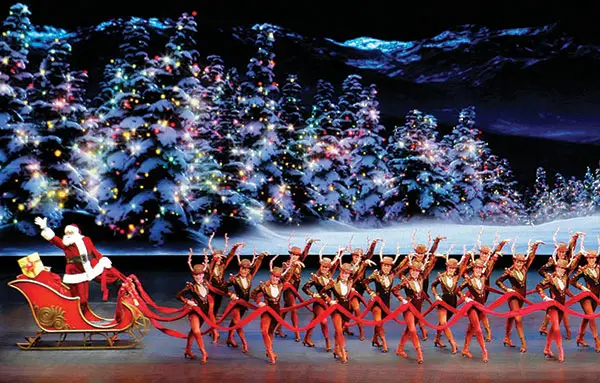 If you're looking for something else quintessentially New York-y and holiday-ish to do, get a jump on things and take in the Christmas Spectacular Starring the Radio City Rockettes® at Radio City (1260 Sixth Avenue), complete with high-kicking Rockettes, wooden soldiers, and lots of pomp (and circumstance).
Finally, if you're looking for a way to burn off all that pie—and stuffing and mashed potatoes—consider the NYC Pilgrim Pedal on November 24. Advance registration necessary.) The 10-mile family-friendly ride goes through Manhattan, Brooklyn and Queens, with a stop for pancakes in the middle.
It's just the beginning of the holiday season—can't wean yourself entirely from those carbs.