Unlike Harper Lee's novel and the 1962 film, Aaron Sorkin's stage adaptation of To Kill a Mockingbird begins in the courtroom—a tableau of characters that unfolds in flashbacks, the effect being a memory play (semi-autobiographical from Lee's perspective), and a haunting one at that. The jury box is realistic enough, but it's filled by a ghost jury—empty chairs that will eventually render a verdict in the case of a black man accused of raping a white woman.
Jeff Daniels and Gbenga Akinnagbe hold court. All photos by Julieta Cervantes.
In this deftly crafted work, everything is black and white…and nothing is. With the exception of the father of the victim, a canker sore on humanity, everyone is grey. In the small town of Maycomb, Alabama, in 1934, racism may be overt or contained; compassion can be flecked with outrage or fade in and out like a hologram. The kids—Scout, Jem, and visiting neighbor Dill—narrate the play, but it's Celia Keenan-Bolger's Scout who makes the greatest impression. She takes a viewpoint that's part observational and part absorbed from her father, Atticus Finch, defense lawyer for Tom Robinson (Gbenga Akinnagbe), the young black man on trial.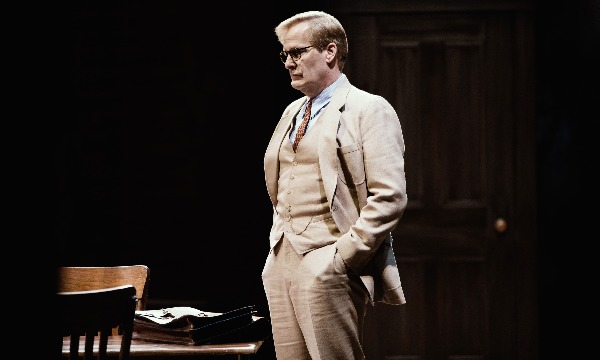 Thanks to the movie version, Gregory Peck is so identified with Atticus, I was naturally anxious to see Jeff Daniels' take on the character. Nothing like Peck, Daniels has claimed Atticus as his own: intense, pragmatic, and not averse to anger-stoked passion, which makes each courtroom scene a potential powder keg as he and the prosecuting attorney, Horace Gilmer (Stark Sands), question witnesses and get under each other skin. Presiding is Judge Taylor (Dakin Matthews, in a beautifully rendered performance), a man who matches age with wit.
Everyone in the cast is amazing under the direction of Bartlett Sher. The Finchs' housekeeper, Calpurnia (LaTanya Richardson Jackson), for example, both anchors the family and levels the racial playing field in her exchanges with Atticus, while Erin Wilhelmi is an eerie Mayella Ewell, the brittle young woman who called rape.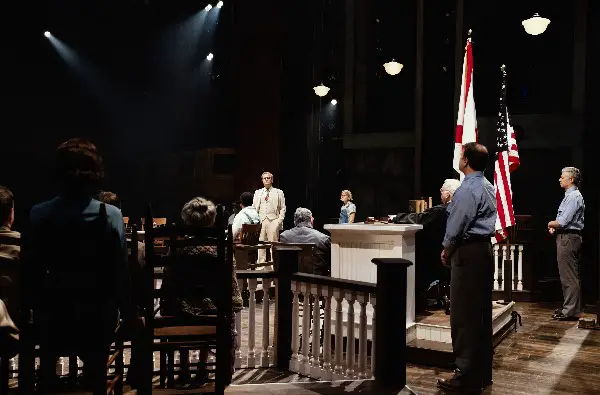 All is played out against Miriam Buether's sets, which rise, descend, roll, and authentically capture the time and place.
---
To Kill a Mockingbird is playing at the Shubert Theatre, 225 W. 44th St. Call 212-239-6200 or visit tokillamockingbirdbroadway.com for more information.