As far as the 2017 Tony Awards go, color me saturated. From the schvitzy red carpet prequel to the protracted opening number to mega musical performances to playwright synopses to backstage commercial lead-ins to assorted comedic tidbits to thank-you speeches laced with pokes at the current administration's disdain for the arts…it was a wild ride.
Re: the winners (listed at the end if you just want to cut to the chase and scroll down)—some were as predictable as last year's Hamilton sweep; but there were also several surprises.
The Red Carpet Live: NY1 (5pm to 7pm)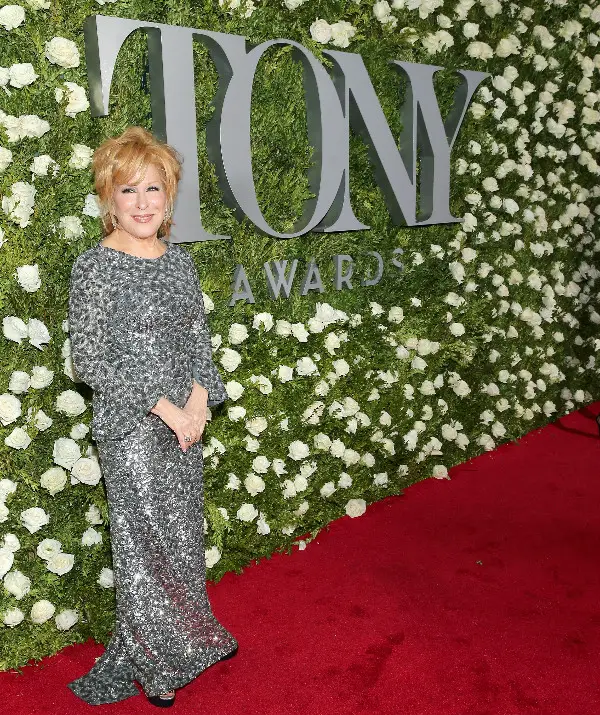 Getty Images for the Tony Awards
Frank DiLella of NY1's Onstage and actress Sarah Jones did a dandy job of wrangling nominees for sound bites and mini interviews, while the station's arts reporter, Stephanie Simon, and Nordstrom's fashion director, Shannon Schafer, popped in every so often with couture commentary.
Fashion designer Christian Siriano, who made his professional breakthrough after winning the fourth season of Project Runway, turned out to be a major player in the women's arena: Laurie Metcalf, Jane Houdyshell, Sally Field, Johanna Day…and no doubt more; while the men, in everything from Armani to Josh Gad's "Made in ???" had the worst of it since they were layered in shirts and jackets and trussed up in neckwear (mostly bow ties). Big news male-wise: blue is the new black.
Awards for Red Carpet Chutzpah go to Christine Eberole (Best Actress in a Musical nominee for War Paint) in a puff-sleeved ball gown by costume designer William Ivey Long that would not be out of place in Anastasia; and Mike Faist, a Best Featured Actor in a Musical contender for Dear Evan Hansen whose fashion statement of a floppy bow, cavalier tux, and naturally pale skin put him on the fast track for the next round of vampire flicks.
Overall: Lots of sparkly dresses, a rainbow of bold solid colors, big earrings, sculptural" earrings (often sparkly), and kvetching about the 90+ temperatures—although—huge relief—no one seemed to be sweating on camera. This is particularly impressive when you realize most of the actors had matinees, meaning they had to clean up, change, and be hair and makeup ready in a sliver of time.
The Show (8pm to 11:16)
Getty Images for the Tony Awards
And So It Begins…
…with Kevin Spacey dressed as Evan Hansen, being hurled from one show and musical style to another in an opening number that played on his seeming insecurities as a first time Tony host. Not only did the lengthy number involve a generous spin on every nominated musical and costume change (his Glenn Close in flowing dressing gown and turban will haunt me to my grave), it also featured cameo appearances by Stephen Colbert, Whoopee Goldberg, Billy Crystal, and the Radio City Music Hall Rockettes. We all knew Spacey was spunky, but he outdid himself in this starter (and some other comic turns later on).
God bless the producers of the Tony Awards—they so want to pay homage to everyone no matter how long it takes. Yes, a nice gesture, but the timeframe expands every year. And as glib as the insider jokes may be (an arm cast moving from "Kevin" Hansen's ulna to his leg once the number moves to Andy Karl's character in Groundhog Day), it's pretty much lost on anyone outside NYC who a) has never seen Evan Hansen and b) isn't glued to Broadway theatre buzz. Isn't it enough that Bette Midler opted not to perform the title song from Hello, Dolly?, do you have to confuse as well as disappoint viewers from, well, not New York?
Mixing It Up
VIPs, whether or not they've ever appeared on the New York stage (or any stage for that matter), may be called upon to present a Tony or introduce a musical number. I am happy to report the 2017 presenters were excellent choices, and, even better, when they came in twos no forced humorous banter was required (thank you Tony writers; take note Academy Awards producers). Also a nice touch was the decision to have each Best Play playwright give a brief rundown of their production.
Here is the rundown of this year's celebrities in order of appearance:
Scarlett Johansson, Ronald Duguay
Sutton Foster and Scott Bakula
Lea Salonga and Jon Jon Briones
Paula Vogel (Playwright: Indecent)
Olivia Wilde and Tom Sturridge
Whoopie Goldberg
Anna Kendrick
Lucas Hnath (Playwright: A Doll's House, Part 2)
Sarah Paulson and David Oyelowo
Tommy Tune
Bette Midler
Patina Miller and Sara Bareilles
Nick Kroll and John Mulaney
J.T. Roberts (Playwright: Oslo)
Allison Janney and Christopher Jackson
Uma Thuman
Lynn Nottage (Playwright: Sweat)
Josh Gad
Orlando Bloom
Keegan Michael Key
John Lithgow
Jill Biden
Jonathan Groff and Brian D'arcy James
Stephen Colbert
Tina Fey
Glenn Close
Lin Manuel Miranda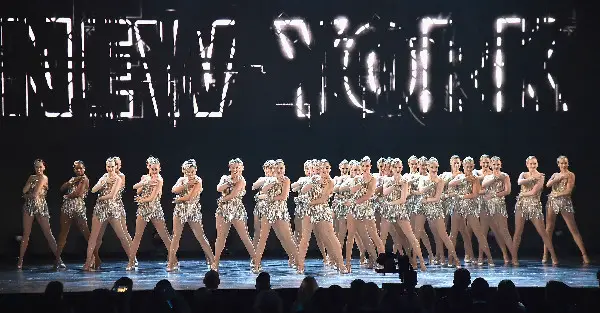 Getty Images for the Tony Awards
Thumbs Up
Again, for Spacey's Carson…as well as his Bill Clinton. Overall not the worst host in Tony history, but a little wobbly, plus the newbie joke got old pretty fast.
Also a shout to winners—and there were many—who thanked their parents and their teachers…
And to those who, with grace and poise, brought home the importance of supporting the arts and facing the current political and world climate with courage: Cynthia Nixon, Sally Field, Kevin Kline, Bette Midler, and several others.
The Rockettes (a special "New York, New York" number…sure, we know the drill, but it was nice to have them perform on their home turf for the Tonys.)
Middler's talking over the music…then telling them to stop playing. Only she could get away with that!
Exuberance of all the musical numbers, except Hello, Dolly!
Thumbs Down
Opening number that started out with strong parodies but became insufferably and unnecessarily long.
Backstage humorist Rachel Bloom trying to keep things light leading into commercials (my sympathies, Rachel—they could barely keep the camera on you).
Bad enough no Bette performing, but not even a razzle-dazzle number from the show? David Hyde Pierce did his best, and in context that solo number (originally cut from the show and put back in for this production) is no doubt fabulous…but come on.
A silly bit with Sara Bareilles (Waitress) handing out pies to the audience; a Charlie and the Chocolate Factory Willy Wonka (not Christian Borle), peddling Wonka Bars; and onstage, Chaz Palminteri, representing A Bronx Tale, offering cannoli. Nice to get the names of neglected shows into the mix (or in the case of Waitress, a show that's been running a year), but this was a bad backdoor effort.
Postmortem
1) Cut the opening number in half
2) Drop the backstage bits—nobody cares
3) Limit the comedy interludes to the ones that are actually funny…someone there has to know what works and what doesn't before the show airs
4) And finally, with all this extra time, give the winners a full 2 minutes to speak— they've earned the right!
---
2017 Tony Winners

Best Musical
- Dear Evan Hansen
Best Play
- Oslo
Best Revival of a Musical
- Hello, Dolly!
Best Revival of a Play
- Jitney
Best Performance by an Actor in a Leading Role in a Musical
- Ben Platt, Dear Evan Hansen
Best Performance by an Actress in a Leading Role in a Musical
- Bette Midler, Hello, Dolly!
Best Performance by an Actor in a Leading Role in a Play
- Kevin Kline, Present Laughter
Best Performance by an Actress in a Leading Role in a Play
- Laurie Metcalf, A Doll's House, Part 2
Best Performance by an Actress in Featured Role a Musical
- Rachel Bay Jones, Dear Evan Hansen
Best Performance by an Actor in a Featured Role in a Musical
- Gavin Creel, Hello, Dolly!
Best Performance by an Actor in a Featured Role in a Play
- Michael Aronov, Oslo
Best Performance by an Actress in a Featured Role in a Play
- Cynthia Nixon, The Little Foxes
Best Original Score
- Benj Pasek and Justin Paul, Dear Evan Hansen
Best Book of a Musical
- Steven Levenson, Dear Evan Hansen
Best Direction of a Musical
- Christopher Ashley, Come From Away!
Best Direction of a Play
- Rebecca Taichman, Indecent
Best Choreography
- Andy Blankenbuehler, Bandstand
Best Orchestrations
- Alex Lacamoire, Dear Evan Hansen
Best Costume Design in a Musical
- Santo Loquasto, Hello, Dolly!
Best Costume Design of a Play
- Jane Greenwood, The Little Foxes
Best Scenic Design in a Musical
- Mimi Lien, Natasha, Pierre & The Great Comet of 1812
Best Scenic Design in a Play
- Nigel Hook, The Play That Goes Wrong
Best Lighting Design of a Musical
- Bradley King, Natasha, Pierre & The Great Comet of 1812
Best Lighting Design of a Play-
- Christopher Akerlind, Indecent
Final Tally
Dear Evan Hansen – 6
Hello, Dolly – 4
Indecent – 2
The Little Foxes - 2
Natasha Pierre & The Great Comet of 1812 – 2
Oslo – 2
Bandstand – 1
Come From Away – 1
A Doll's House, Part 2 - 1
Jitney – 1
The Play That Goes Wrong - 1
Present Laughter – 1
[WORTH NOTING: Neither Sweat (this year's Pulitzer Prize play, nor Groundhog Day, a big winner at the last Olivier Awards) picked up any 2017 Tony Awards.]