Unexpected Shops and Goods in NYC
July 25, 2017 - by Chelsey Grasso
There's no shortage of places to shop in New York City, including some stores where you least expect them. These five establishments have goods that will surprise. Whether you're looking for that simple black T-shirt that's been on your shopping list for months, or something unique, you are guaranteed to find all sorts of treasures in these five unusual NYC establishments.
Best of NYC Unusual Shopping: Story (Chelsea)
Story is a sort of "permanent pop-up" that changes its inventory every four to eight weeks to match a new theme or story. It was founded by Rachel Shechtman, whose goal was to create a store that worked to pair brands and buyers in a way that hadn't been done before. Everything is a collaborative effort here, and it's ever-changing just like fashion, and just like the world. Story's set-up and merchandise is designed to bring up new issues, so you can shop and be enlightened at the same time. 144 10th Ave., 212-242-4853, thisisstory.com
Best of NYC Unusual Shopping: Lincoln Center Kiosk (Upper West Side)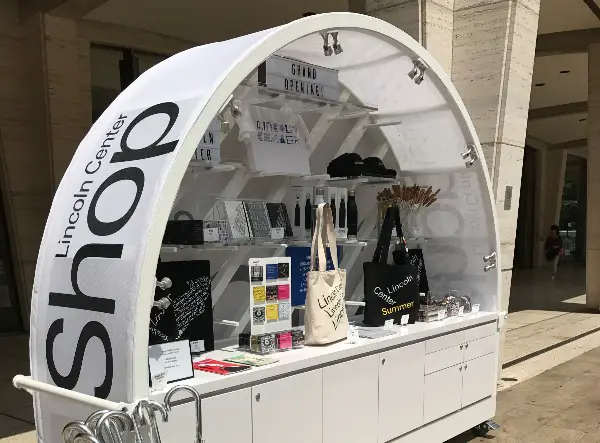 The Lincoln Center for Performing Arts is an architectural masterpiece that you'll want to see. This summer, a special line of goods is being released that celebrates the culture and visual aspects of the campus. If you head to the outdoor kiosk, you can find totes, water bottles, onesies, keychains, mugs, hats, and much more that are all designed with images of the campus, famous quotes, wordplay, and other Lincoln Center related characteristics. You can see a cultural landmark and shop for memorabilia all in one session. 70 Lincoln Center Plz., 212-875-5000, lincolncenter.org
Best of NYC Unusual Shopping: Space Ninety 8 (Brooklyn)

Technically a branch of Urban Outfitters, Space Ninety 8 is so much more than your average chain store. Located in a multi-level space in Williamsburg, one of the hippest and most happening places in Brooklyn, this establishment is host to a clothing store, a music shop, art galleries, and a rooftop bar—just to name a few of the attractions. You can definitely shop here, but you may feel like it's more of an experience than regular retail therapy with all this place has going on. 98 N. 6th St., 718-599-0209, uospaces.com
Best of NYC Unusual Shopping: Turnstyle (Midtown West)
Turnstyle can be found in an underground subway station beneath Columbus Circle. New York City is known for its busy and bumping transit system, and there's no better way to get a feeling for it than to head under the taxi-filled streets and see it for yourself. It's filled with stores and places to eat, such as Lush, Fika, Specs, Lovepop, making it as convenient as the subways it shares its home with. Visiting Turnstyle is a great way to get some shopping done and experience the essence of NYC all at once. 57th St. & 8th Ave., 646-768-9224, turn-style.com
Best of NYC Unusual Shopping: Brooklyn Superhero Supply Co. (Park Slope)
There isn't one person out there who hasn't daydreamed about being a superhero on the streets of New York City, and now that fantasy can come true. You can purchase everything from graphic tees to superpower serums like Speed of Light and Mind Control at Brooklyn Superhero Supply Co. What's better than all of this? Brooklyn Superhero Supply Co. is a nonprofit that donates to support kids in building their writing skills. Looks like you're a real superhero after all! 372 Fifth Ave., 718-499-9884, superherosupplies.com
Looking for Free Group Planning Services?
Get free advice on planning your group's trip to New York.
RESTAURANTS

Brings together the character of Hell's Kitchen past with th...

THEATER

In a heartbeat, 38 planes with 6,579 passengers were strand...

SHOPPING

The sweetest experience in Times Square!...

SIGHTSEEING

Sweeping, unobstructed, open-air views of NYC from the top o...