Thirty stories up at the all-suite Kimberly Hotel you'll find a Manhattan oasis: Upstairs at The Kimberly. Enter through street level elevator doors and rise to one of the city's premier views. And unlike many other New York rooftop lounges, Upstairs at The Kimberly provides an all-season escape.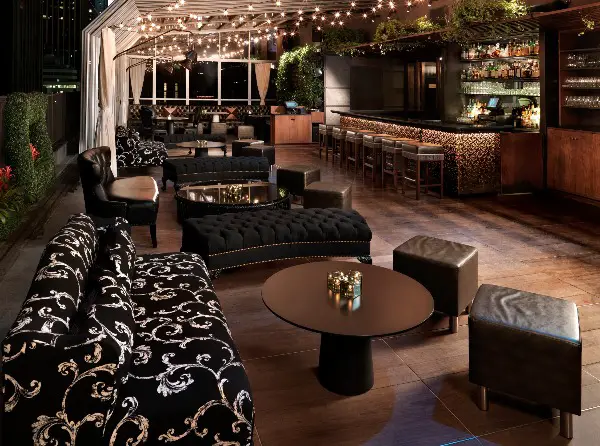 The Scene
The view at Upstairs at The Kimberly frames NYC's skyline, with the Art Deco shine of the Chrysler Building the focal point. The interior keeps pace with the views, walls alive with cascading greens, and bronze paneling glinting in the sunlight. But of course, it's when the sun sets that the rooftop truly dazzles. With the surrounding skyscrapers alight, beaded strings of vintage Edison bulbs twinkle overhead, reminiscent of the glamour of Golden Age Hollywood. Upstairs at The Kimberly is both hyper-modern and neo-gothic — the perfect place to unwind amid a vibe of urban sophistication. The lounge boasts retractable glass ceilings and walls, along with heated floors, making it a four-season nightlife destination.
The Food
Head Upstairs on Saturday or Sunday for popular brunch offerings. Satisfy your salty cravings with an eggs Benedict, enlivened by prosciutto on rosemary focaccia, or indulge your sweet tooth with decadent lemon ricotta pancakes. Vegetarians can also enjoy a broad selection, including a ratatouille frittata, baby kale Drunken Goat cheese salads (with avocado and lemon vinaigrette), and an heirloom tomato panzanella.
The daily menu also includes tuna tartare, spice duck cigars, baby lamb lollipops, mini Kobe sliders, and vegetarian options like crispy baby artichokes, truffle mac 'n' cheese, or watermelon and feta salad. The menu is extensive with both savory and sweet options. Serving sizes are generous for tapas. Ordering a couple plates for the group to share over drinks is a great way to enjoy the evening. Conclude the night with a lime-vanilla creme brulee or cappuccino panna cotta. The desserts are as light, rich, and extravagant as Upstairs itself.
The Drinks
Head to the bar for a drink created by the one and only Alex Ott, who specializes in pairing cocktails and foods in perfect harmony. He works with over 65 liquor brands and has compiled a vast, sumptuous list of specialty cocktails alongside an extensive wine and champagne menu. If you're stuck, ask for The Chrysler. Trust us!
The Hours
On weekdays, Upstairs at The Kimberly is open 5pm to midnight. Saturdays and Sundays brunch is served noon to 4pm, with the lounge opening at 4pm, closing at 11pm. Regardless of when you come, you'll be sure to relax in luxury, with the breathless promise of the city unfolded before you. We'll raise a glass and say cheers to that.