There's never been so much love on Broadway. So, in addition to at least two dozen roses and the largest heart-shaped box of candy, not to mention that long-promised visit to Paris, a memorable Valentine's Day treat is tickets to Broadway and your nearby Cineplex. Love's definitely in the air!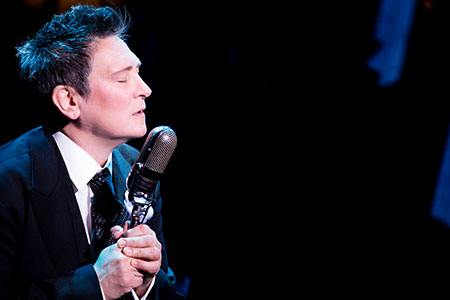 Photo: Matthew Murphy
k.d. lang joins the love-fest about Harlem's glory days, After Midnight, a tribute to the songs and dance of the historic Cotton Club, with sensational Warren Carlyle choreography. The joint jumps to great tunes by Duke Ellington, Harry James, Jimmy McHugh and Dorothy Fields, Yip Harburg, and Cab Calloway; and sizzling ballads by Harold Arlen and Ted Koehler.
Beautiful details the love between emerging hitmakers Carole King (the hard-working Jesse Mueller) and Gerry Goffin (Jake Bernstein) through chart-toppers and heartbreak.


The ultra-romantic musical by Tony winners Jason Robert Brown and Marsha Norman (Pulitzer Prize winner, 'night Mother), The Bridges of Madison County, based on Robert James Waller's bestseller and the hit film, arrives just in time for V Day. Starring is one of theater's delectable Valentines to audiences, the multi-talented Tony-winning Kelli O'Hara (South Pacific, Pajama Game) -- and, as the love that enters her life, Steven Pasquale. Directed by Tony winner Bartlett Sher (South Pacific, Light in the Piazza).
How about a Valentine to the boys in pinstripes? Bronx Bombers, from the team behind Broadway's Lombardi, is the perfect Valentine's Day surprise for the guy who hates high-flying romance. Peter Scolari (last season's Lucky Guy; TV's Bosom Buddies, Newhart) stars as beloved Yankees icon Yogi Berra, as we follow he and his wife (Tracy Shayne) through a century of the team's trials and triumphs that bring generations of Yankee greats together back – Joe DiMaggio, Elston Howard, Reggie Jackson, Mickey Mantle, Billy Martin, Thurman Munson, and, how about this: The Babe!
Rodgers and Hammerstein's classic musical for TV, Cinderella, based on the classic fairytale of lonely and lovelorn Ella (Carly Rae Jepsen) left in the care of an evil stepmother (the divine Fran Drescher) and ever-so-mean stepsisters, has had a magic wand makeover — adding a backstory for the Prince (Joe Carroll), and comic elements (some of which are jarring) — but there's still the fairy godmother (liltingly-voiced Rebecca Luker (Mary Poppins)) and the lavish Prince's ball. There's tons of magic in tunes such as "In My Own Little Corner," "Impossible," "Ten Minutes Ago," and "Do I Love You Because You're Beautiful?"

Photo: Joan Marcus
You really wouldn't think that love and murder are a good mix, but think again. A Gentleman's Guide to Love and Murder is the knock-'em-dead tale of debonair Monty Navarro (aptly portrayed by Bryce Pinkham), a distant heir to a family fortune who sets out to speed up the line of succession using a great deal of charm… and a dash of murder. Tony-winner Jefferson Mays (I Am My Own Wife) plays eight doomed heirs who meet their ends in side-splitting ways.
Cyndi Lauper and Harvey Fierstein hit pay dirt with Tony-winning Best Musical Kinky Boots. Based on the 2005 film which was inspired by a true story, it's an exhilarating musical sure to lift your spirits "to new high-heeled heights!" Winner of six 2013 Tonys, including Best Musical, the story follows a struggling shoe factory owner who has a unique idea in how to turn his business around. It involves a most unlikely person: Lola, a savvy gender-bender who proves to be a good fit -- portrayed by Tony and Drama Desk winner Billy Porter, who knows how to bring audiences to their feet.
Motown is mostly a love affair with the hits from Berry Gordy that had America in a new rhythmic groove, thanks to the likes of Marvin Gaye, Smoky Robinson, the Supremes, Stevie Wonder, and the Jacksons. Besides the great Motor City songs, there's sensational choreography by Patricia Wilcox and Warren Adams.
And don't forget four long-running mega hits, all Tony-winners, which long ago became Valentines to audiences: Chicago, where murder and mayhem are so much fun when set to Kander and Ebb songs; Jersey Boys, the story of Frankie Vallie and the Four Seasons; Julie Taymor's The Lion King [highlighted by Elton John, Tim Rice tunes and others that include "Can You Feel the Love Tonight," "Hakuna Matata" and "They Live in You"]; blockbuster hit Mamma Mia!, now in its 12th record-breaking year on Broadway [and a worldwide hit] is set on a dreamy Mediterranean isle and tells the story of a bride-to-be's search for her father set to the tunes of ABBA; Andrew Lloyd Webber and Charles Hart's longest-running love story in theater history, The Phantom of the Opera, still packs 'em in 26 years and who's counting with its timeless story of possessive love, and has one of theater's great love songs: "All I Ask of You"; and Steven Schwartz's rousing Wicked, the story of witches-to-be in the Land of Oz, the green-skinned Elphaba and sweet Glinda the Good. Then, there's the raucous good-ole-boy's good-time-for-all Rock of Ages, That's become a Valentine to the hard-partying commuter set.
Onscreen:
Endless Love [Universal] is based on a novel. You might wonder how deep the book is and if it dwells with present-day class status with any insight – or more insightfully than the film. Love stories need an element of drama. Here, the love happens a bit too quickly; and the drama is way overblown. Love blossoms in a segue from school graduation smiles between a beautiful but lonely rich girl and a friend-to-all intelligent mechanic's son to a torrid secret affair. But the very wealthy, over-protective heart surgeon dad wants more for his daughter. It might even appear that since he goes insanely bonkers if another man so much as looks at his daughter that he might be in love with her. As often as is the case, films such as this are saved by the performances. Thankfully, there's undeniable chemistry between Gabriella Wilde and Alex Pettyfer; and solid performances that rise above the script from Joely Richardson and Bruce Greenwood as the rich parents.
At some screenings of Jason Reitman's Labor Day [Paramount Pictures], based on the novel by Joyce Maynard, packages of tissue were handed out. It was a cute idea, but you really didn't need them. True, it comes close to those 60s Ross Hunter films starring Lana Turner. Here we have Golden Globe nominee Kate Winslet, the queen of romantic dramas, as a post-divorce depressed mom and introverted son (Gattlin Griffith) have a surprise holiday weekend "guest," in the form of a wounded escaped convict, alternately menacing and sweet, played by Josh Brolin, who proves adept at things such as baking pies (a peach of a scene that will have audiences talking for a while; it comes pretty close in originality to the pottery spinning scene in Ghost). As police search high and low, mom, son, and newfound friend develop strong ties. Kudos to make-up designer Robin Myriah Hatcher, Andy Clement and their key associates Liz Bernstein and Elizabeth Cecchini for making Winslet look realistically 20-25 years younger. Winslet is known to take chances, and there's none more daring than her being photographed, as many years have passed, sans make-up.
The Pretty One [Sony Pictures] has a deep, dark twist: A tragedy gives a twin, the stunning Zoe Kazan, the opportunity to reinvent herself as her idolized sister. Then – yes, there a catch; isn't there always? – there's her dilemma: when love enters the fraud, does she continue her lie or reveal herself.
Zac Efron, raising his Valentine following a few notches by going au naturel, Miles Teller, Michael B. Jordan, and Imogen Poots headline That Awkward Moment [Focus Features], about friends dealing with the complicated statuses of their relationships.
The emotional roller coaster Winter's Tale [Warner Bros.], a sweeping supernatural tale of "the forces of light and dark, crossed destinies, and the age-old battle between good and evil," takes place in present day and mid-1900s Manhattan, comes from co-star Colin Farrell, as an Irish rake, looking good but nowhere as handsome as his Down Under Bad Boy in Saving Mr. Banks. Farrell plays a thief who falls for a wealthy girl who's dying (the absolutely radiant Jessica Brown Findlay, Downton Abbey's Lady Sybil). Russell Crowe, as a fierce Irish gangster, Will Smith, in a bit of a departure from his norm, and Jennifer Connelly co-star. Written and directed by Akiva Goldsman, the Oscar-winning screenwriter of A Beautiful Mind.