The 10 Best Veggie Burgers in NYC
April 18, 2016 - by Chelsey Grasso
Whether or not you're a vegetarian, sometimes a good ol' veggie burger just sounds so much more appetizing than a quarter pound of beef. If you don't agree with that statement yet, wait until you try some of the truly delightful veggie burgers that can be found in New York City. From patties that just beg for a fresh beer to giant portobellos to black bean patties, we've got the ten best veggie burgers in NYC.
1. Best Veggie Burgers NYC: Midtown West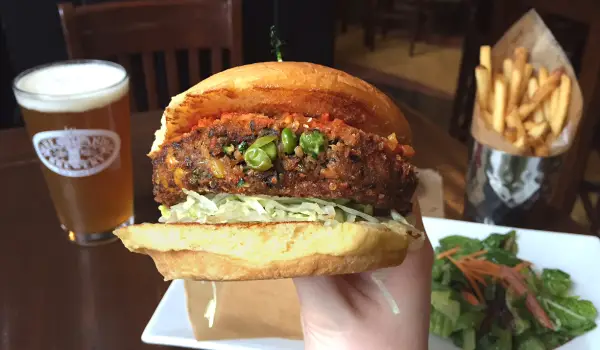 Heartland Brewery's burgers are hailed as some of the best in the city. One taste and you'll know why. Made with a black bean, brown rice, quinoa, and lentil base, these hearty patties are topped with a spicy tomato chutney and served on a brioche bun. Just thinking about it makes our mouths water. Available at all Heartland locations, as well as perfect accompaniments: fries and Heartland's own craft brews. Times Square, 127 W. 43rd St., 646-366-0235, heartlandbrewery.com
2. Best Veggie Burgers NYC: Upper East Side

Next time you treat yourself to a 5 Napkin Burger, skip the meat and go vegetarian! This meat-lover's haven actually offers a veggie burger that's just as renowned as everything else on the menu. Barley, black beans, brown rice, sesame seeds, jalapeños, carrots, and beets make up this scrumptious patty. 1325 Second Ave., 212-249-0777, 5napkinburger.com
3. Best Veggie Burgers NYC: East Village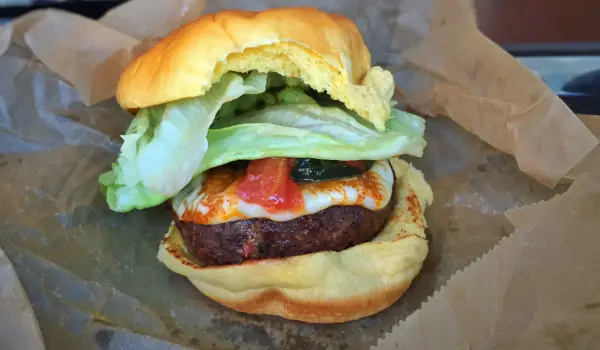 If you're dining at Superiority Burger (all-vegetarian fast food), you had better order the restaurant's namesake dish. This beloved veggie burger is made from a black bean, quinoa, and lentil base, served with muenster, lettuce, tomatoes, and dill pickles. How can something so seemingly simple be so darn delicious? 430 E. 9th St., 212-256-1192, superiorityburger.com
4. Best Veggie Burgers NYC: East Village
The Organic Grill has no shortage of vegetarian-friendly burgers, but it's the Green Machine Burger that we're writing home about. The roasted mushroom patty is in itself packed with flavor, so once it's covered with pesto spread, caramelized onions, roasted green peppers, guacamole, lettuce, tomato, sprouts, and your choice of cheese, it's basically to die for. 123 First Ave., 212-477-7177, theorganicgrill.com

5. Best Veggie Burgers NYC: Greenpoint, Brooklyn
No. 7 North makes a solid veggie patty, but it's what you can top it off with that makes this restaurant a must-visit. Order either the Total Chaos and Destruction, which adds on smashed avocado, cheese, pickled red onions, beets, riddled onions, and No. 7 steak sauce, or the Put an Egg on It, which drops a soft boiled fried egg, picked red onion, and fried garlic. 931 Manhattan Ave., 718-389-7775, no7north.com
6. Best Veggie Burgers NYC: Chelsea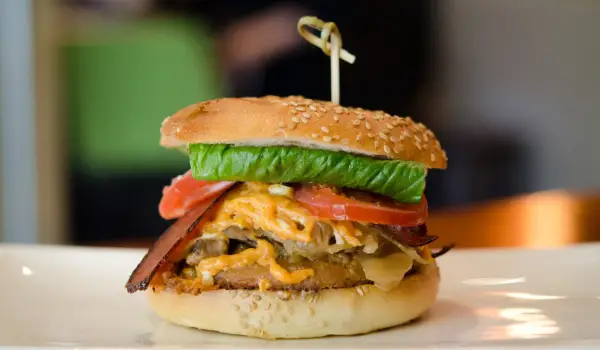 Image: Blossom/Facebook
Who said vegetarians can't enjoy bacon? The Soy Bacon Cheeseburger at Blossom proves that theory wrong. You can enjoy a soy patty loaded up top with vegan cheese, tomato, lettuce, mushrooms, caramelized onions, and, of course, vegetarian bacon. Life is good. (Although NB: at this location, it's only served at lunch). 187 Ninth Ave., 212-627-1144, blossomnyc.com
7. Best Veggie Burgers NYC: West Village
Ever had a veggie burger made from chickpeas? Now's your chance. Ellary's Greens serves a Chickpea Burger with escarole and roasted tomato jam. As for the bread pairing? Forget your traditional bun, because this restaurant uses an English muffin to complete the job. 33 Carmine St., 212-920-5072, ellarysgreens.com

8. Best Veggie Burgers NYC: Williamsburg, Brooklyn

Leave it to the most hipster part of New York to know how to make a great veggie burger. The Randolph Brooklyn, located in the ever-cool neighborhood of Williamsburg, serves up a "garden burger" that is like no other. The delectable house made patty is covered with coriander-feta goat cheese, an avocado spread, and a cooked egg. 104 S. 4th St., 646-383-3623, randolphnyc.com

9. Best Veggie Burgers NYC: West Village
You've never known how to eat guacamole until you've tried By Chloe's Guac Burger. The patty is made from black beans, quinoa, and sweet potatoes and then topped off with corn salsa, onion, tortilla strips, and chipotle aioli. Oh, and guacamole. Spectacular guacamole. We're drooling just thinking about it. 185 Bleecker St., 212-290-8000,bychefchloe.com
10. Best Veggie Burgers NYC: Citywide
It would be wrong to wrap up this list without including Shake Shack. Their "veggie burger" basically consists of two portobello mushrooms stuffed with muenster and cheddar cheeses, deep fried, and served with the usual burger toppings. Just because it isn't the healthiest option for dinner doesn't mean it's not one of the best. Shake Shack Madison Square Park, Madison Ave. & E. 23rd St., 646-747-2606, shakeshack.com
Looking for Free Group Planning Services?
Get free advice on planning your group's trip to New York.
RESTAURANTS

Multi-concept restaurant offering modern Japanese cuisine, a...

THEATER

Gaston Leroux's famous period thriller is now one of Broadwa...

SHOPPING

An array of quality branded merchandise showcasing HBO's® aw...

SIGHTSEEING

Manhattan's premier all-glass, European-inspired dining crui...