They measure two-and-a-half feet from floor to high thigh once you add in their 6" stiletto substructure, and are made of cherry-red patent leather that screams glam the instant they roll off the conveyor belt of the Price and Son "shoe factory" at Broadway's Al Hirschfeld Theatre. They are, in fact, the title characters in the irresistible hit musical Kinky Boots—brought to you by the dream team of Harvey Fierstein (book), Cyndi Lauper (music/lyrics), and Jerry Mitchell (director/choreographer).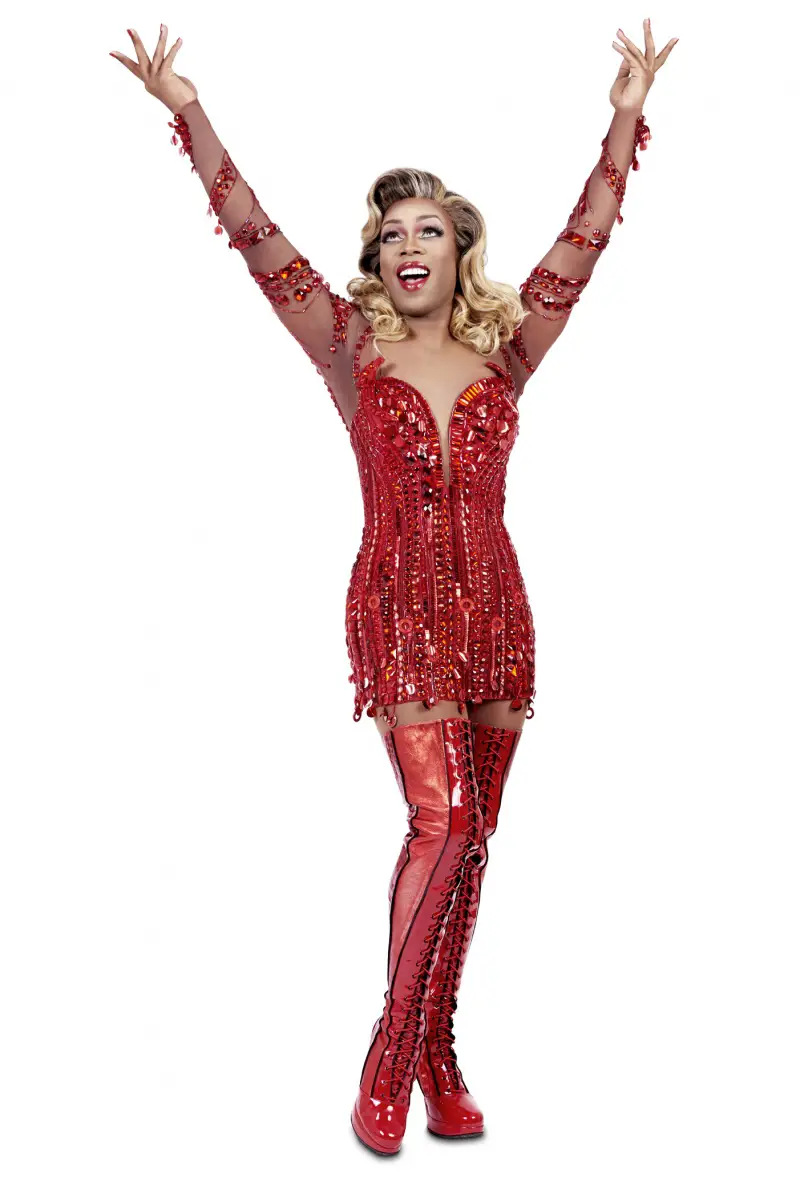 Modeled after the 2005 film of the same name (which was based on actual events that took place in a blue-collar town 60 miles outside of London), Kinky Boots is a musical about acceptance, loyalty, thinking outside the box, and customized femme fatale footwear for male drag performers.
The catalyst for the storyline surrounding Charlie Price (Aaron C. Finley)—the "and Son" who inherits a nearly bankrupt factory from his father—is Lola, the flamboyant headliner at the Blue Angel Nightclub, played by Todrick Hall, the fourth actor to step into the role on Broadway since the show opened and scored six 2013 Tony Awards, including Best Musical.
Hall, who picked up a dedicated following while achieving semi-final status on the 9th season of American Idol, has parlayed his initial fan base to 2.2 million+ subscribers on his YouTube channel and over 690,000 Instagram followers (@todrick). In addition, the Texas native is one of the guest judges on the second season of RuPaul's Drag Race All Stars on Logo.
The overlap of the RuPaul series with Hall's debut as Lola on November 1st seems an idyllic juxtaposition that jumps out at social media buffs both on YouTube ("Todrick Hall Lip-Syncs For His Life") and in a Facebook video promo.
As for the latter, not only does it offer a visual step-by-step Lola transformation for a photo shoot—from eyeliner to stiletto thigh-highs—it also provides a poignant voiceover by Hall candidly touching upon the impact of his character:
"I had to go through a lot of situations that are very similar to what Lola goes through in this show," he says, going on to empathize with audience members who have dealt with the same issues.
"People who have lived this story in their own lives come to the show and they recognize...there's someone on stage that represents them," he observes. "It's so important to go see entertainment that reminds them of the core values of what we as humans should be and that's just to love every single person no matter what shape, size, or how tall their heel is."
Clearly, this sentiment is at the crux of a pivotal song in the show—"I'm Not My Father's Son"—that sets the stage for the show's ultimate message of how acceptance can lead to great things. It's no accident the show's mantra is, "When you change your mind about someone, you can change your whole world."
Not a bad foundation for a mega musical that has the perfect blend of humanity, talent (the whole cast shines), and glitz-driven "trans-formations." And for the record, Lauper's ingenious score makes you wonder why she's never written for Broadway before. Hopefully, this isn't her last stroll along the Great White Way.
Fans of the film will find that Fierstein's script closely follows the trajectory of the movie, from Charlie's angst at layoffs to his accidental encounter with Lola that leads to changing the factory's inventory from men's oxfords to men's cha-cha heels. But there's a key difference that sets the musical apart: Charlie and Simon (Lola's out-of-drag persona) bond over the reality that neither one has lived up to his father's expectations.
And while some theatregoers might jump to equate "kinky" with edginess, even fetishism, to kids in the audience (10 years and up, ideally) "kinky" is a synonym for "fun." With its message of acceptance in particular, Kinky Boots gives adolescents a cache of of handy tools to help them navigate life as they try to fit in...regardless of the situation. As the show's final number goes:
Just be who you wanna be
Never let 'em tell you who you ought to be.
Just be
With dignity
Celebrate your life triumphantly.
---
Kinky Boots is playing at the Al Hirschfeld Theatre, 302 W. 45th St. For tickets call 212-239-6200 or visit kinkybootsthemusical.com.