Conveniently located along Columbus Circle, the Museum of Arts and Design (or MAD) presents works of art and craft like chairs, vases, fabric, and jewelry. Come to the museum this winter for exciting new works that will stir the senses and spin sensational stories (but fair warning: some are fake news).
Winter 2018 at Museum of Arts and Design: The Future of Craft Part 1
The museum has collected fascinating works of design in recent years and displays them in all their glory in MAD Collects: The Future of Craft Part 1. These acquisitions include the image of a bisected horse by David R. Harper, a gaudy brass knuckle ring by Kenneth MacBain, a walnut chair by Wendell Castle, and work by other artists like Bayne Peterson and Cauleen Smith. Part 2 will showcase the winner of and finalists for the museum's 2018 Burke Prize, awarded to an artist whose work represents the future of craft. On now through March 31, 2019.
Winter 2018 at Museum of Arts and Design: The Future of Craft Part 2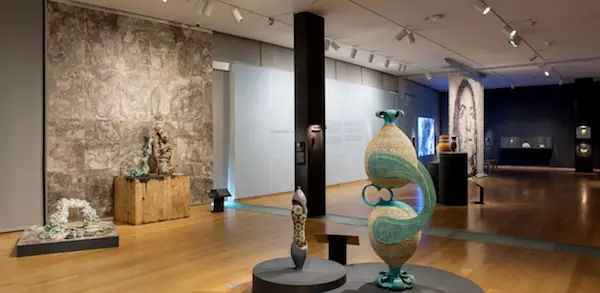 The finalists of the Burke Prize will show highlights from their design work for this upcoming exhibition. The galleries will feature work by Tanya Aguiñiga of Craft & Care, in addition to 15 other finalists from across the U.S. You'll see Annie Evelyn's blue chair with collapsible seat design, Merritt Johnson's hip bone made of handwoven palm fibers, a portrait made of over 400 beads, and a vase painted with Colin Kaepernick's face. The Future of Craft Part 2 will celebrate the winner of the Burke Prize as well. Selected from among the finalists, the winner will be announced at the museum's annual gala, the MAD Ball. October 3 through March 17, 2019.
Fall 2018 at Museum of Arts and Design: Sterling Ruby: Ceramics
Anyone who has ever thrown clay knows it's difficult medium to manipulate into just the right shape. Sterling Ruby works in clay sculpture and evokes the changeability of the material through his organic forms like Basin Theology/STYX Boat, a ramshackle, bronze-colored raft one might see on a journey across the mythical River Styx. His playful and deceptive clay images even include the results of kiln misfires, turning mistakes into indelible features of his work. October 3 through March 17, 2019. 
Winter 2018 at Museum of Arts and Design: Liz Collins: Rays
Located in the first-floor lobby of the museum, Rays presents as paneled wallpaper. The pattern on these fabric panels resembles a light show in a variety of bright colors against a black background. This piece plays with ideas of tight vs. loose, as some of the wallpaper fabric is bunched and gathered while other pieces lie flat against the wall. Ray began developing this piece after her other piece in the Mad lobby called KNITTING NATION 15: Weaving Walls. On now through March 17, 2019.
Winter 2018 at Museum of Arts and Design: Fake News and True Love
Using the buzz-phrase of the moment, artist Robert Baines has created a treasure trove of fake artifacts from noteworthy moments in history in Fake News and True Love. A briefcase displays a photograph of Buzz Aldrin and is inset with five rings which may or may not contain moon rocks. A keepsake ring is attached to a note saying "Jack, with love as always from Marilyn," implying a secret affair between Marilyn Monroe and John F. Kennedy. Baines' use of jewelry places layers of both sentimental and monetary value atop the stories he has fabricated, further emphasizing the strange allure of fake news stories in circulation among the media today. October 16 through March 3, 2019. 
Winter 2018 at Museum of Arts and Design: Highlights from the Jewelry Collection
In its over 60 years of existence, MAD has accumulated nearly 1,000 pieces of jewelry in its permanent collection. Highlights of the Jewelry Collection features a necklace decked with shrunken phone book pages and a three-dimensional necklace whose petals are stretched with pig intestines. Other treasures include a H'mong necklace dated to 1908, a Ring for Two (two rings connected by a long steel bar), and a necklace emerging from the blue and white plate from which its beads were cut. Ongoing.
Winter 2018 at Museum of Arts and Design: Highlights from the Goblet Collection
Marvin Lipofsky, Irv Tepper Memorial Hot Dog Cup (from the Great American Food Series), 1973
The goblet, a type of drinking glass, suggests medieval banquets and formal table settings. But glass artists featured in this collection bring out a range of notes through the goblet form. Shane Fero's goblet looks like an open tulip, while Fritz Dreisbach formed a pink flamingo in the stem of his 1992 glass. One goblet appears hewn from volcanic rock, while others appear to contain fresh fruit from the market. Check out Highlights from the Goblet Collection on the third-floor stairwell! Ongoing.
The Museum of Arts and Design is located at 2 Columbus Circle. Call 212-299-7777 or visit madmuseum.org for tickets and more information.